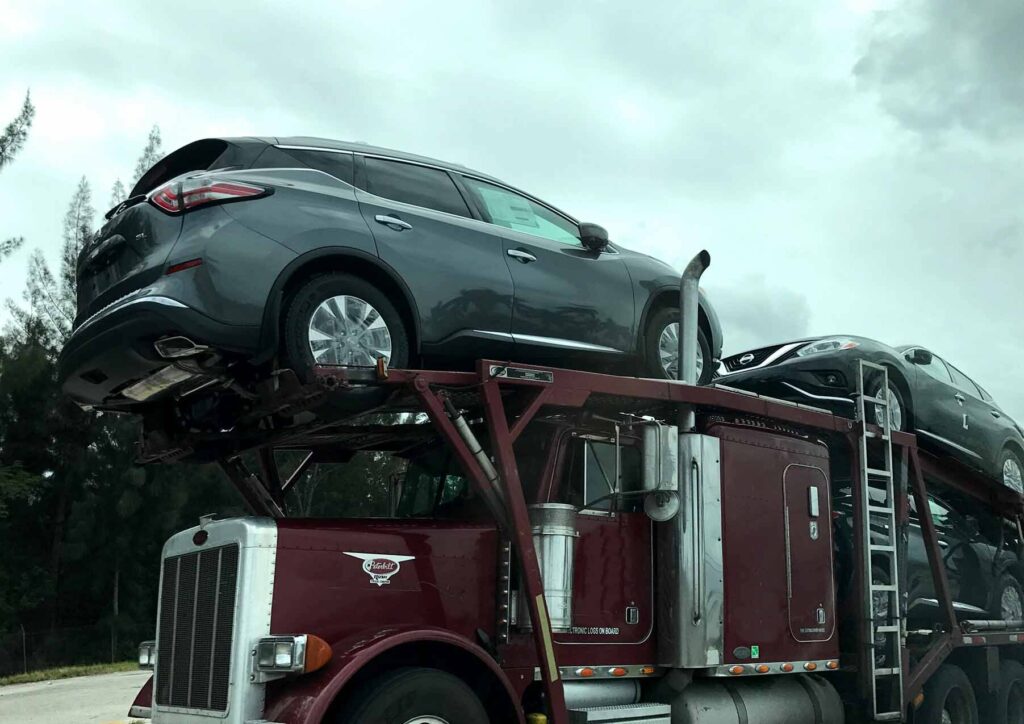 The term top load is exactly what it sounds like. It refers to placing your vehicle on the second level of the an open carrier. The fee is $75 to request a top load. It is highly recommended for convertibles.
The purpose is to avoid possible oil and dirt from coming down on to your vehicle. Road debris can more easily reach vehicles as a result of being situated in the lower level.
In More Detail
When you are on the bottom of the carrier you have other vehicles that are above yours and you are also closer to the road. It is technically easier for road dust and oil or bits of debris to come down on vehicles located at the bottom.
Although most of this is really harmless, some that know of this option prefer not taking the chance and request for to be loaded on the second level which is the "top".
How Top Load Works
In some cases, a cautious truck driver will place convertibles and SUVs (because of their height) on top automatically. A carrier will also rather not worry about older vehicles that could be susceptible to leaks set above newer vehicles as well. But each of those scenarios are not for certain. Your best bet is to request it in your order for transport.
Not many looking for auto shipping actually know the option exists and if you are savvy enough to know it does, the carrier will most likely be happy to accommodate.
It will stay for the duration of the transport. It may be moved back-and-forth to if they have to unload cars before yours that are in front of it. But it will be put pack onto the top rack afterwards.
Options for High End Vehicles Instead of Top Loading
Enclosed transport is really your best option if you want to protect your vehicle. If you're moving a classic vehicle, an exotic, or other type of vehicle you may want more protection.
Upgrading to enclosed / covered is truly your best bet. The vehicle will travel in a closed space. They look like a regular tractor trailer. Just with cars inside.
Is Sending your Vehicle Top Loaded Necessary?
Although oil and debris could land on the vehicle, it's rare that it does any damage. It simply washes off. Things like rock chips are even less common because the truck is like a rolling brick that deflects anything coming its way.
The exception will be convertible / vinyl tops.We highly recommend you move these to the top. In the end however, it's really up to your preference.
Roll on roll off auto shipping (RoRo) refers to overseas auto transport. The vehicle is driven (rolled on) where it will be stored below deck in the cargo hold. It is more cost-efficient than a container. A ship that moves cars this way is designed specifically for that purpose. Each vehicle is held on to the deck.
The vehicle is held in place on the skid that is also locked in place or most commonly with soft ties or straps. Although the vehicle is not in a container it doesn't mean that it's exposed to anything. The ship's cargo area is sealed so no water will get to your vehicle. It is really a great alternative to container shipping because in many cases it is just as safe. It also requires less work, further making prices reasonable.
What does RORO Car Shipping Cost?
The destination has a lot to do with what you will pay. How long your vehicle is a sea is a large factor as the longer it takes to travel, the more the fuel and operational costs will be. If using an auto transport company, Sending your vehicle to the nearest port that goes to the destination country Will usually run $.36-$.50 a mile depending on the vehicle size, weight, and location.
It's also important to note that there are import taxes levied on vehicles coming from different countries. This is a completely separate cost to the shipping and do diligence must be made ahead of time by contacting the country you are shipping to in order to determine how much exactly you're going to pay for importing the vehicle there.
Ready to get your vehicle moved to the ports? Call 800-284-7177 today or get the cost to ship with our form.
The absolute safest way to ship a vehicle is through enclosed transport (also known as covered transport).
Vehicles transported via the enclosed shipping method are safely shielded from the outside world within the walls of the car carrier.
Enclosed shipping is also the standard for safety and protection due to the higher insurance coverage that is offered in the rare instance that any damages occur as well the physical protection provided by car carrier.
Rare vehicles or those that are hard to attain due high demand are safest hidden away from prying eyes in this type of carrier.
What Else You Can Do to Make Shipping Safer
You can help add extra security to your transport by being prepared. Be sure to remove any loose items in your vehicle. Those can move around quite a bit on a carrier, so be sure to not put anything in the interior area that could bounce around.
You can also make it safer by meeting the carrier in a open and flat area. Although all transport is door to door, it's good to take the extra precaution especially if you live in a tough area for a truck to maneuver.
No. We do not drive vehicles. The vehicles are always loaded on to a car carrier. They also do not get pulled or hooked, so no wheels will be on the ground. That would not be a transport company but a towing or wrecker service that does that. Also there is a service called drive-away where one is hired to drive your car for you. This is not considered "auto transport".
The vehicle will only be loaded and unloaded from the car carrier at pickup, may be offloaded if a car they are dropping off first is sitting in front of yours, and then come off the truck when it is being delivered. We also do not switch trucks which a concern many have (and still can count as driving it somewhere). So, the same truck that gets it is the same truck that delivers it. This makes certain your vehicle is not moved more than it has to be.
Both open and enclosed auto will move your vehicle from point A to point B, however there is a difference in the way the vehicle is transported.
Open Carrier / Open Air / Open Transport
An auto transport carrier that is open has the vehicles exposed to the outside world. These are usually 2 levels high and the length of two fire trucks. They come in various configurations, however none are enclosures. See our services section and select the open carrier option to see more details and photos.
Enclosed Carrier / Covered Carrier / Covered Transporter
This is a a specific type of auto shipping that by design provides extra protection for vehicles. Enclosed auto shipping keeps the vehicles away from the outside world so they do not see exposure to the elements. Vehicles reside inside an enclosure during shipment. These types of carriers also usually carry high-end or luxury cars, classic cars, and exotic cars. Therefore have much higher insurance coverages. If you are not sure which one is for you, you can also see if you need enclosed transport.
The Federal Motor Carrier Safety Administration was established as a separate administration within the U.S. Department of Transportation (DOT) and assists the government in regulating the industry. It requires that auto transport companies such as brokers are licensed with them. (See Our Page on the FMCSA)
This licensing is required by law to facilitate auto transport services. This license will grant "operating authority" or "permission" on behalf of the Department of Transportation (D.O.T.) to run a freight truck or company. The Motor Carrier Number itself is issued by the D.O.T. Established by Congress on October 15, 1966, the D.O.T. is responsible for all highway, air, railroad, and maritime transportation.
Bonding refers to the BMC-84 Freight Broker Bond which is a bond that insures against non-payment to carriers contracted to ship a vehicle under the auto transport company. It is a common misconception that this bond is meant to protect customers. It's only meant to protect carriers from not being paid for shipping cars on behalf of a third parties, such as a dealership or auto transport broker.
The FMCSA offers a database of information that details insurance, licensing and bonding information to assist the public. To confirm an MC (motor carrier number) visit
https://li-public.fmcsa.dot.gov/LIVIEW/pkg_html.prc_lisearch.
No, in most cases you cannot ride with the carrier. This is why:
With local towing, it may be pretty common to ride along with your vehicle as it heads back to the repair shop or dealer when you call someone like AAA. Local towing usually is 1 car with a conventional drag-n-hook tow truck. They are taking you right from where they got you to where you are going.
However, auto transport is multiple cars. As a result, it's extremely rare. In very short distance transport we've seen the driver of the carrier do the favor. But that is never guaranteed and should not be counted on being your situation. And we definitely do not see it for long distance. This is because the carrier doesn't just go from point a to point b.
They are usually picking up cars at one location, going to another to get another vehicle, and then another. Same thing for drop off. Let's say it was possible, you would lose an entire day or even more, as well as likely be pretty unhappy about that. Also, it's not a stretch to assume the carrier might not be too keen on having a stranger sit with them in the passenger seat for all those pickups and drops, let alone the days they will be on the road.
Your vehicle is loaded, transported and delivered on the same transport truck. In rare cases it is necessary to use a local terminal to send a smaller truck to pick up or deliver your vehicle. This makes the loading/unloading process more efficient but rare at best.
Vehicles usually travel with the same carrier across the state or across the country. We get this question a lot. Most of the time this happens with a small carrier company you contract with directly that needs to plan out how they can get to each location saving the most money. They may not have enough cars.
With a brokered route, the carrier that takes your car is usually running between both areas you are shipping from and to. This is why it's not often you see the switching of the truck. Brokers will allow for it being a direct a non-stop shipment each way.
Although open carriers are a typical choice in the transport industry, enclosed auto transport is a superior way of safely getting your vehicle 'To and From' without worrying about outside factors that might risk the safety of your pride and joy.
Most of our clients that use enclosed are usually very high end, museum, or rare vehicle owners. Like a vehicle that has original vintage paint and can't even get dust on it. This option is also more expensive. But sometimes it can be a vehicle that is just one of sentimental value. We've shipped vehicles in that way that didn't cost much more than the transport and only the owner sees it as a value. So it's totally up to you.
Customers choosing between the two have asked if they can get chipped by rocks or other airborne debris on an open carrier. Although nothing is impossible, wind deflects of the front of the truck and is pushed away form the carrier since it's such a flat surface. Vehicles up top are even further away from the road. You can always request top rack although not guaranteed.
Enclosed auto transport is inside the belly of an 18 wheeler, basically. Some are even climate controlled! For almost every transport, open is fine for 90% of all vehicles. Enclosed is usually reserved for high end vehicles or rare classics.
SUV's because of their size and convertibles because of the vinyl usually ride up top. Convertibles with soft tops will also always go on top so no oil or debris from the vehicles above stain the top.