Long Distance Towing
National Express proudly offers long distance towing that travels everywhere in the U.S. This service is nationwide and we ship cars door to door for your convenience. Thanks to our high volume we can always provide the best rates possible. Ship your vehicle to anywhere, from anywhere safely and securely with us. Get a direct quote now.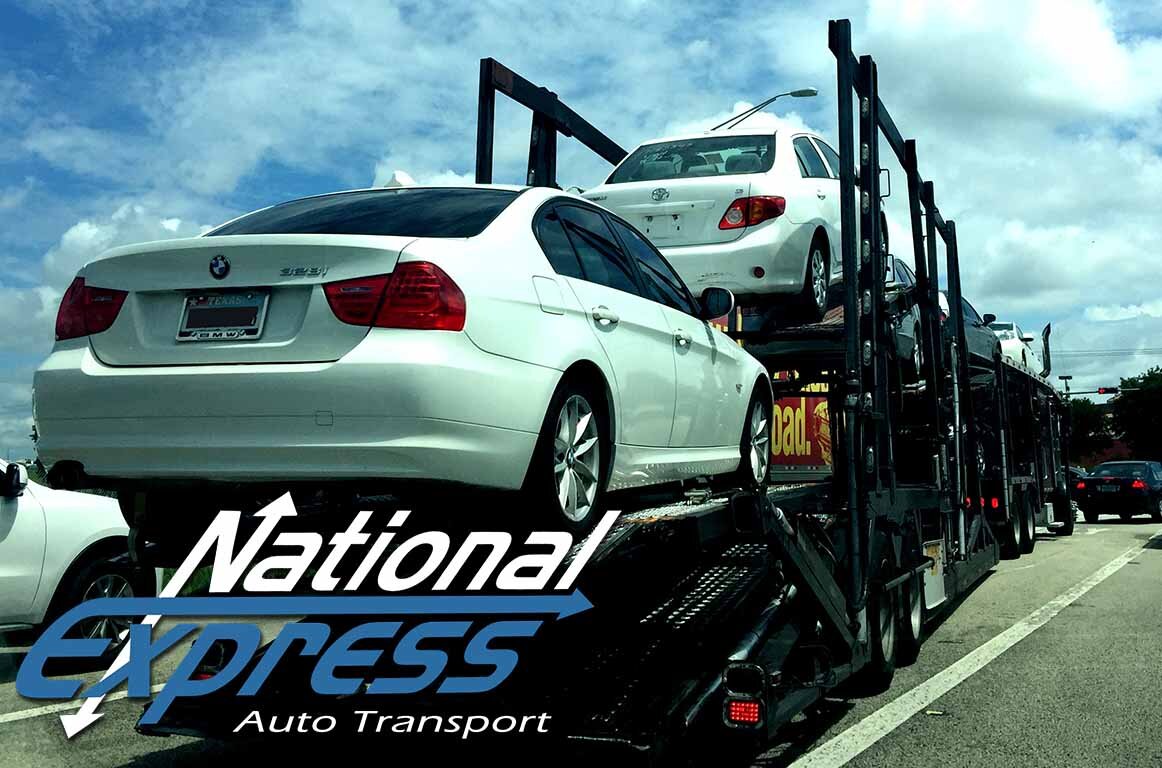 What is Long Distance Towing?
Long distance towing is the moving of a vehicle, either operable or inoperable from one location to another, usually for a distance of more than 100 miles. Long distance towing then a form of auto transport, as usually more than one vehicle will be onboard to subsidize (split) the cost for the distance.  This makes it not only possible to travel hundreds of miles, but do so at a low cost. A car carrier is usually over 50 feet long and contains two levels of cars. You have most certainly seen these on the road and you are usually coming out of dealerships.
A local towing or wrecker service would only travel within their immediate service area. This is done at times with a set of wheels on the ground which is inadequate for long distances. Therefore, the services provided by regular towing companies are different in the sense that they will usually travel only a short distance. They usually hook / pull vehicles for a variety local services like repossessions, illegal parking, local roadside services such as AAA, etc.
Long Distance Towing Rates
We have the most competitive long distance towing service in the country and provide top-notch results. Our work is backed up by reviews given to us by several customers who have taken the time to give their reviews. Just check us out on Angies List , Google, Transport Reviews, and many more. Our rates for long distance towing rates are the cheapest available and inclusive of all fees. Meaning there aren't any undisclosed costs or surprises to worry about. We provide you everything in writing. Rest assured your vehicle is safe as you are hiring a reputable company that is licensed, insured, and bonded.
Sample Rates Based on Peak Times of the Year
| | |
| --- | --- |
| New Jersey to/from Washington State | $1125 |
| California to/from Florida | $900 |
| California to/from New York | $1025 |
| New York to Florida (September to March) | $800 |
| New York to Florida (April to October) | $450 |
| New Jersey to Florida (September to March) | $800 |
| New Jersey to Florida (April to October) | $450 |
| Texas to/from California | $700 |
| New York to/from Texas | $800 |
| Washington State to/from Texas | $1200 |
| Georgia to/from California | $825 |
| California to/from Washington | $700 |
| Florida to/from DC | $750 |
* Long Distance Rates are calculated with a regular sedan traveling to/from major cities for each location listed and can vary $100+/- depending on several factors including weather, time of year, distance from highways, urban or suburban location, and current fuel costs.
Is Long Distance Towing the same as Auto Transport?
Yes it is. A long distance towing company is normally the same as an auto transport company. That is because most cars that are moved in this manner are going across over 100 miles and/or several states. It is also known as long haul towing. It's considered "long distance" if over 100 miles.
Do I Have to Use a Service Provider Near Me?
Not at all. Even if your long distance tow is to the next town or cross-country, we work within as well as to or from all 50 states. From local operators to our own network of qualified carriers. That's the great part about being a nationwide auto transporter.
We specialize in what you need, which is to move your vehicle to another location safely. So if it's down the street, or across the country, running on non-running, we can do it for you.
Ready to Get Started with National Express?
Our professional team of trained advisors is ready.
Call

to speak to yours now.