Car Shipping for Snowbirds
Year after year many residents from the northeast avoid the freezing weather by making it down to the south to spend the winter in a warmer climate. We offer seasonal transport that's fast and affordable.
As a Snowbird, you know how to  avoid an expensive long term car rental or the hazards of driving on your own. Having your vehicle shipped to you is easy with National Express.
National Express is a BBB Accredited Company.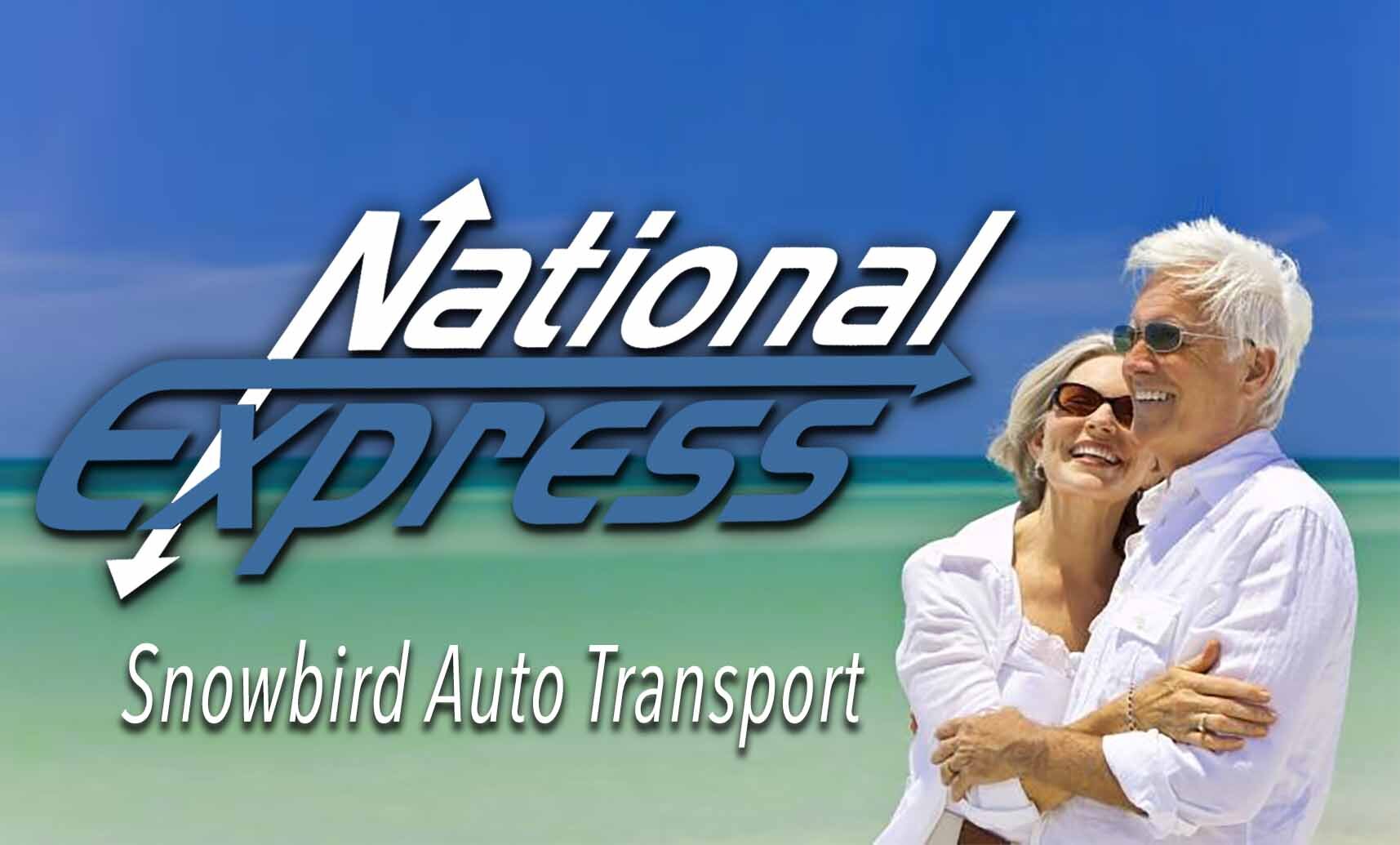 We cover all your major winter destinations. Florida, Texas, and all the Gulf states. This includes West Coast locations like Yuma AZ, Las Vegas NV, and Palms Springs CA. We have years of experience with this service so that you will flawlessly and quickly ship your car, truck, van, or SUV to and from these snowbird states. And since we are Florida local nobody will know how to take care of you and your vehicle better than we can.
Low Rates and Discounts for Snowbirds
The rates we offer are reasonable and we provide discounts to new and returning customers planning their trips after year. Get up to $100 off your return trip when booking both with us. You don't have to know your exact dates as you can change them at any time without penalty. As with all our auto shipping services they are backed by our price guarantee. Seasonal shippers like you, will never pay more than the rate that was quoted. There are absolutely no hidden fees, no bait and switch and all our agreements are in writing.
 Professional and Experienced Snowbirds Car Service
We have years of experience providing snowbird car shipping services. We have grown and cultivated a network of certified carriers to provide the highest possible levels safety and reliability that you demand. All transport equipment is up-to-date, and fully certified for use to carry motor vehicles.
The great thing is that you don't have to just hear it from us. Many customers and share their experiences online and places like Angies list, Google, Yelp, and many more.
Safer than Driving
Is this the first time you ship your vehicle for the winter? There are so many precautions to take. Nearly all of our customers say the same thing: They wish they had thought of having their cars brought down on an auto carrier much sooner. In fact, almost every first time snowbird will contact us year after to year to have it shipped again. No need to hit the road fighting with the elements, traffic, and possible dangers they come with traveling long-distance.
Shipping your vehicle as opposed to driving during this season is a no-brainer. Nothing beats taking a flight to come down and  seeing your vehicle arrive a short time later. By the time you factor in hotel, gas, food that's when most realize it's definitely not worth driving anymore.
Expedited Snowbird Service
Did you plan your vehicle to be moved last minute or have been left behind by another company? That's is ok with us as we can get your vehicle picked up in as quickly as 24 hours from the time you book with us. There have been plenty of times we have come to the rescue when others have failed.
How to Schedule Snowbird Car Shipping
Life teaches you to plan ahead. So you may be wondering how early to book your snowbird move. Most carriers usually schedule 2-3 days prior to the availability date of the vehicle. That means you can book as early as a couple of days ahead of time. No need to reserve months in advance, our carrier network is ready to get you in days, not weeks.
Opportunities for Lower Rates
The snowbird season relatively begins and ends in about the same times every year. Volume begins to increase around October for vehicles heading south and vehicles heading north become much cheaper. The reverse will happen when it's time for these visitors to return to the north. Rates coming down south will begin to drop in March/ April. This gives you a window where the rate will be much cheaper if your time is flexible.  For example, a midsize sedan coming from Florida to the northeast in February or early March could ship as low as $450.  The same would be on the trip south.  If you can plan on shipping your vehicle in September your ring will be about the same price.  So some flexibility you can save a lot of money transporting your car on this route.
We service Northeastern Snowbirds
Our Northeastern snowbirds coming from states like New York, New Jersey, Connecticut, and Massachusetts represent a tremendous amount of the transport we do. Year after year we ship our customers vehicles to and from these states as they get away from the cold winters. These states run along what is commonly called the Sunbelt. They include Florida, Georgia, South Carolina, Alabama, Mississippi, Louisiana, Texas, New Mexico, Arizona, Nevada, and California. The Sunbelt is comprised of 15 states, however the aforementioned are the most popular. Regardless of the destination to stay warm, you require a solid solution to move your vehicle every season and National Express is it. 
Ready to Get Started with National Express?
Our professional team of trained advisors is ready. Call 800-284-7177 to speak to yours now.