Nobody really thinks about shipping a car until the moment you find yourself needing to do it.
Once you discover that there are auto transport companies nationwide, you just want to pick the right one.
As you do your research on who to select, you begin to realize this is a huge business. Not just dealerships and manufacturers that move cars. Then you may find out about some not so great results as you begin to read information online. You want someone trustworthy.
So that means this is one of those situations where you really need to know how it all functions. To really understand how to ship a car.
Choosing an auto transport company in 2023 hasn't changed much since last year. It still involves being educated on how auto transport works, knowing the service that is right for you, understanding the costs, checking the reputation of the companies you are selecting from, and preparing your vehicle once you are ready.
Suppose you just bought a new car, or going away for college. Perhaps you are moving to a new city, or making your sessonal trip for summer or winter. If that's the case, there are various options you need to consider when looking for ways to relocate your vehicle(s).
Driving your car can be the a cheaper option. But, if you are moving the vehicle thousands of miles, you may not have the time (or patience) to DIY. Not only will this take a a considerable amount of time, you may not save much. You will need to add up things like hotel, food, and fuel. With all the logistical demands that driving to a new place requires, it can quickly turn into a massive nightmare.
You could have someone drive it for you. It means having to entrust your vehicle to a family member, a friend, or a professional driver. This option may save you time on the road, but it might be more expensive than driving yourself. Besides, having someone drive the vehicle through several states will put miles on it. There's wear and tear associated with long trips. The potential risks of state-to-state travel are easy to see.
If want a fast and smooth option, working with an auto transport company is your best option.
This mode of car transportation is ideal for:
Whatever your needs, there are a few things you need to know when choosing an auto transport company that fits your needs.
Common Auto Transport Terms You Should Know
Auto Transport Company
This is a company that aids people in moving their cars from one location to another. They have special, open, or closed-air trucks designed to ship different types of automobiles. They can be a carrier or a broker.
Auto Transport Broker
These are companies or individuals that coordinate shipments using a network of auto transport companies. Usually, brokers don't have their own fleet of car-carrying trailers. They coordinate with carrier companies to fulfill car shipment orders .
Auto Car Carrier
Also known as a car hauler or car-carrying trailer, the auto transport carrier is an open or enclosed trailer. They are specially designed to transport vehicles. An auto carrier has built-in hydraulic ramps or lift for loading and offloading vehicles.
Door-To-Door Service
This is a service offered by most car shipping companies, allowing your car to be picked and dropped from/to your preferred location. Door to door service is not more expensive, and usually preferred.
Terminal-To-Terminal Service
Unlike the door-to-door service, terminal-to-terminal service was a cheaper option. It's a lot harder to find. With the evolution of auto shipping, terminals have gone away. Nowadays ,terminal shipping can cost more because the carrier has to find a storage facility for you. That location will charge their own fees.
Drop-Off Window
This is the period you are expected to drop off your car for hauling.
Open Multi-Car Hauler
This is the most common, budget-friendly option for vehicle transportation that allows for multi-vehicle transportation from state to state. While vehicles are loaded on an open carrier and are exposed to weather elements. This includes rain, hail, and snow. However a professional auto transport company takes measures to protect your car from damage.
Enclosed Car Carrier
If you have an exotic, classic vehicle, or rare car that needs extra care, and attention a "white-glove-level" service is the answer. The enclosed car carrier service is your best bet. This is a safer option that protects your car from dust, dust, grime, and other road elements. Enclosed car carriers cater to a smaller market for rare and exotic vehicles and come at premium rates of up to 40-60% more of the open carrier.
Bill of Landing
Also known as the BOL. The bill of lading is the documentation issued by the car auto transport company. It's purpose is outlining the condition of the vehicle as well as proof of both pickup and delivery..
Co-loading
This is the most common and cost-effective mode of auto transportation. Co-loading allows auto transport companies to load more than one automobile in a single carrier, hence cutting the total transportation cost significantly.
Cut-off time
This is the latest date that the hauling company needs to have delivered your car.
Diversion
This is a term used to signify the changing of a route for a shipment in transit.
En route
This is a term used to show that your shipment is on the road to your preferred pick-up point.
Auto hauling can sometimes be overwhelming and complicated. By being familiar with these terms, you'll be able to understand what you're dealing with. Your preferred auto transport company should provide you with these details to help you make an informed decision.
If you're like most car owners, you might be wondering:
Why should I choose an auto transport company?
How do I choose an auto transport service that fits my needs?
What should I do to prepare the car for transport?
What's the best car shipping company?
What Is The Cost of Shipping My Car?
Let's look at some of these below.
Reasons to Choose an Auto Transport Company
It Is Cheaper Than Other Interstate Auto Transportation Options
Driving your car across the country will cost you a lot of money on fuel, food, and accommodation. You'll also have to spend long hours on the road that you could have spent with your loved ones. Think about it – driving such long distances is tiring, stressful, and potentially dangerous.
Instead, you can save yourself from all these hassles. Have your car loaded on an auto hauling trailer while you catch a flight to your new state. This way, you can have the peace of mind knowing that professionals are transporting your car. You'll be able to resume work, college, or use your invaluable vacation days. All while waiting for your vehicle to be delivered.
Maintains The Value Of Your Car
Driving your car across the country adds miles to your odometer. Your vehicle's mileage will affect its market value as many buyers prefer cars with lower mileages. When you choose an auto transport company, you don't have to worry about your vehicle's mileage. The car will be loaded on a hauling truck and delivered in as-is condition to your preferred drop-off point.
Protects Your Vehicle From Wear And Tear
Driving thousands of miles adds unnecessary wear and tear to your vehicle's engine and tires. If you've not had a long-distance trip with your car, your risk experiencing mechanical breakdowns. This could lead to costly repair and maintenance procedures along the way.
If you choose an auto transport company to do the legwork, you don't have to worry about your vehicle's condition. Auto haulers help to keep your engine, paint, and tires in shape. It eliminates the stress of dealing with expensive repairs.
Saves Time
If you're on a tight schedule, driving the car across the country is really not an option. An auto transport company allows you to plan your schedule without worrying about long travel hours on the road.
Ensure Safety And Reliability
Traveling from one state to another can take a toll on you. This is most true if you're not used to the long distances and odd travel hours. If you're traveling with your loved ones, you risk putting them in danger from accidents, bad weather, and mechanical failures.
Instead of risking it, you should let professional auto haulers transport your car. This is done all while you relax, having the confidence that your vehicle will be delivered safely and on time.
Guaranteed Protection For Your Luxury Or Classic Car
If you're shipping an expensive classic or exotic vehicle, enclosed auto hauling services is an excellent option to ensure the safety of one of your most valued possessions. A reliable auto transport company has the means, equipment, and expertise to safely and securely handle your vehicle. You can also rest easy knowing that your car is protected from weather and road elements.
Transport Several Cars At Once
Choosing an auto transport company allows you to transport several vehicles at a go. Most companies will give you great pricing depending on the number of cars that need hauling. This saves you money. You are not hiring your own car carrier for just your car. Many people like you have come to the broker with cars in your area. It also reduces the carbon footprint. That trailer would be heading in that direction whether you ship your car with it on or not.
They Know The Legal Stuff
Moving your car across the country requires a ton of documentation. You need to abide by different state laws and regulations. A professional auto transport company has hauling experts with the knowledge of the industry's best practices. Driving yourself, finding a carrier directly yourself can lead to problems. Once you drop off your vehicle, you don't have to worry about the legal requirements.
What to Look For In an Auto Transport Company
A simple Google search for "auto transport company reviews" will give you an endless list of auto transport providers. If you're a first-timer, it may be challenging to choose a reliable company. You want quality and one that will haul your car(s) at a competitive rate. The auto transport industry is awash with scammers. Many companies are promising the best and the cheapest services, yet only a few can hold up to their word!
Luckily, there are a few things you can do to increase your chance of picking a reliable and professional auto transport company. One that fits your needs and budget. These include:
1. Make Sure They Are Registered
This seems simple but many don't check. The auto transport industry is highly regulated. Done so by the Department of Transport (DOT) and the Federal Motor Carrier Safety Administration (FMCSA). Any auto transport company should have a DOT number and an MC number as proof of their registration. If they don't, they could be a lead farming company. Check the validity of their MC number with the FMCSA. If their MC number is "Not Authorized," do not engage them at all. To weed out scammers, it is also important to check that their license and insurance details are valid.
2. Make Sure They Are Bonded And Insured
It is not just enough to choose a registered company; they should also be bonded and insured. That way you won't carry any liabilities if anything happens during shipping. You should understand the level of coverage provided by the auto transport company. A professional auto hauling company should be adaptable and open to offer you additional coverage, even if it means costing you a little more. The peace of mind will be worth it.
3. Choose A Company That Meets Your Needs And Budget
When shipping your vehicle, it is crucial to narrow down your search to companies that meet your needs. If you have a luxury car or classic vehicle that needs extra care, you should only choose a company that offers bespoke services to cater to those needs. Other benefits to look for include digital tracking, door-to-door services, terminal-to-terminal services, and delivery times.
4. Go For An Experienced Company
Auto transportation requires extensive resources and experienced personnel that only a company with outstanding industry experience can offer. When conducting a background check on various companies, be sure to look into their experience and expertise. You should never trust your car to an average company that has no track record of successful order fulfillment and deliveries.
5. What Are Their Payment Options
A professional auto transport company should have several payment options to cater to different customer needs. The company should have options for the customer to pay through cash, credit cards, or checks. One of the main red flags of an untrustworthy business is that it only prefers payments through wire transfer since its not as traceable as a credit card, debit card, or cashier's check.
6. Refrain Dealing with A Company That Offers A Too-Go-To-Be-True Deal
Moving a vehicle from one destination to another takes time, resources, and expertise that don't come cheap. If a company is offering the cheapest option, you should avoid from working with them. The chances are that they will cut corners along the way that may cost you loads down the line.
In most cases, the company offering you a too good to be true offer may take longer. They may also use low quality carriers that are slow and unreliable. In some instances, the cheapest option may not have the infrastructure. They may also not have sufficient insurance coverage to fulfill your shipping order safely and adequately.
7. What Are Other Customers Saying About Their Services
Before choosing an auto transport company, you should first look at their online reviews. Fortunately, tons of online review sites such as Google, Facebook,, BBB, can tell you. This is the best way to see the reputation of a company and the level of their services.
Look at the negative and critical reviews and see how the company responded to them. If the company doesn't respond to negative and critical reviews, they are likely not worth your business. You should also be wary of a highly rated shipping company with few or no negative reviews.
Getting Pricing
Most start with the basics of comparing prices to assure they are getting the best deal possible. You juggle cost with the value the service appears to have. In other words, "Joe's" car shipping might have cheap rates. When their website looks like it was made when AOL was popular, Joe is the only one working there. They also have 4 reviews from last year.
Perhaps a larger operation that is charging you $50-75 more. In this business price can't be everything and things cost what they cost.
When getting pricing remember that :
Prices should range about the same within a $150 range of each other.
You should avoid the lowest price quoted if it's very low (hidden fees).
Avoid multiple quote websites.
Doing Research
1. Check Reviews and Complaints
The next thing to look for their ratings and reviews. More specifically, complaints. The point is to isolate the results to the complaints. In many cases companies reply right under to the negative review and their response can also be helpful. Nobody is going to satisfy everybody. However, if you see a lot of no-shows, price increases, or other weird stories, you can be next.
When working with a transport company that very much cares about their reputation, then the system works very well. And if for no other reason than to avoid negative reviews. They treat their customers well, it's a win for you regardless.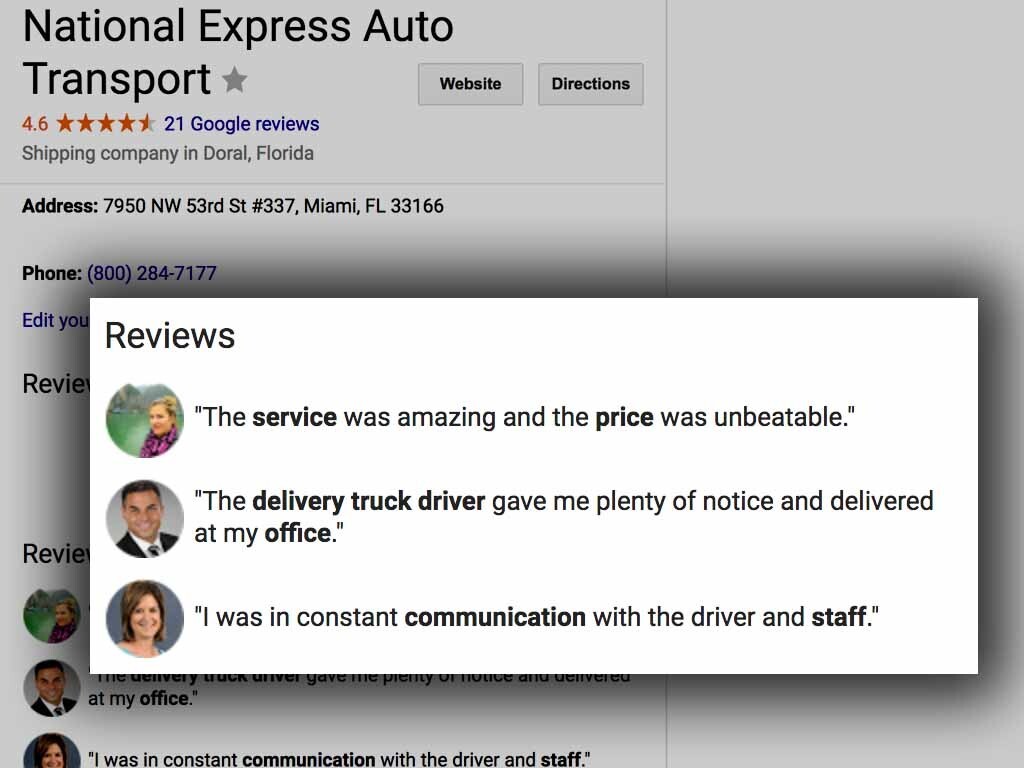 Reviews like those found on Google are paramount in this industry. When you have been contacted by an auto transport company with a quote, check their name on search. If they appear to have a longstanding website but no reviews, then chances they are not the actual company.
Note that if you cannot find a website, or anything really about the company, they could be very new. Be are they could be fl-by-night or a scam. Ask for their MC number and that it matches exactly to the company name on the FMCSA site. A good practice if you want to go with an unknown / unreviewed car shipper. If they tell you that they don't have one, they provide you as a lead to transporters. Stay away .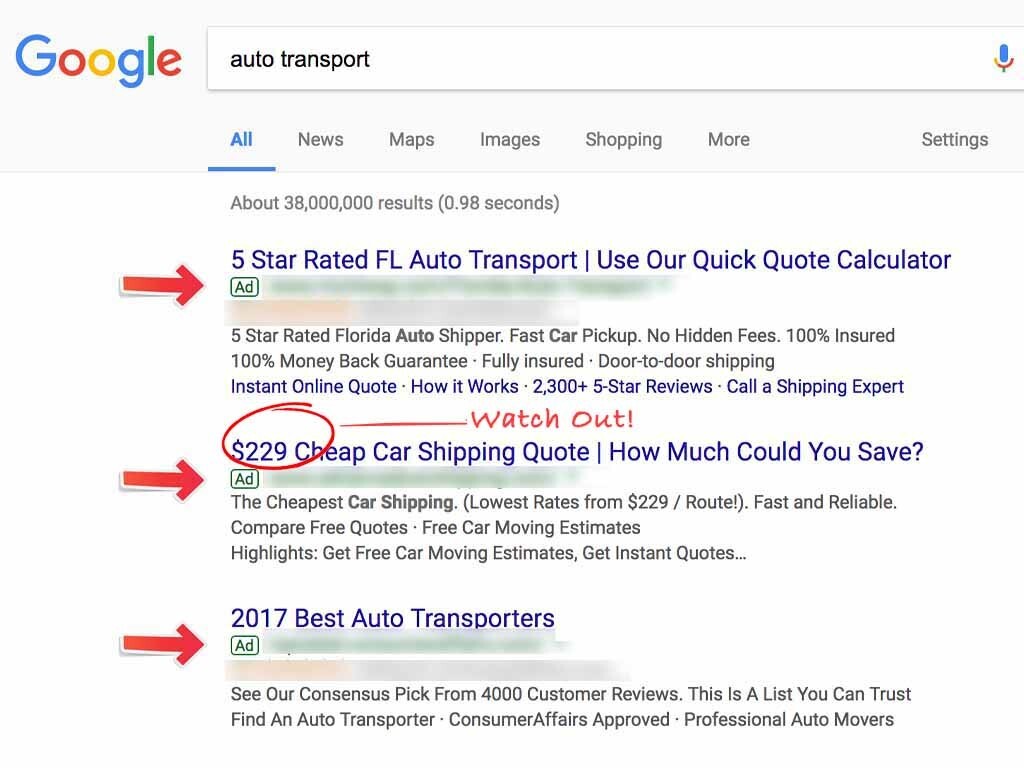 2. Are they Buying Their Way to the Top?
If a transporter makes it to the top of search naturally, this means they have been around for a while. Meeting the tough criteria Google and Bing place on sites they deem worthy of that first page. Their business is to give you best and most relevant results, otherwise you'll perform your searches somewhere else.
But those only showing up on advertising are simply paying to be on the top. They are using ads to have you see them first. No real screening process exists. Anyone can advertise.
Note: It is normal for a respected company to further make their presence seen twice by also purchasing ads.
3. Verify Licensing, Bonding and Insurance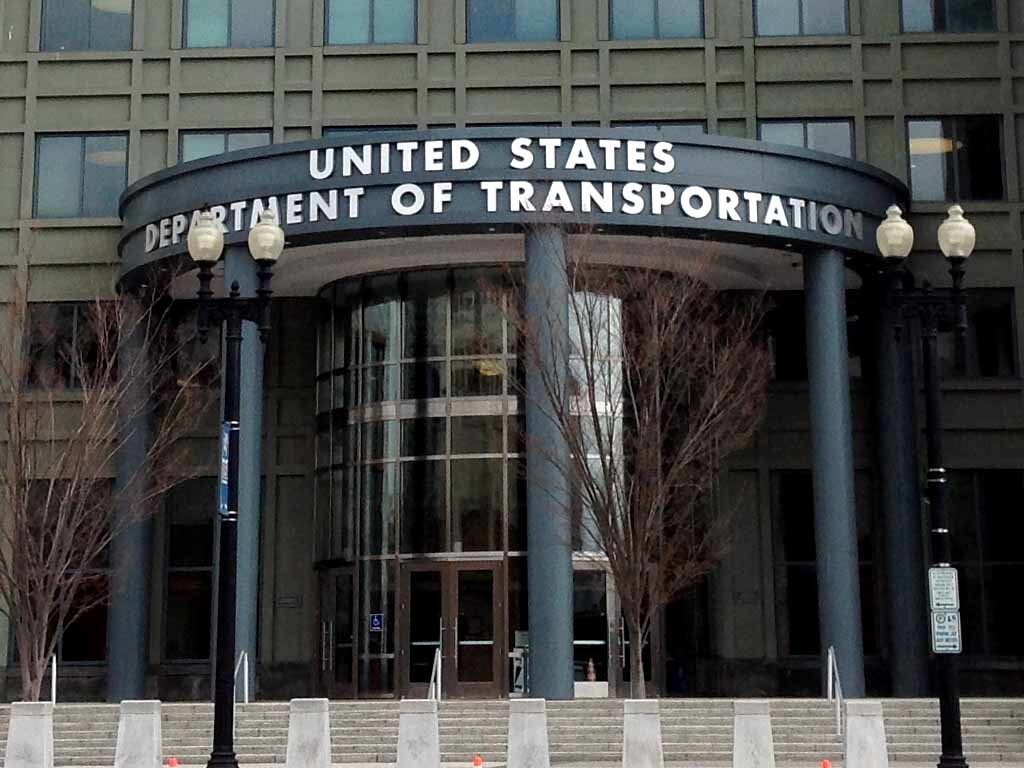 4. Verify Operating Authority
An auto transport company must have operating authority. This begins by applying to become a freight broker with the Federal motor carrier safety administration. During the application process the FMCSA will do a background check on the prospective owner and approve them. Only to be done once they have submitted evidence of obtaining a $75,000 broker bond. Car shipping can't be done legally without it. Look for an MC number registered with the FMCSA.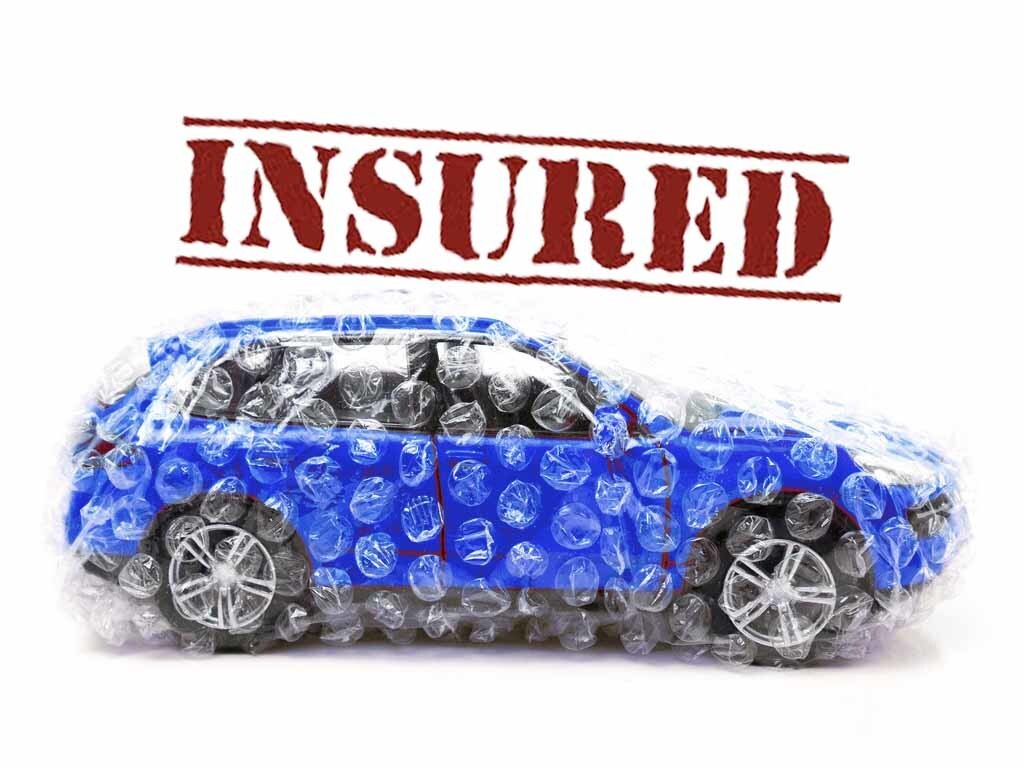 5. Verify Insurance
Unless the auto transport company itself ships cars with their own trucks they do not require insurance. However, it is a good practice for a company to make it their responsibility and verify. It's only fair to make sure insurance is up to date with the contracted carrier. They should also be named as a party that can file a claim on behalf of their customer. That is one of the best ways to protect you in case of damage. But nothing beats making sure you verify it yourself. Ask for a copy of the trucker's insurance.
Insurance companies only use the bill of lading if there is a claim. Remember to get a signed copy from the driver at pickup, and a signed copy from the driver at delivery. This is you claim to insurance. The federal minimum for a motor carrier is $750,000. The average policy being $1 million with nearly all motor carriers. Enclosed carriers have more coverage. We go over what enclosed auto transport is and how it works here.
About The Surety Bond / Broker Bond
The bond is required to operate. It is not designed for the consumer, but for the carrier! Made to guarantee payment on transport orders where the transport company bills the whole amount.
A few years ago, it was raised up to $75,000. This was done because old limit created in the 1970's no longer was sufficient to cover several delinquent payments. An example would be for a company that suddenly closed its doors and did not pay their truckers.
However, in order to avoid payment issues most auto transporters will use the C.O.D. method. This will be to take a small deposit to set up the service. Subsequently they will pay the remainder at delivery directly to the trucker. This is done with certified funds or cash from the customer. This also helps the auto transport company be protected from high-dollar malicious credit card disputes.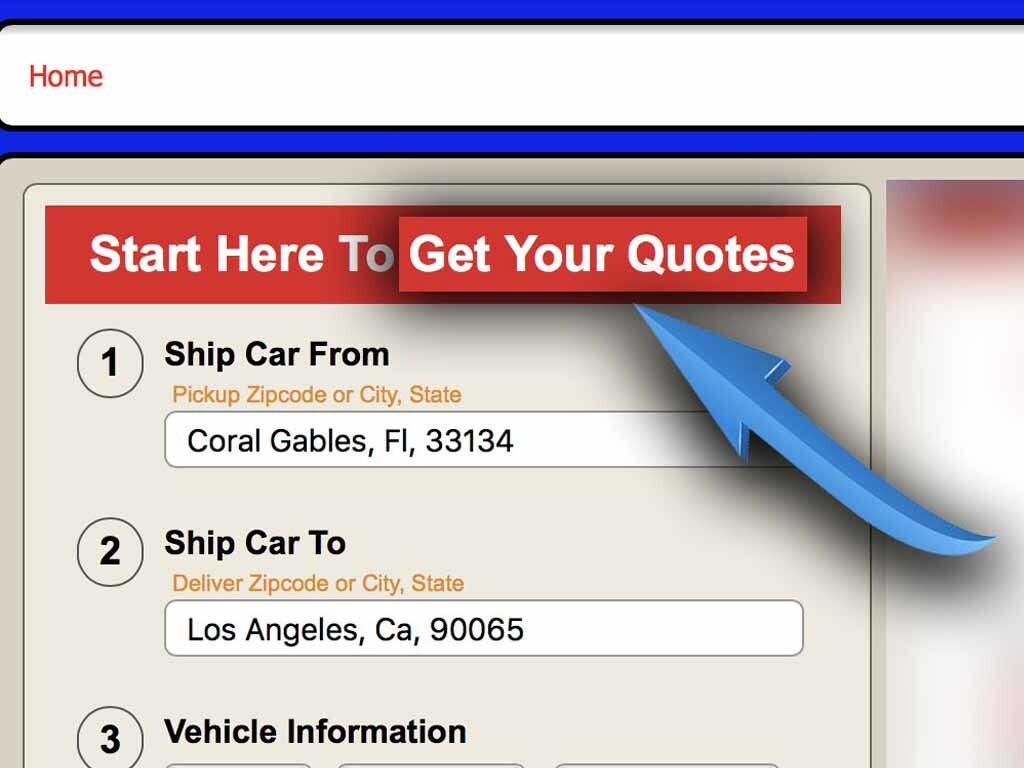 6. Say NO to Lead Providers / Fake Auto Transport Companies
Determine that you are dealing with an actual vehicle shipping company. These websites are very well done, and can look the part. The first way to make sure you are working with the best auto transport company? Make sure who you are about to contact is one.
If you see website that's asking you for the option of getting multiple quotes, the it is not a shipper. It's somebody collecting information to sell it.
The result will be endless emails, calls, and texts. Another tell tale sign will be the absence of reviews. These businesses are called lead providers. They are not involved in car transport at all. Unfortunately they sneak their way through search engines as companies when they are really not.
When you request your rate, it's not like Expedia or Travelocity. You can't actually just look at your rates on the screen and pick what you want. It's old fashioned cold calling, texts, and emails which will not seem to end. Unfortunately, you don't know who's calling you. Worse, they try to get you to book so quickly you won't know about their credentials.
Definitely avoid any website that appears to present you with the option of getting multiple rates. Interestingly, some will actually advertise instant multiple quotes. See, it's instant because there are about 20 companies who are about to receive a message in their inbox. Chances are one of them is online at that moment. Afterwards the wave of phone calls and emails will come.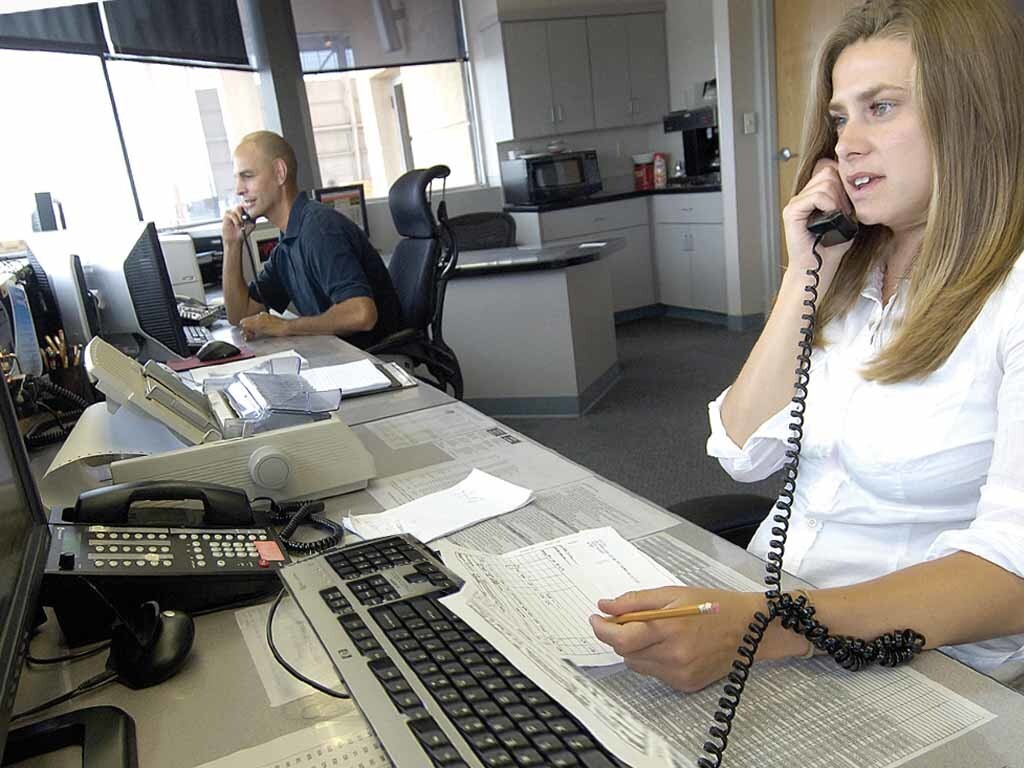 How to Narrow Down Your Search
If you still have a number of companies that have passed the above checklists, you can narrow down your choices by:
Making A List Of The Companies That Meets Your Needs
Some companies may not offer some services such as enclosed transportation, door-to-door services, exotic/luxury auto transportation, or interstate transportation from the onset. It is, therefore, makes sense to only consider those that offer your preferred services for consideration.
Requesting For An Auto Transport Quote
Request a free, non-committal quote from the pre-qualified companies to see what they are offering and their costs. If a company doesn't offer free price estimates, move on to the next company. Remember, you should not base your decision solely on the cost. Instead, consider the quality of services being offered and do a comparative analysis to find which company offers better value for your money.
Speak To A Car Shipping Representative Through The Phone
You want to work with a company you can reach anytime for questions and clarifications. If you call a company and their sales rep is not friendly or well-informed, you should perhaps consider taking your business elsewhere.
Factors Affecting the Transportation Cost for Your Vehicle
When looking at the price quotes from different companies, there are few price factors that you should keep in mind. These include:
Distance and Location
One of the main factors that affect auto transportation cost is the hauling distance and the delivery location. Most haulers will base their prices per mile covered. So if you're shipping your car for a long distance, then naturally, the price may be higher. That notwithstanding, the cost of hauling your vehicle between major cities may be cheaper than shipping between smaller towns since more carriers cover these routes hence more competitive pricing.
Open Vs. Enclosed Car Delivery
Open delivery is the most common and cost-effective shipping option offered by many companies. It allows for more cars to be loaded on a single trailer during transportation. If you're looking for a more premium service for your exotic or luxury vehicle, the enclosed car delivery is probably the most suitable option for you. However, this option is usually more expensive due to the level of care and attention required when handling and transporting your car.
Vehicle size and weight
The cost of shipping a saloon may be different from shipping an SUV or a Humvee since the bigger cars will take up more space in the carrier. Heavier automobiles may also require special trailers and (off) loading equipment that may jack up the total transportation cost.
Season
The auto transport industry is a year-long business. However, some seasons tend to be busier than others. As vehicle hauling demand increases, many companies tend to raise their rates to pay for the increased overheads. You are likely to pay lower rates in winter than in summer when there is a spike in demand. However, you should also be cognizant of the likelihood of having your car delivery delayed during winter due to bad weather and diversions during shipment.
Delivery Time Frame
If you need your car delivered on a tight time frame, you may need to pay more expedite the delivery process. A quick pick up and delivery require extra planning and coordination that ultimately costs more.
Additional Services
If you need additional insurance coverage for your car, the total shipping cost may go up significantly. Some companies also tend to charge more to customers preferring to have their vehicles loaded on the top-most deck. In multi-level auto transport carriers, the top load is usually safer and more protected from road debris hence the higher cost.
Activities Before Your Car Is Transported
Once you have settled on a preferred auto transport company, you need to take some measures to ensure that your car is ready by preparing for transportation across the country or the state. If you are a first-time shipper, you may find these actions tedious, but we consider them important to ensure that your car is delivered safely and in a pristine condition. There are other things you may have not though of :
1. Check The Fluids Levels And Fix Any Leaks
Before handing the keys to the auto transport company, it is vital to ensure that the brake fluid, engine oil, coolant, and battery fluid are sufficient. Shipping your car with below-level fluids can lead to mechanical problems upon delivery. You should also ensure that your gas tank is half full to allow the air and antifreeze system to work properly throughout the journey.
2. Disable Your Car Antitheft And Alarm Systems
Your car alarm and the anti-theft system can be triggered easily, especially when the car is not in use. Ensure that you disable these safety systems to prevent unnecessary discomfort and disruptions to the transportation crew. You should give unrestricted access to the company transporting your car for smooth and seamless loading and offloading. This further emphasizes the need to entrust your vehicle only to people you can trust.
3. Check Your Car's Battery Charge
Most interstate transport companies will need to drive your car onto the deck during loading and off the deck after delivery. If your car doesn't start up due to low battery levels, you risk incurring additional towing charges.
4. Don't Pack Too Many Personal Belongings In The Car
When shipping your vehicle, you should not overpack the vehicle with personal items and all valuables. Most auto transport companies won't guarantee their safety. In fact, nearly all companies will surcharge you if you leave over 100 pounds of items in the vehicle.
5. Inspect Your Vehicle For Any Damages Before Shipping
You should insist on having your car inspected for any damages before transportation so you can keep track of its condition. Take interior and exterior photos of the vehicle and ensure they have timestamps to prove their validity. If any damages occur during shipping, you can easily pick it up with the shipping company for repairs or compensation.
6. Keep Extra Keys With You
Ensure that you have an extra set of keys. You'll need to give the transport crew a set of your car keys and remain with a spare just in case one set gets misplaced or lost along the way.
7. Confirm The Bill Of Landing
The shipping company usually sends a representative to inspect your car for dings, dents, scratches, and other damages and record them in the bill of landing. After you sign, the bill of landing becomes your official shipping receipt indicating the condition of your vehicle. Ensure that you confirm the document's accuracy and keep a copy safely for confirmation on vehicle delivery.
Inspecting Your Car after Shipment
1. Check for damages
Inspect the car interior and exterior to check for any damages. Check the locks and other electronic systems. It will ensure that everything is in the same condition as it was before shipping. Compare the Bills of Lading
2. Compare with your photos
If you notice any damages that might not have been there previously, compare with your photos. This is for confirmation and to let the company know if anything doesn't check out.
3. Test drive
Ensure that the vehicle's fluids and other vitals are okay and give it a quick test drive to ensure that everything is running smoothly.
4. If you find any damage:
- Take a photo of the damage
- Ensure that the company's representative documents the damage on the bill of lading
- The driver or company rep should sign the inspection documents before you leave with the car
- Get a written quotation from a reputable mechanic and share it with the shipping company for repairs
- Provide other relevant documents such as photos to allow them to make a claim to their insurance company.
Choose A Reliable Auto Transport Company for All Your Car Shipping Needs
If you're looking for a reliable interstate car shipping company, National Express is a top choice for most shippers. We are a team of professionals. National Express has the skills, equipment, and expertise to handle any shipping need.
We offer cross-country auto shipping, state-to-state auto transport, long-distance towing, and expedited services throughout the country and beyond. Here are just a few reasons why national express is widely considered to be the best auto transport company:
Personalized, hassle-free service
Amazing discounts for our service members and other individuals to trim costs where possible.
Zero upfront costs
No hidden fees
Insured carriers
Dedicated agents
Variety of shipping solutions and secure carrier methods
Extended hours throughout the year
A large pool of carriers to ensure swift delivery for your vehicle across the country
What the Good Auto Transport Company You Pick Does
Now that you have gotten a price you like, done the research, it's time to reserve your auto transport order.
1. Has you Pay Nothing Upfront
You want make sure that the auto transport company you picked does not charge any money upfront. It is only until they have a contracted carrier that has accepted the vehicle. Any time they choose to charge you before that, the car shipping company has not performed the service.
Note: Do not pay deposits with wire transfers or direct deposits. Customers are not protected in those situations.
Remember, before anything else happens you have read their contract carefully before signing it. Question anything you do not understand, do not accept vague answers. Important questions should be answered in writing.
2. Doesn't Give False Promises
The industry is based on various moving parts. Any company that promises an exact day for delivery or pickup is trying to over sell you the service. Obviously stretching the truth. Many short distance runs can be accurate to the day, however. If the vehicle is available right away, it's fair to estimate for a couple of days to get picked up. (Unless you went expedited.)
Auto carriers travel about 300-500 miles a day. Be careful with over ambitious delivery dates especially if a truck is not yet assigned. Some trucks have team drivers, which allow one to rest as the other drives, but there are few that do.
3. Makes Sure You Leave Room for Error
A good and experienced company will make sure if you are leaving room for error. That is done so they don't miss you at the pickup location. They will suggest they schedule your auto transport. Typically it will be more than a day before (2-3 days is best) to allow room for delays.
That's a big deal. Over ambitious sales people that aren't properly trained make you think that this works with guaranteed dates and delivery times. There are various moving parts to this and it's best to understand a date range protects you.
4. They Provide an Inspection Report
This is also known as the Bill of Lading. It will be necessary have a copy at BOTH pickup and delivery. They will do a walk-around of the vehicle at the time they come get it. Also, expect another at the time of delivery. By doing these inspections you can see if any damage happened along the way. Make sure you and the driver of the carrier signs each one. It is your only way to claim insurance if damage occurs.
5. Uses Seasoned Carriers / Drivers
The auto shipper that's been in business for 3 months may not know much. That means there could be little knowledge on how to make sure your transport is handled well. This will be evident in reviews. Customers will complain about damage very quickly on review sites.
6. Provides You The Driver's Contact Info
You want to be able to speak to the driver responsible for picking up your vehicle. Definitely ask for the driver's information. There's nothing more direct than hearing it right from the horse's mouth.

Where the Horror Stories Come From
As an auto transporter, we have to deal the stigma caused by bad broker companies day in and day out. Explaining our service and how we protect the consumer. Price guarantee, door-to-door delivery, insured, etc. Some people ask us "Are you a carrier or a broker?" almost ready to hang up if we say the latter. However, that is based on a lot of misinformation.
Typically if you pick a company that is actually a reputable one, you are just fine. Indicators are that it has a well-made and informative website, and good reviews. That's because customers are more likely to leave a negative review when they have had a bad experience. This happens more than when they leave anything good. Just remember, no one can be 100% happy all the time. However, if you see very little instances of unhappy customers it's a good sign. Also, if company has been around for a decent amount of time, your experience most likely would be good. There isn't really a lot you can do to hide if you are in the business of ripping people off.
Who Are the Bad Auto Transporters?
There is the established auto transporter and there are fly-by-night companies. One provides excellent results and you fortunately were able to learn how to ship a car safely. But with the wrong choice, the complete opposite happens. Typically anyone that you didn't find on your own as you search for directly is suspect most of the time. There will be instances that you put your information on a website that promises you several quotes. This website perhaps doesn't mention that all of a sudden you get a bunch of auto transport companies calling. They won't stop calling for days. The website that you requested a rate from that appeared to be an auto transport company but aren't at all. They are what we call a lead provider. We talk about this in detail on our Car Shipping Rates Post located here.
Unknown Companies
You've never heard of these companies reaching out to you. Then you will quickly realize that you must have entered your information somewhere that ended up distributing those details. If you accidentally run into more than one the phone calls and emails as well as texts can be unbearable. They will not stop calling you. Nothing can be more aggravating .
Since most of these companies are buying customer leads are not established, do not have referrals or reviews. Their phone does not ring without purchasing these leads from those providers. Because of how many companies share the same prospect, you are literally worth a dollar. Because that's what it cost each company to buy your contact information.
Since they know that each potential customer is being shared they will give you extremely low quotes. That tactic is used in hopes you will book with them based on your desire to save money. The hope is that a carrier will take their very low bid. If they do, great. If they don't, your car could sit there for a while.
Tip: Even with you find a company directly online, it's good to do your due diligence. Just like not all the small brokers calling you call from a leads aren't inherently bad. Therefore, not all long-standing companies are great just because they've been around for years. Check reviews.
You Have Been Charged You to Lock You In
You may have already been charged a deposit by the time you realize what's going on. So they have your money in the bank. As the date comes close or even worse passes by, they will begin to increase the rate to the carrier. Once they get a carrier to accept a price, they will increase your rate to whatever fits into their bottom line.
They may try to call you back and tell you the rate has increased. Or tell you nothing at all and you are forced into paying more than you agreed. They may have terms in the contract that allow them to raise the price.
You may not have even have known because many people don't read their long and complicated agreements. This is all done to protect them from having the charge reversed by your credit card company.
Regardless of how it all turns out, you can cancel, dispute, they don't care. You are worth a dollar. The strategy is to get as many bookings as possible and force as many to stick as possible. Thereby generating a good closing percentage.
This could be a small operation with one or two people or perhaps a boiler room type of an office. All trying to close these leads. Needless to say there is a huge turnover of employees. This is because these are pure commission salespeople working for someone that provides them little to no job security. What this means is there's no commitment from the staff for quality.
The results are what you've seen written in some reviews and elsewhere online.
Call Us Today for a Free Price Quote
If you are looking for a cost-effective way to ship your car, our auto shipping solutions are an excellent option for you. Call us today to discuss with one of our professionals and get a free, non-obligatory quote.