Find out what it costs to ship a car without receiving phone calls or giving any personal information.
National Express does not collect your phone number when getting a quote. We don't need to because we aren't selling off your information. We are are the auto transport company. You are dealing direct. There shouldn't be any reason that you need to provide a phone number.
We also know you want to do your research yourself and not be talked into or sold on car shipping. We also give you a lot of information you will need right on our website. That way, you can do your homework on us. Like our Motor Carrier number, DOT number, and policies. We offer many articles on our blog as well.
Why National Express Does Not Call You
The prospective customer wants to make their choice. There are so many sources to gather reviews from. So, you have an abundance of information out there to help you make a wise decision.
With a few searches you can learn about the process, how to pick a company, and read about experiences. In the past, you could only use your judgment and the feeling you got from the person. You needed to hear a sales pitch to decide. There was no way to gather information outside of the very companies you were contacting. It was more of an outward process. It involved listening to why they were better, industry jargon, and so on.
Those methods are now long gone. You want to know how much, can they do the job, and how long is it going to take. The rest is based on your research. If you decide to book over the phone, you want to hear a friendly voice. This will help confirm you were spot on with all your research.
We understand this and have have taken the no personal information approach to give customers what they want.
Why You Get Called Non Stop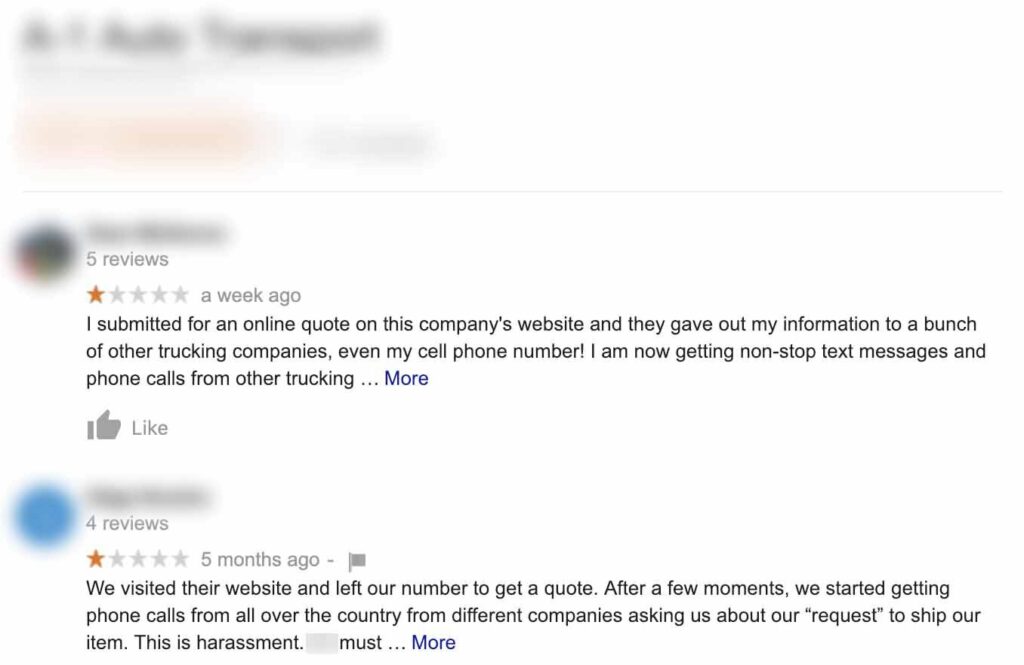 The answer – Fake websites imitating auto transport companies. But why would they do that? Read on and you'll understand this industry's biggest cancer.
You have found a website that's not an actual auto transporter but look like they are. They even have a very detailed site with pictures of trucks! The ONLY collect the information of customers to sell off to various small brokers. That's right. If they list a phone number, they have outsourced a call center company,. They collect the same information you would place on the site. The results are the same. Catastrophic. The complete opposite of "no calls".
You did not suspect they were going to distribute the information so several auto transporters that will call. The problem is that most customers likely imagined being sent to a screen with several quotes from different companies. All nicely boxed and ready to pick from just like looking at flights on Expedia. The reality is way different. This click or tap of the screen ended up wreaking havoc on your cell phone. Calls, texts, and emails for days upon days from a whole bunch of different auto transporters. Some may have little or no credentials.
Each company will initially try to call you to reach you. Then they will email you and sometimes text you a follow up to hopefully get a call back. Just like any good sales person trying to make the sale, they won't just try to reach out once. It seems like they won't stop calling because it's several companies and eager salespeople wanting to get the business. There are so many trying to sell you, it can cause extreme levels of anxiety and frustration.
Why Are They So Persistent and Why Won't They Stop Calling?
Each company may have only have tried to reach out once or twice but now has multiplied. This could be over 20 phone calls, 20 emails, and repetitive texts. That is just the first day or two. They also know that the information they received was given to them and several different companies. All don't want that sale to go to someone else. They have 10 counterparts all using the same techniques to get someone on the phone.
They use outdated sales techniques that only frustrate you. In the current world we live in, the customer is no longer looking to be called and "sold". You want to do your research, see who is giving you the best pricing , and what others are saying. End of story. Everything you need to make an educated decision is easily available online. That goes for just about everything these days. You the customer does not feel like they need to deal with companies calling over and over. You want to make your decision at your pace and time after considering the information.
How to Get the Auto Transport Companies to Stop Calling
The first and best thing to do first is not get frustrated. As each company calls you please let them know to remove you. Or ask to only send you emails with the price once. If you receive a text, reply with "remove" and they should comply. As an additional precaution you can add them to your block list. Most cell phones have this feature. Then, mark the email as spam after you unsubscribe.