State to State Car Shipping
There are a lot of potential reasons you may find yourself in needing the transport of a car state to state.You could be buying a car online out of state and you want it delivered. Maybe selling your vehicle to someone far away . Many are starting a fresh new job. You could even be someone who is now studying in college in a new city located in a different state. All these situations will give you cause look for an auto transport service provider. Somebody that will do the job and do it right.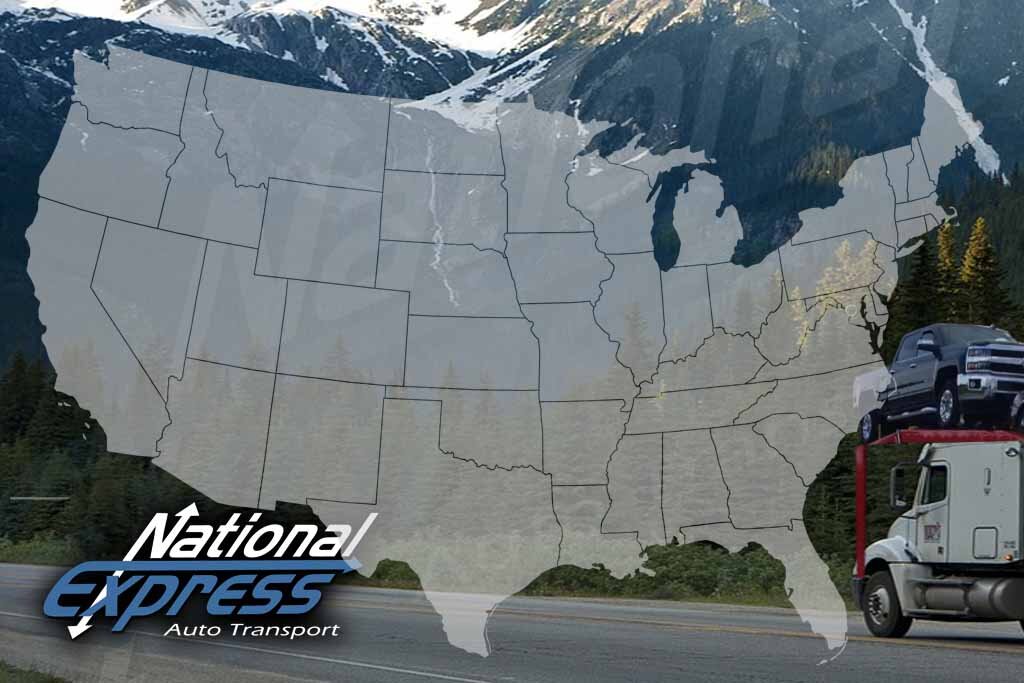 How Much Does It Cost?
Using the open-carrier transporter, the average cost for your car can be worked out per mile in many cases.If the distance for the quote is 400 miles, the price could be in the range of $400. This is a $1 a mile. Beyond that, you will pay progressively less per mile for longer distances. The average transport cost for your car from one state to another is going to be in the ballpark of $0.70 or less per mile.
The lowest average cost for transporting your car from your state to another can be as low as $0 45 per mile. This is if the distance is long enough. Like going 100% cross country. So, the longer the trip the lower the price per mile. But the miles do add up. For example Miami to Portland can be around $1500 but still be just $0.46 per mile to ship one car.
How to Ship Your Car from State to State
Deciding on who you are going to pick for your state to state transport is really the hardest part. Once you establish are you have someone good on your side, the rest is really easy. But until then, remember to adhere to the following:
1. Be sure to check the company is properly licensed. If the MC Number or DOT number is not prominently displayed at the bottom of the webpage, You might be dealing with somebody that's not even a real company.
2. Reviews, reviews, reviews. We haven't been able to say it enough but we continue to mention it because it is so important. Anyone can slap a testimonial on their website and I could be completely false. External reviews are your only true indicator that you're dealing with somebody that is reputable. If you don't find reviews for the company then that means they are not a real shipper. Or are very new and high-risk.
3. Don't jump on the lowest price you fine. Especially at that price is way lower than everybody else you've looked at. It is normal for pricing to be close from one company to another but if you are amazingly saving hundreds of dollars if the brakes and take a second look to make sure there's no loopholes. For example some shifty companies will have contracts that allow for "adjustment" on the rate if they priced it too low.
4. Watch out for crazy promises. For example, if most carriers are telling you they can't do something within a certain timeframe and magically this one company can. That is always a red flag. Salespeople are always going to be salespeople but there are those that stretch the truth and get creative when it comes to what the service can and cannot do in state to state shipping.
We know if you've been looking around (and we're sure you have), you probably have noticed it's not as straightforward as you'd like it to be. There's a lot of gray area involved. Sometimes it seems as though you read a lot about people getting into trouble when they pick somebody that's not reliable. It makes you wonder how something in so important can be handled by some one that's very unqualified. But unfortunately, that's the nature of this industry.
Getting State to State Car Shipping Quotes
The exact shipping quote will vary based on different variables such as vehicle size and transport options. Like shipping an inoperable vehicle or selecting an expedited service. Don't forget seasonal factors as well. Compared to open-carrier transport, enclosed auto transportation may cost up to 40-60% more. Similarly, the expedited auto transport option may cost up to 30-35% more than the standard open-carrier transportation.
For an instant quote, use our car shipping calculator.
Note: Remember all the quotes you are getting from reputable auto transport companies are going to be within the same ballpark  +/- $100 or so. Any price too low or crazy high has hidden fees or price gouging. Do your research.
Open Car Carriers Are Most Commonly Used for State to State
This service is the most reliable and dependable. Thousands of cars are transported from one state to another across the US using an open car carrier. Open carriers are responsible for nearly 90% of the state to state vehicle transportation. These trucks carry 7 to 10 vehicles at a time and safely deliver them year-round. The service is swift and the price is reasonable.
Enclosed Carriers Also Ship State to State
Nearly 10% of state to state auto transport is booked in enclosed carriers. These shipments include heavy and high-value vehicles. For example, someone owning a Bugatti or a Bentley would not mind paying 30-60% extra for safer transport of their vehicles in an enclosed carrier. In the auto transport industry, a vehicle whose value exceeds $75,000 is considered a perfect candidate for enclosed carrier transportation.
The enclosed auto shipment option is kind of special treatment to the vehicle and its owner. It is ensuring a better safety parameter for the vehicle and greater peace of mind. It ensures your expensive new car arrives at your door without a coat of dust or any exposure to the sun during its hundreds of miles of travel. Your vehicle is treated with greater care and you get a higher degree of customer care.
A Word About Expedited
If you have flexibility with time, you can choose the standard pick up without spending any extra money. Want your vehicle delivered before a particular date and can't wait? Keep in mind the expedited services will pick up up quickly, but delivery times are based on how fast they can safely travel. In other words, going with this option gets it off your driveway faster, but will not make it arrive sooner after pickup.
All Types of Vehicles Can Go State to State
Although the make and model will affect the cost of moving your vehicle from one state to another just about any shape and size is suitable for transport.
There are heavy vehicles such as a Ford Excursion and there are light vehicles like a Nissan Leaf. Auto transport companies factor in the weight of the vehicle in the quote they offer. A heavy vehicle has a higher shipping cost than a light vehicle. There are exotic, expensive, and stylish cars and their owners may like to send these cards to a distant location with all the care and safety that they deserve. Enclosed carriers accommodate only 2-6 cars compared to open carriers that transport 9 cars at a time. So the transportation cost actually depends how their owners want them to be shipped.
Prepare for State to State Transport
 Make sure you give yourself ample time if you're flying to your new state, because in this industry it's all about estimated dates. For example, if you are looking to leave on a plane give yourself at least 72 hours before and for your vehicle be picked up because there's a lot that can happen with 10 cars on a 40,000 pound carrier.
Delays can happen. If a vehicle breaks down and we can't get it off the trailer, that could push us back a day. This is normal stuff. A lot of sales people don't want to tell you these things because it could hurt the sale. But The truth is you need to be informed of what can happen.
Reputable auto transport companies have specialists who oversee safe loading, hauling, and unloading of vehicles. But it's your responsibility as well to be ready. Make sure you have paperwork like the Bill of Lading. This form contains all the details of the vehicle condition and both pickup and drop. Damage cases need this form, insurance accepts nothing else. Even video or photos.
Empty Your Car
While you might think that filling your car is an easy way to move some of your personal belongings along with the vehicle, transport companies are prohibited by law from shipping vehicles that contain household items. Also, suppose any of your personal belongings go missing. In that case, the company does not assume any responsibility if it goes missing. The insurance won't cover any damage to the car because it was full of your belongings. To protect yourself, ensure your vehicle is empty.
If you're wondering why this is the case, this is a DOT rules. It also has to do with licensing. Auto carriers are licensed to be just that. Household movers can move items and they are licensed to move items. Also, vehicles are heavy objects. If every person should be 200 or 300 pounds worth of cargo in their vehicles the carrier would be overweight. There is a weight limit.
Truckers know what vehicles typically weigh and if customers are adding weight to those vehicles it can result in fines to the truck driver as he crosses state lines and stops at the different required weigh stations.
We hope this assist you in shipping a car from state to state. If you need any further help, just call us. You can reach us at 800-284-7177 or use our free and instant car shipping calculator to get a rate immediately for your transport.
 Hiring a State to State Car Shipping Company
As far as the price of moving your vehicle, a company that carries your vehicle often works out to be the cheapest. Hiring a company is convenient and safe. However, you can't just hire the first car shipper that you hear of. There are things that you need to consider before you choose one.
– Get quotes from more than one company so you can have a general idea of what it should cost to move your vehicle across state lines. If there is a quote that is exponentially higher or lowers then the others, then you should stay away from that company.
– Look for reviews and testimonials from customers on the company's website but most importantly third-party websites.
– Check the company's safety rating with the Federal Motor Carrier Safety Administration
– Check their ratings with the Better Business Bureau
– Find out how long they have been in business and how many vehicles they have shipped
– Trust your intuition when you speak to the company. Do they seem knowledgeable, helpful, and friendly?
– Ask how long it is going to take for your vehicle to arrive at its destination
– Find out if they have an online tracking system for you to see the real-time location of your car.
Hiring an state to state auto transport company to ship a car from one state to another is a great option to save yourself time, energy, and stress. The right company will ensure that your vehicle quickly and safely makes it from point A to point B with total transparency. 
Once you have chosen a vehicle transporting service, there are a few things to be aware of before you sign the final paperwork.
Registration Number 
The company that you have chosen who is registered with the FMCSA as an state to state car shipping company should be willing to provide you with their Motor Carrier number. If they aren't willing to, that can be a red flag that something isn't right.
Documents
Don't rely on verbal agreements with the company. Get everything in writing with the bill of lading. The transporter should  carry out an inspection of your vehicle with your present. This ensures that the vehicle is yours and that you and the state to state car shipper are both on the same page with the vehicle's condition, so any damage that occurs during transport can be documented.
Insurance
The company that you choose to transport your car should have the appropriate insurance to cover any damage that occurs to the vehicle they are moving to. If the company refuses to show you their insurance certificate, this is a red flag that they aren't a legitimate company. If the insurance that the company offers as part of their package isn't as much as you would like to have, you can usually choose to purchase more through the company you hire. If this isn't an option, you can buy insurance through your regular insurance broker.
Why We Are the Best State to State Auto Transport Company
National Express is defined by our high-quality of service, safe and timely delivery of vehicles, cost-efficiency, and a great customer service.
We try to ensure you get the best experience while dealing with us and your vehicle gets the best transportation possible. When you assign us the job of moving your vehicle to another location, that job becomes a top concern and priority.
We leave nothing to chance as we deploy our best manpower and resources to complete the transport of your car in the most efficient and responsible manner.
We ship all kinds of cars from your museum grade Ferrari to grandpa's old Ford Maverick. Our services are available door to door and nationwide. We have a large pool of happy and satisfied customers who rely on our safe, reliable, and hassle-free service.
You can always count on us for great and reliable service. Then why to think further? Contact us now.
Ready to Get Started with National Express?
Our professional team of trained advisors is ready. Call

to speak to yours now.