Efficient Vehicle Shipping To or From South Dakota
No matter if you are moving from another state, getting your car moved is always better than driving it. South Dakota Auto Transport services are a little tougher to come by in this state, but thanks to how we are all interconnected through technology, a state like South Dakota has carriers coming in and out of it all the time.
Many people may know this but South Dakota is One of the least populated states in the union.
And though it is home to Mount Rushmore, tourism in the state is not the highest either.
Although many people imagine the old farmer with the overalls and red cap alongside beautiful hills and landscapes, the culture is actually made up of Native Americans that have made the state their home. Yes farming is pretty big but the industry does not bring any business in or job or locations for example.
In fact the state is very quiet. There are only two major cities that we see car shipping coming to and from and that would be Rapid City and Sioux Falls. From that, auto shipping is relatively impossible anywhere else in the state. Even if you were to drop off in a little terminal and have a little tube truck driver bring it to you. It is always best to go to those two locations for pick up or drop off if you need to ship a car from South Dakota.
Also, being surrounded by North Dakota, Wyoming, Iowa, and Nebraska doesn't help much either for that when we view auto shipping routes in general. All these areas in the region see very little traffic as well with you exception of Iowa being just a bit more populated and have slightly more influx of transport.
Need help shipping to or from South Dakota? Call us today or know the cost using our calculator.
Professional Auto Transport in Sioux Falls
Compared to most other towns Sioux Falls auto transport is easier to come by when looking for a firm to move a vehicle in our out of the city.Sioux Falls  is one of top cities in the United States for auto shipping firms. Along with Rapid City, Sioux Falls is one of the two cities in South Dakota which is on a main route for auto carriers.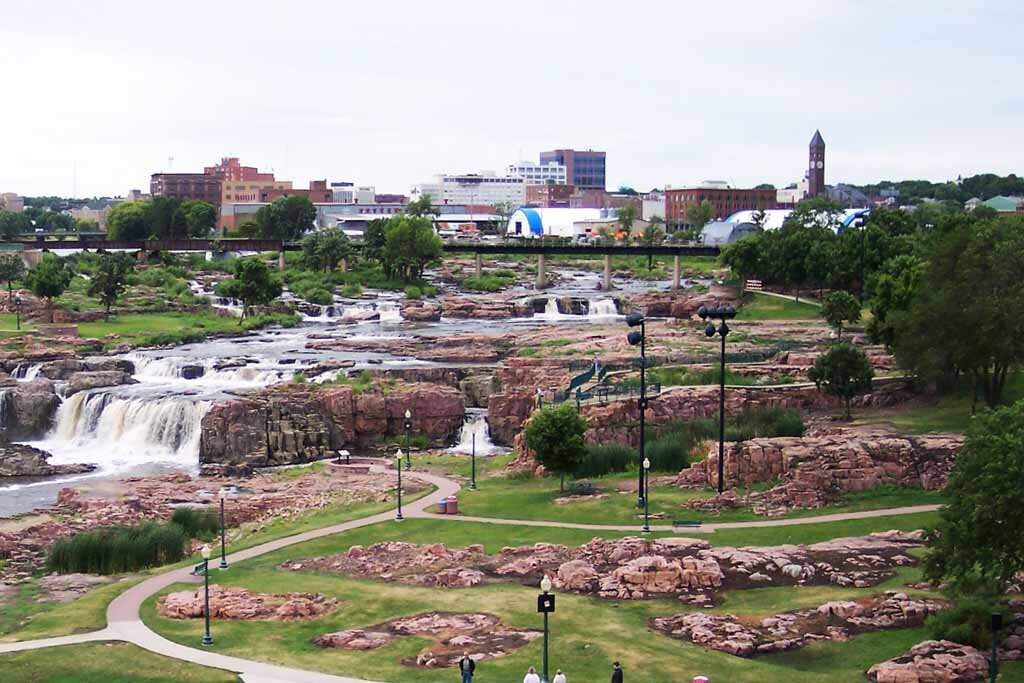 The city also  has a higher population density and a large number of people are using their own car for commuting. So the auto shipping firm will usually take less time to transport the vehicle to Sioux Falls SD from other cities and towns in the state The amount charged for shipping a vehicle will also be lower.
Many vehicle  owners that are relocating to Sioux Falls in South Dakota are doing so for jobs and other professional opportunities. Selling their existing vehicle to purchase a new vehicle can be time consuming and expensive, so it is cheaper and more convenient to transport their car to Sioux Falls, rather than purchase a new car. However they require a suitable car transportation firm which will move their vehicle safely and quickly at a reasonable price. Hey, that's us!
Sioux Falls, also known as Stone Shatter city in Lakota, is the county seat of Minnehaha County. As the city is rapidly expanding it also extends into the nearby Lincoln county. The Lakota people were the first settlers in the region, and there are numerous burial mounds around the Sioux river. Many Lakota Indians continue to live in the city and also in the reserves in the proximity of the city, The first European settlers arrived in the city in the first half of the eighteenth century, and the city of Sioux Falls was incorporated in 1856, the location selected mainly on the basis of the natural beauty of the area, and proximity to the Big Sioux river.
In 1981 the banking firm Citibank relocated its main credit card processing center from New York to Sioux Falls SD taking advantages of the favorable corporate laws in the state. Some claim that this lead to a rapid increase in the job availability and city population over a period of thirty years, from 81,000 in 1980 to approximately 153800 in the year 2010. The city is also a major health care center in the region, with four major hospitals like Sanford Health and Avera Health also providing employment to locals. Financial services, healthcare services and the retail trade are the major job providers in the local economy.
Ready to ship your car to Sioux Falls? Are you thinking of getting out to another city? For either one, call us. 
Ready to Get Started with National Express?
Our professional team of trained advisors is ready. Call

to speak to yours now.