Safe, Fast, Affordable Vehicle Shipping To or From New York State
New York has to be one of the most popular states transport to and from in the nation. In fact, 90% of that shipping is from snowbirds (seasonal transport) coming in and out of the state. The other are relocations. If you are moving to / from or just leaving New York for the winter, you will benefit from the many carriers we have coming in and out of the state.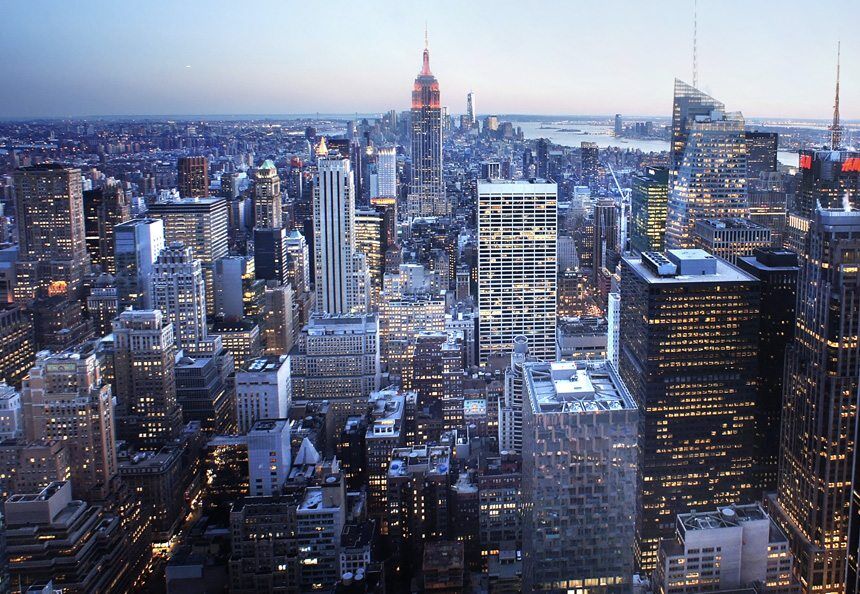 | From | To | Rate |
| --- | --- | --- |
| Parker, CO | Niskayuna, NY | $905 |
| Roswell, GA | Niagara Falls, NY | $730 |
| Carolina, Puerto Rico | New York, NY | $1540 |
| Windsor, NJ | New York, NY | $440 |
| New York, NY | Aventura, FL | $750 |
| DeLand, FL | Monticello, NY | $800 |
| Orland Hills, IL | New York, NY | $635 |
| Syracuse, NY | Fort Myers, FL | $1025 |
| Gainesville, GA | New York, NY | $745 |
| Glendale, AZ | New York, NY | $1170 |
New York Auto Transport Information
New York boasts of being home to the largest city in the United States and it's no doubt by the high amount of New York auto transport orders we take, it's true. Its population has been growing steadily by 2.1 percent yearly, and in 2010 hit the New York City hit the 8.2 million mark being the largest census population in city history. Brooklyn is the state's most populous borough in New York with Queen's having added the most number of people. This means lots of auto transport business.
 The city's growth can be explained by additional housing provided by reduction in crime, large number of births, people moving and transporting,  a reduction in the number of people leaving and using New York auto transport to move away. Despite declining immigration, the local population has increased steadily.
Weather and Climate in relation to Auto Transport
New York experiences significant whether variation with a general humid subtropical climate with moderate precipitation over the year. Much of the state experiences daytime temperatures ranging from 70-80 °F. Winters in New York can get quite cold, particularly in the Plateau Divisions of the state. That is why many residents go south for the winder and use New York auto transport services to do so, as opposed to renting a vehicle for the long winter being spent down south.  Western and Central New York's winters are a bit warm due to the warming influence of the Great Lakes so we see less transport coming from those regions.  New York City metro area is milder in the winter but still cold enough that we see lots of demand for auto transport in the winter.
Jobs and Cost of Living has an Influence Shipping Cars
New York has a high cost of living with expenses being distributed across housing, market, restaurants, transportation, sports and leisure, utilities and clothing in that order. True to this fact, the housing is quite expensive with the monthly rent for a 900 Square feet furnished accommodation in a normal area being $2,829. This is proving to be too expensive for residents and they are relocating, therefore creating a need for a New York auto transport service for leaving the state. The prices for everyday products are up to twice the national averages. The cost of living in New York City is 68.8percent above the national average; that of Manhattan is double the nation's average. Parking fees is a great expenditure for car owners in New York. Gas is also a huge contributing factor as it is 5-10percent above than the national average. 
Reasons for Moving in New York and using an Auto Transporter
New York is a melting pot of diversity with more than a quarter of the population having their roots in other countries.  This diversity extends to the neighborhoods and the architecture with each being distinct from the next.  New York Auto transport services provide a means to help relocate those wishing to move to the state. NY has a fast-paced life with a lot of creativity and energy exhibited by the people. Furthermore, there are great opportunities and realization of dreams. The convenience exhibited by the town is also exhilarating thanks to the abundance of convenience stores.
Reasons for Leaving New York
As of 1st July 2015, 153, 921 more residents had moved out of New York as compared to those who had moved according (outflow) to the U.S. Census Bureau. The main reasons attributed to this are high taxes, high unemployment and a high cost of housing especially in the city and the general high cost of living. Auto Transport is a money saving decision to alleviate adding the purchase of a new vehicle to the list of an already expensive move.
Looking to move your vehicle to or from New York? We can help. Call us at 800-284-7177 or request a quote today!
State Links:
New York (state) Website
New York (state) – Wikipedia, the free encyclopedia
New York Hotels, Things to Do, Tours, Events & More
Ready to Get Started with National Express?
Our professional team of trained advisors is ready. Call

to speak to yours now.