Purchasing your next vehicle from car auction is a great way to buy. In fact, in recent years has become very popular. Car auctions are held throughout the USA. A car auction is a sale event where cars are awarded to the bidder or buyer who's willing to pay the highest amount for a vehicle over the other participants in the auction. Participants do not need a dealer license if bidding on a public auction. A refundable deposit may be required.
Those looking for that perfect classic or other type of car like a daily driver, can score a great deal on their next vehicle. And now that post Covid car pricing has been on the decline, it's even a better time to get a better deal.
In this detailed article, we will take a dive into the nitty-gritty on how to buy a car at auction as well as provide some pretty useful tips.
Auction Car Buying - Article Highlights
Preparing for an auction by familiarizing yourself with the types of auctions and also researching who is reputable is key to a successful buy.
Take some time to understand your needs vs wants. Use that to create a strict budget that won't get away you if you fall in love with a particular car.
Do your pre-auction homework by researching and performing inspections. Run an Autocheck or Carfax and spot prior reported damage or ownership issues.
Follow smart bidding strategies such as setting a price celing that you will npt. It's a great idea to perform a "dry run" and see how the process works from start to finish before you start bidding.
Preparing for an Auction
Before participating in your first live auction, you should familiarize yourself with the various types of auctions so you can work with the one that will have what you are looking for. Auctions can simply be categorized into 2 basic formats. These are public where regular customers without a dealer's license can bid on vehicles and dealer-only. With most auctions, you can bid on in the comfort of your home whether you are a licensed dealer or a regular customer.
Each type of public auction or dealer auction has its own set of rules and requirements for participation.
Types of Car Auctions
There are several types of auctions to choose from, each will be catering to different buyers and offering unique vehicles up for grabs. Here are some examples:
Dealer wholesale: Exclusive auctions, that as you may have guessed are open only to licensed car dealers, allowing access to a rather large range of vehicles not available to the public. A dealer auction lets car dealers to find great deals on various vehicles.
Police auctions: These are vehicles taken by the police for restitution or seized as a result of a crime.
Repossession auctions: This type of auction house is often loaded with great vehicles taken back by lenders due the prior owner's failure to pay their car loan.
Salvage auctions: Present vehicles declared as total losses by insurance companies, also known as salvage auctions.
Classic car auctions: Vintage or classic vehicles, usually 25 years or older that can be sought after by collectors and enthusiasts.
Whether you're looking for a rare classic car or a budget-friendly daily soccer mom van, there's absolutely an auction out there for you. You might even find what you're looking for in a few auctions, including public auctions.
Used Cars, Dealer Wholesale, Repo, and Repairable Salvage Car Auction Houses
A Better Bid
ACV Auctions
ADESA
Auto Auction Mall
AutoBidMaster
Capital Auto Auction
Cars and Bids
Copart
eBay Motors
IAAI
Salvage Bid
Classic Car Auctions and Vintage Auto Auctions
Barrett-Jackson
Bonhams
Classic Car Auction Group
Gooding and Company
McCormick's Palm Springs Classic Car Auctions
RM Sotheby's
Russo and Steele
The Mecum Auction Company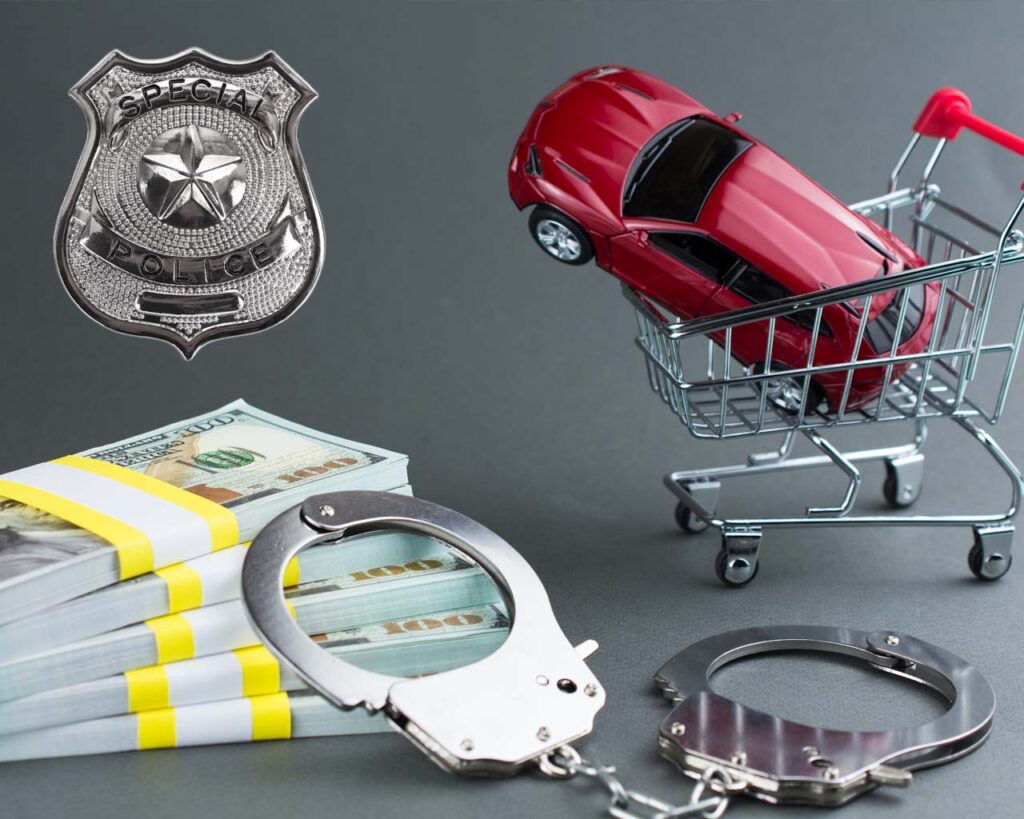 Police Auctions
Police Auctions are a great way to get two types of vehicles. The first are seized vehicles courtesy of your local criminals. These vehicles were either used or obtained with elicit money, and cops auction them off to fund operations. There are may options to find police auctions.
The other are retired police cars. Retired police cars are usually high mileage and have scene their bit of car chases. However, they are meticulously maintained by law enforcement.
Choosing the Right Vehicle
Choosing the best vehicle at an auction takes a careful understanding of what your needs are and your budget.
Understanding Your Needs
Most start by figuring out what type of car you are looking for. Are you searching for a daily commuter, a family car to load the family, or maybe a weekend cruiser?
Taking your finances into account is very important. Set a realistic budget that includes not only the cost of the purchase but also any extra fees, taxes, and auto transport costs to take your purchase home. By having a clear and precise understanding of all of this, you'll be more than prepared to make an informed decision and avoid getting in over your head.
Additionally, think about any specific features or requirements you may have, such as fuel efficiency, cargo space, or safety features. By taking the time to assess your needs and prioritize the aspects of a vehicle that matter most to you, you'll be better equipped to make a well-informed decision at the auction.
Budget Research
Establishing a budget is very important for more than just not overspending beyond your means. Yes, while it may be tempting to fall in love and ignore the price, it's important to consider other costs associated with buying a car at auction, as mentioned earlier. You also want to do research on the vehicle's market value. If you are looking at the auction as an investment, you can easily exceed your profits.
To create a realistic budget, follow these easy steps:
Research the market value of the cars you're interested in.
Set a maximum bid for yourself and for each potential vehicle.
Keep in mind that bidding can be competitive, and it's easy to get caught up in the excitement and overspend.
Always set a strict budget and stick to it, as you'll be more likely to score a great deal without breaking your bank account.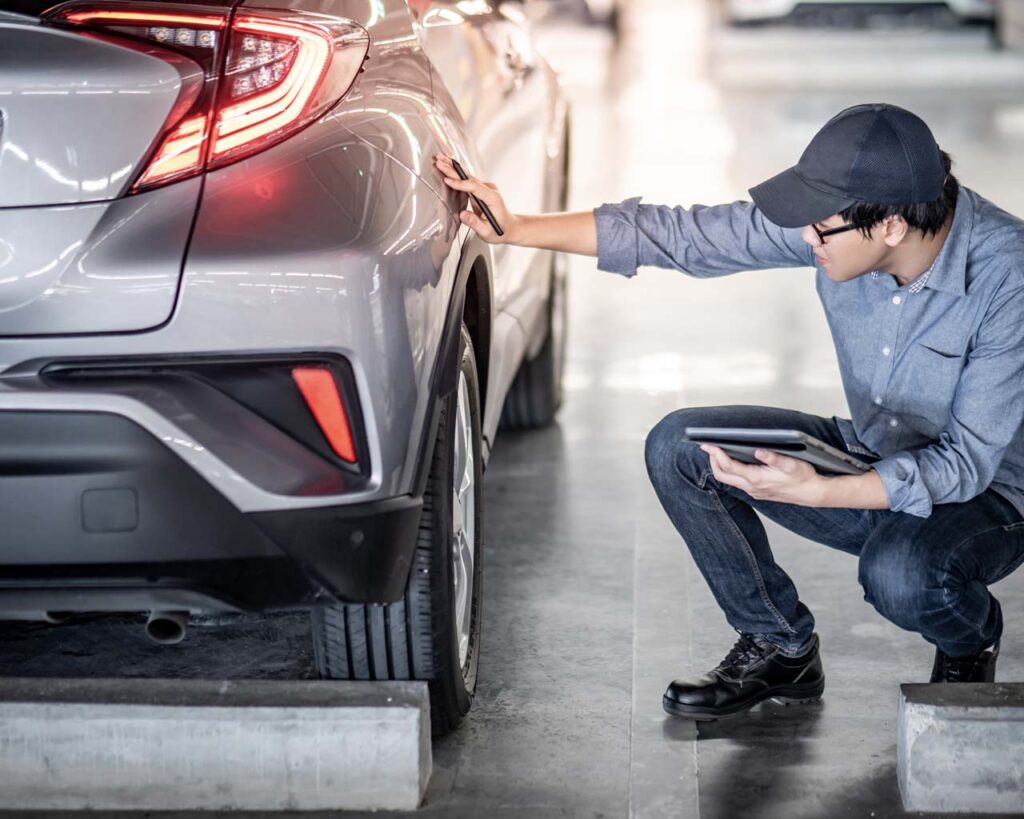 Pre-Auction Research and Inspection
A well performed pre-auction inspection along with some careful research is the key to making a well-informed decision when purchasing a car at any auction. This of course involves taking your time to verify all the available information about the car and identify anything that could be a red flag.
After all, it's all about being well informed on what you are bidding on. Research and inspection can help you avoid costly mistakes. By doing this you can make sure you're bidding on a vehicle that meets your needs and also your expectations
Vehicle Background Check - Carfax, AutoCheck
Running a full report is a critical part of the car-buying process at any auction. The auction house may not be required to disclose certain information.
By using the vehicle identification number (VIN), you can access a wealth of information about the car, such as its accident history, mileage, and any possible title problems.
There are several online resources and services available to help you conduct a vehicle background check, such as VIN decoding websites like Carfax and Autocheck for any car you are interested in. Keep in mind however, classic cars may have little or no information. This is because details like mileage disclosures weren't around over 25 years ago.
Other popular options to check history on available cars include SCA Auction VIN Decoder, Stat.VIN, and VehicleHistory.com.
Inspecting Vehicles at the Auction
Careful inspection of vehicles at the auction is vital to confirm that the car you're bidding on aligns with your needs and expectations. Start by examining the car's exterior, checking for dents, scratches, and any signs of rust or corrosion.
Don't forget to look under the hood and assess the car's mechanical condition. Keep an eye out for signs of leaks, worn belts, or other potential issues before placing the winning bid.
The car's interior should also be inspected, including the upholstery, dashboard, and electronics. Test all buttons and switches, and make sure the air conditioning and heating systems are functioning properly. By performing a thorough inspection of the car before bidding, you'll be better equipped to make an informed decision and avoid any unpleasant surprises down the road.
If you can't be there in person, you can still inspect the vehicle. You can pay an inspection company to give you a report so you don't pay money for the wrong vehicle.
Bidding Strategies and Tactics - Be an Auction NINJA
Seems like common sense but having effective bidding strategies can assist you in obtaining the best deal at a car auction. Here are some tips to help you:
Set a price limit and stick to it not matter how excited you are.
Observe auction dynamics and learn how bidding works.
Understand how other bidders behave and adjust your strategy accordingly.
Pay attention to the auctioneer's style and cues.
Be patient and wait for the right opportunity to bid.
Don't get caught up in bidding wars - know when to walk away.
By following these tips, you'll be better prepared to make informed decisions during the bidding process.
To increase your chances of success when you buy cars, research the market value of the cars you're interested in, set a strict budget, and familiarize yourself with the auction process. By doing so, you'll be more likely to secure a great deal and walk away with the car of your dreams.
Setting a Price Limit
Establishing a price ceiling is a huge aspect of the bidding process. By determining the max amount you're willing to spend on a vehicle you're interested in, you can avoid getting caught in a bidding war and overspending beyond your means.
To set a price limit, consider the value of the cars you're interested in, as well as the additional costs such as auction fees, sales tax, and car transport!
When setting your price limit, it's important to be realistic and stick to your budget. Keep in mind that auctions can be competitive, and it's easy to get caught up in the excitement. By establishing a strict price limit and sticking to it, you'll be more likely to secure the best deal without breaking the bank.
Observing Auction Dynamics
Monitoring the auction dynamics can yield crucial insights into the bidding process, aiding in more informed decision-making. By watching how other bidders behave and understanding the auctioneer's style, you can gain a better understanding of the level of competition and market conditions.
Pay attention to the auctioneer's pace and style, as well as any patterns or tactics employed by other bidders. This information can help you adjust your bidding strategy and maximize your chances of winning the auction at a favorable price. By staying observant and adapting your approach as needed, you'll be better prepared to navigate the competitive world of veh auctions.
Closing the Deal and After-Auction Logistics
Finalizing the deal and managing post-auction logistics are pivotal stages in the car-buying process. Once you've won the bid on your desired vehicle, it's time to make payment, handle any necessary paperwork, and arrange transportation for your new car.
By understanding the auction house's payment terms and ensuring you have the necessary funds available, you can smoothly complete the transaction.
Additionally, be prepared to complete any required documentation, such as transferring the title and registering the vehicle with your local DMV, which may require a dealer license.
Making Payment and Handling Paperwork
Executing payment and managing the necessary paperwork are integral steps in the car-buying process. Auction houses typically accept various payment methods, such as:
checks
financing
credit cards
cash
Be sure to review the auction house's specific terms and conditions for payment before bidding.
Once you've made payment, it's time to handle any required paperwork. This may include signing legal documents, making final payments, and officially transferring ownership. Be prepared to provide any necessary information, such as your contact details and proof of payment, to complete the transaction.
Arranging Transportation
Organizing transportation for your newly acquired vehicle is a significant phase in the car-buying process. Depending on your location and the auction site, you may need to coordinate with a car shipping company or make other arrangements to get your car to its final destination.
There are several options for transporting a vehicle from a car auction, such as hiring a shipping company, renting a trailer, or driving the vehicle yourself.
Be sure to consider factors such as the distance, condition of the car, and the transport company's reputation when making your decision. By planning ahead and choosing the right transportation method, you can ensure your new car arrives safely and efficiently.
Tips for Online Car Auctions
Online auctions have become increasingly popular in recent years, offering a convenient and efficient way to buy and sell auction cars. By navigating the world of virtual bidding and taking advantage of the benefits offered by online auction platforms, you can make the most of your online car auction experience with an auction vehicle.
This section offers useful advice for participating in online car auctions, including the distinct advantages of online platforms and insights into the bidding process.
Benefits of Online Auctions
Online auctions, including auto auction platforms, offer several advantages over traditional in-person auctions. With access to a wider range of vehicles, you can find the perfect car to suit your needs without being limited by geographical constraints.
Online auctions also allow you to bid from the comfort of your own home or office, making the process more convenient and efficient.
In addition to the convenience factor, online auctions often provide more detailed information about the cars being auctioned. This can help you make a more informed decision and increase your chances of securing a great deal. By taking advantage of the benefits offered by online car auctions, you can streamline the car-buying process and find the perfect vehicle for your needs.
Navigating Online Bidding Platforms
While online bidding platforms may initially seem daunting, with adequate research and practice, you'll soon gain confidence and ease in participating in online auctions. Start by familiarizing yourself with the platform's interface and the bidding process. Be sure to set up an account, providing any necessary information and payment details.
When bidding online, it's important to stay focused and disciplined. Set a strict budget and stick to it, avoiding the temptation to get caught up in a bidding war. With patience and perseverance, you can successfully navigate the world of online car auctions and secure the vehicle of your dreams.
Summary
Navigating the world of car auctions can be a thrilling and rewarding experience. By preparing for the auction, choosing the right vehicle, conducting thorough research and inspection, employing effective bidding strategies, and handling post-auction logistics, you can successfully navigate the auction process and secure the car of your dreams. With the right approach and a bit of persistence, you can find the perfect vehicle at a great price, making your car auction experience a winning one.
Frequently Asked Questions
What are the disadvantages of buying a car in an auction?
Buying a car at an auction carries the risk that you cannot test drive the car you want, which may lead to issues with the car down the line. Additionally, you may not be able to access the full and accurate history of the vehicle. Auction cars sometimes don't qualify for an extended warranty, which limits your protection should something go wrong.
Can I buy cars from an auction without a Texas license?
Yes, you need a valid driver's license to buy a car at an auction in Texas. Additionally, some form of refundable deposit is also required. However, these are limited to those not labeled "dealer only".
What license do you need to buy cars at auction in Florida?
To buy cars at auction in Florida, you need to be a licensed car dealer. Different license types may qualify you to attend auctions as well elsewhere.
How do I get an auction license in CT?
To get an auction license in Connecticut, contact the town clerk for information on how to obtain the license. State law requires a license to be obtained from the town where the auction is to be held.
What types of car auctions are available?
There are two main types of auctions available: public auctions and dealer auctions, and most can be done online without you having to be there in person. Each car auction has its own set of rules and requirements for participating.