Although calling your preferred auto transporter and getting a price isn't very difficult at all, most are concerned with the taxes, fees, and other unexpected costs which seem like they aren't publicly disclosed anywhere. Or how to even pay these fees to get your car released. Seems like some shippers collect their money and have you set sail while they leave you to figure out the rest.
Fortunately, it's not as hard as you may think to get the answers as we have as detailed of an explanation as we can safely say exists. Also, since more and more services are brought online, old procedures are replaced by automated ones, the whole thing has gotten much easier. You can even add a concierge service added to pick up and register the vehicle for you!
Find Out The Cost to Import
First, you can go to this link to get an import excise tax right from the source. There you will find the rate for your vehicle. At the time of this writing, we entered a sample 2010 Honda Accord. It then gave us a total of $1259 to import that vehicle.
The website is in Spanish for the most part, with some items not offering any translation. But even if you can't read Spanish, the numbers will make sense when you look at them. For example, the lower value number will be the import tax and the higher value number will be what Hacienda estimates your vehicle is worth in Puerto Rico. Selections such year, make, model are obvious since they don't change regardless of language.
After you request your tax estimate, it will say the following:
"Esto es un estimado del arbitrio a pagar en la importación del vehículo antes descrito. El mismo está sujeto a la verificación de los datos del vehículo y la fecha de introducción."
Which translates to…
"This is an estimate of the tax to be paid on the import of the vehicle described above. It is subject to verification of vehicle data and the date of introduction."
There are various reports from those that have imported their cars that the fees were less than expected. Sometimes as much as one hundred or more dollars.
How to Pay Your Import Excise Tax – Full Procedure
Ok, so now you are aware what the import cost is. If by now you have also filled out a car shipping calculator to get a rate, you then have the full picture of how much you need to get a car down to Puerto Rico. Now begins the process.
We go over everything with you that is needed for us to get your car when we set up your auto shipping order for Puerto Rico, so we'll move on to the part that we don't control. Which are all the steps necessary to retrieve your vehicle. However, if you want to see that information you can do so by going to our Puerto Rico Page. If you are coming from Florida to Puerto Rico you can read this post as well.
When your vehicle sets sail it takes about a full week to arrive. Once your vehicle is ready to be picked up in Puerto Rico, you have 5 days to get it before storage fees. It will arrive at the Port of San Juan.
What you don't have at the time you get your vehicle is the Official Excise Tax Document and the Proof of payment for the Excise Tax . However you still need to actually visit the port, visit your vehicle, and get documentation that you will need and be directed to where the Official Excise Tax Document will be given to you there. They have a simple system. The paperwork is usually on the driver's seat. This is your chance to take a walk around the car and inspect it.
Again, The Official Excise Tax Document will be at an office at the port. It's usually a small office and there are a few of them near all the shipping lines. Ask where to go BEFORE leaving the port, as you CANNOT pay your excise tax until you get this form because this process is done at the port. From there are two ways you can pay:
Option 1 – You will receive the Official Excise Tax Document at the port and pay online.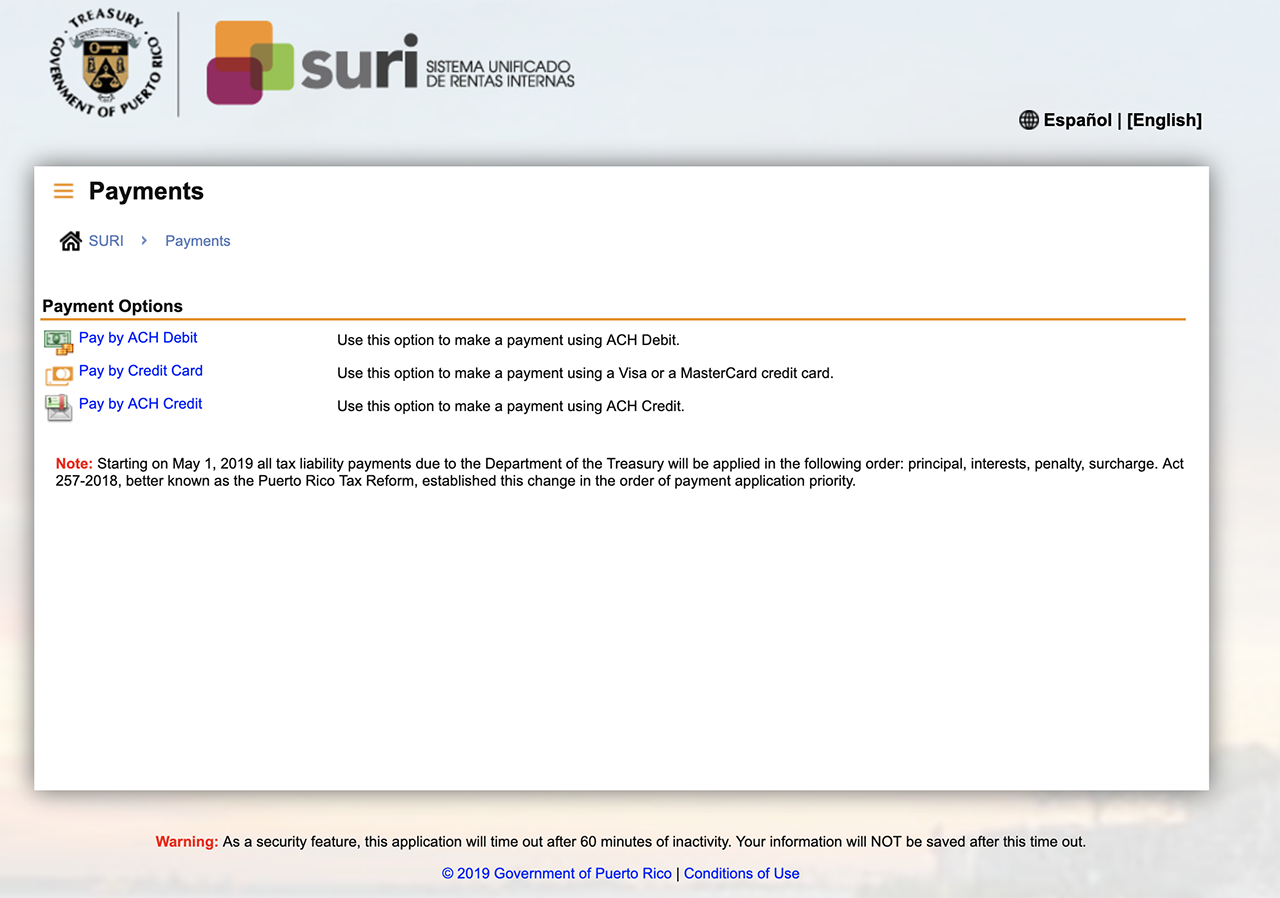 The staff at the port will direct you to use SURI to pay the taxes online. They have ACH and credit card options for you to choose from. They will go over it with you so you can finish this portion of the process and present the proof of payment. This is by far easiest way but if you brought cash to pay the taxes or you don't want to do it online, then you will have to go with option two.
Option 2 – You will receive the Official Excise Tax Document At the Port to Then Go to the Hacienda Centro de Servicios.
NOTE: PAYMENT IN PERSON IS NO LONGER DONE AS OF 2020, WE WILL UPDATE THIS POST OF THAT CHANGES.
You will leave the port (in another vehicle or ride sharing service/taxi) and go to:
2 Avenida Juan Ponce de León
San Juan, 00917
This will be the location of the Hacienda Centro de Servicios.
Don't try to map the location by name, it doesn't show up. Trust us, it's there. In fact, if you hit the street view it says in big letters "HACIENDA CENTRO DE SERVICIOS". There is parking across the street from the Hacienda Centro de Servicios, and they even validate!
Once you enter the building, they will tell you where to go to pay the tax. Be prepared to wait. Average wait has been about 1-2 hours. Your best option to pay is to bring cash. As of recent, they now actually accept credit card but this can change at any time. Please be sure to have cash as a backup. You may be asked to return to reception and bring those papers for a stamp. If they don't then ask about this. Always ask if there are additional steps while you are there.
Once you have your Proof of payment for the Excise Tax you can head back to the port. You will once again need to clear all the security and make your way to your car. The security will inspect your vehicle, take a photo of you, and off you go with your vehicle. You are now ready to register the vehicle.
Picking Up Your Vehicle
To get your vehicle you will need the following:
Social Security Card
Valid Driver License
Your car's booking number
Official Excise Tax Document (that you get at an office in the port)
Proof of payment for the Excise Tax (by paying online using SURI)
Payment of remaining balance for the ocean-bound transport
Paying the Remaining Balance of Your Ocean-bound Transport
Most companies, including ours ship "Collect" (Unless otherwise agreed upon.) Meaning you pay a portion of the service before the vehicle arrives to the island, and the remaining when you pick up the vehicle in PR. The most popular shipping line is Crowley and we like using them to. However, before you go online and try to work with them to try to cut costs, it's important to note they are very much more expensive to deal with directly and they do not offer any door to port or port to door shipping. Think of it like going to your favorite big box store vs ordering directly from the manufacturer of your favorite TV brand. You'll pay retail. Same thing here.
They make it easy to pay ahead of time before the vehicle arrives at the port. The "arrival notice" will be sent to you via email around 1-2 business days before the vehicle arrives to the island.
You can always pay in person with their clerk, but you can save time by doing it online before you get there. Here's how:
First: Go to the direct biller link. The following will appear: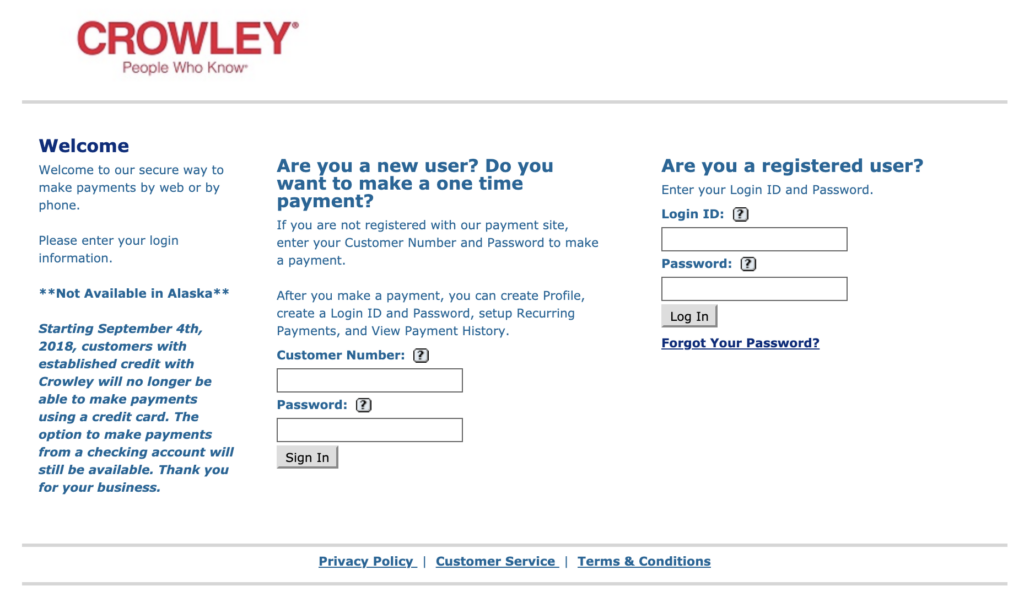 You will need your Customer Number, (a.k.a. CVIF). Don't worry, we'll send it to you. Enter this number as the username and the password.
You will be taken to the payment portal, enter your payment details and submit. You are ready to pick up!
Registering Your Vehicle in Puerto Rico after Pickup
Although Puerto Rico is a U.S. province, you can't drive around with U.S. Plates for more than 3 days. You need to get your vehicle registered. You have 3 days to get your car registered with Puerto Rican Plates.
As of 2019, many of our customers have reported that there is now a trailer sitting at the port with individuals taking care of registrations with "runners" to get the plates for you. This has not been fully confirmed yet, but we are letting you know it's been seen by various of our customers. Keep in mind, this could change. So far nobody has reported a problem using this service but proceed with caution. For everyone else, read below.
DTOP – The Puerto Rico DMV
This is the department on the island that issues licenses, vehicle registrations, and more.
If you are NOT a resident of Puerto Rico, you will need:
The Title for the Car
Valid US Drivers license
Import paperwork. KEEP Everything to be safe in case they ask.
ORIGINAL Social Security Card
Proof of residency. (Lease, property ownership papers, or if moving in with family have a letter certifying you are moving in rent free)
If you ARE a resident of Puerto Rico, you will need:
Your valid Puerto Rico Driver's License
The title of vehicle
Import paperwork. Again, KEEP Everything to be safe in case they ask.
Registration Fee for below 3,500 lbs is around $72.00. Above 3,500 lbs expect to pay about $115.00 – $155.00
Unfortunately, there's always extra steps in some of these processes. So be ready to take at least 2 days to cover all these steps:
You may need to go the DTOP office and pick up a form called the "Expedicion Comprobantes de Pago". See below for locations. This is changing now that they are using SURI, the online payment portal. To be sure, call. See below for locations.
Go get your emissions inspections at a local mechanic. Search around and you'll find one nearby. Expect to pay about $20-40.00
If you can pay using SURI, the DTOP will inform you on how to pay your fees. Otherwise, you will need to Hacienda.
Call your most convenient DTOP office when they open in the morning. Most open around 7:30 am. You need to get an inspection done to complete your vehicle registration. See Locations in the next section.
Since 2019, the DTOP site has been redone with less information. They used to have a great list of locations. But luckily thanks to Archive.org, you can see this list of locations. Verify the one nearest you by calling. The less conjested the area, the less the wait. Here's the list.
Afterwards, License stickers are renewed yearly. You will have to pay $35 annual fee for no fault insurance and $65 for annual registration. Much less than most places in the U.S.
For more information, head to DTOP, the Puerto Rico DMV website.
Tips and Other Ideas for Dealing with Costs and Taxes to Import a Car to Puerto Rico
Some looking to move to Puerto Rico and transport their cars there are faced with the decision of paying the import taxes and the shipping cost of a vehicle they may no longer be interested in keeping anymore. This could be because it is an older car. In this case, you may compare the value of the vehicle to the cost to get it there, you begin to get frustrated. Vehicle selection down there isn't the best and in general because of the extra costs to get them there, you will pay an average of $2,000-5000 more than a car in the states. So, some decide just to import the car they already have unwillingly.
A simple trick to saving money is knowing that dealerships pay less to import vehicles to Puerto Rico than private citizens. If you are unable to find a vehicle that you want down there, you can always buy another vehicle from the dealership let's say in Florida, and have the dealer work with both you and us to ship it and include the import taxes as part of your deal with them. The import calculator will show you the dealer rate as well if you select the dealer option.
Another simple idea would be to test different vehicles on the calculator. If you have definitely decided you don't like any of the vehicles down there and definitely don't want to send your own, you can find out what you want to buy based on the cost to get it down there.
Is it worth paying the import fees and costs to ship a car to Puerto Rico?
The answer is.. It depends.
Everyone's situation is different. Puerto Rico is a very small island and the availability of certain vehicles that you may want to drive may not really exist and most will cost more. Your best option for making your choice will be to do research on sites like Craigslist or Clasificados Online to see what's there. Yelp has a list of the 10 best dealers in PR. There's also some lesser known marketplaces like encuentra24 that will have vehicle listings.
Why are Auto Transport Companies Reluctant to Share the Known Costs and Fees to Import
Another question you may be asking is why is it that nobody has this information anywhere? Well, it benefits some auto transport companies to keep this a secret. We heard stories of other shippers telling customers it's as little as $500 to import a car. The lowest fee we have seem to import a vehicle is $895.
You need to know everything you need to know so that way you can make the best choice.