On Friday July 17, 2015, Tesla CEO Elon Musk announced the Ludicrous Speed Mode, paying homage to the 1987 comedy Spaceballs . One of his favorite childhood movies. It features an animation that is activated that takes over the screen reminiscent of the moment it was activated in the movie. The feature boosts the Model S to 762 Horsepower with a 0-60 of 2.8 seconds.
Everyone knows Mr. Musk is quite the nerd. As the CEO of Tesla and inventor of PayPal we are more than sure he's hung around in his boxer shorts eating stale pizza watching Mel Brooks movies like Spaceballs while punching in code. A comedy released when he was 16, in 1987.
We here at National Express could not avoid the coincidence of that, as at this company are children of the 80's and 90's. So we are very familiar with the flick and thought it was an amazing surprise . It goes to show, that certain things we found funny as children could manifest into a $100,000 car because the CEO is from our generation. And also goes to show not everything has to be serious and lacking creativity.
Mr. Musk announced that the Tesla Model S was given an available upgrade to have a "ludicrous speed" mode option. Some are calling it an easter egg. The "hidden" feature pays homage to the Spaceballs movie, which is one of his favorite teenage nerd movies. But if you have to pay for it, and know it's there, that doesn't fit the definition. It's a $10,000 upgrade and It works with a smart fuse which has an electronic control unit and an additional lithium ion battery pack. That will punch output to 762 Horsepower. Mr. Musk said it is "... faster than falling."
The Ludicrous Speed mode setting allows the Tesla model S to make it from o 0 to 60 in just 2.8 seconds. That is incredibly impressive for such a heavy vehicle and how tiny the rear mounted motor really is. Have you looked at the innards of a Tesla? It's a lot of technology and just a huge battery riding underneath that alone creates so much weight that the vehicle consists of which is almost 5000 pounds. The word record for 0-60 is currently 2.2 seconds for vehicles that have been in actual production. Not special aftermarket cars like the 2002 Chevrolet Corvette (Lingenfelter 427 Twin Turbo) that ran 1.9 seconds, a post factory modified car. The Porsche 918 Spyder rakes in a the 2.2 second record, and the Dodge Challenger SRT Demon rakes in a 2.3.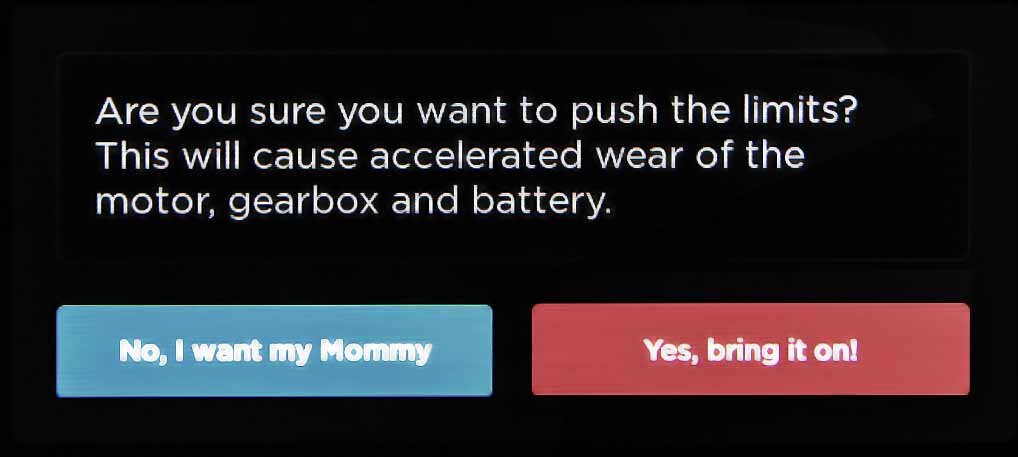 There is a warning when you activate ludicrous speed to let you know that you will be causing excessive wear and tear on the power gear thing ofa-bob-flux-capacitor whatever it is, however owners are enjoying the fact that they are literally destroying almost every high end and lightweight sports car on the road, anywhere. Even the "opt out" shows humor has a place anywhere or you're just not going to enjoy your work.
Everyone knows what's coming. That Tesla roadster making full circle to the in order for Mr. Musk to pay his respects to the car they got Tesla its start. Goes to show that Tesla has not been sitting on his hand since were creating the three model lineup. I guess the tesla Semi Trucks are going to be the closest thing we get to a space going Winnebago.
But let's be the first to predict it, maybe the new Tesla Roadster will have "Gone the Plaid".
For more information on the ludicrous speed feature and the Tesla Model S you can go to Tesla.com.
Speaking of Teslas and the fact that this an auto transport company, here's our pitch for getting your vehicle delivered to you if you are purchasing one from afar. You don't have to be buying from a dealer to get your car shipped. Anyone can arrange for auto transport and buy a car from anywhere and anyone in the country. All you need is a professional service. You can also use us for moving. Contact national express auto transport to move your tesla to or from wherever whenever. Call 800-284-7177 and ship your tesla in style.