If you're considering towing with an electric car, there are a few things you need to know. If you are moving and towing your belongings in a moving trailer or planning a roadtrip, towing with battery electric vehicles needs some planning.
As of 2022, most electric cars have much lower tow capacities than gas-powered vehicles and suffer from limited range. Some have no tow rating. So if you think you can pull a camper with a Nissan Leaf, you may want to rethink your plans.
Shipping your electric vehicle and using a moving truck or even hiring a mover and an auto transport company is usually safer than moving and towing with your EV. It all really depends on your budget and timeline.
However, If you're only doing occasional towing or short-distance towing, electric cars can still be a great option regardless of limited range on their battery charge. Just be sure to do your research and know the limitations of your vehicle before heading out on the open road.
The focus so far with electric cars and trucks has been on energy making then energy efficient. So you may have noticed there's not a lot of people doing it every day just yet. Just know primary, battery charge will be on your mind followed by where is the next charging station.
The main concern will be the range to tow for long distances compared to their gas or diesel engine counterparts. So if you have moved or vacationed cross country on your own with a gas powered vehicle, then this may be a whole different ballgame for you.
As we approach the quarter century, we'll start to see even more electric vehicles with towing capacities and ranges that are comparable to or greater than gasoline trucks. However, compared to current internal combustion engine vehicles, towing range is not yet up to par.
In this article we will talk about how it is to tow with an EV, what to expect, and the newest EV's that can handle towing.
Towing with an Electric Car - What To Consider
In the past, towing was rarely addressed by electric automobile manufacturers. As it was, they were busy trying to convince people electric cars were a viable option for getting around, let alone towing stuff. As a result, most tow capacities have been a mediocre 2000-2500 lbs on average when you look at vehicles like the Polestar 2 and Kia EV6.
Range Issues
The biggest drawback with going electric for towing is range. Real world testing has estimated that most EV's get 40% or less range when towing. As opposed to a 25-35% loss of fuel mileage for gas powered vehicles. So if the electric vehicle already has a small 250 mile range, you could be looking at close to a 100 mile range when towing.
Since many electric cars aren't pulling boats and trailers, there's not a lot of data on how towing affects range exactly for a lot of these vehicles. You can expect electric vehicles to turn, brake and turn similarly to their fossil fueled counterparts. But range has been reported to be very low.
Finding Charging Stations When Towing
As we continue to have more electric vehicles on the road, charging stations are much more prevalent than before. For most cross country trips, you can find a charging station every 200 miles quite easily. However it's important to carefully plan as with lowered range electric vehicles experience when towing. There may be an insufficient amount of locations to charge on long trips while towing.
If you drive a Tesla, this isn't much of an issue. The Tesla company's proprietary Supercharger network is significantly quicker and more widespread than other charging networks, which helps to minimize concerns regarding range.
Fitting at Charging Stations
One thing you may have not thought of is the positioning of some charging stations can necessitate the removal of the trailer to park where the cable can reach the charge port. Unlike gas stations where you can fit a trailer.
Acceleration When Towing with Electric Cars
Expect to have patience when accelerating , especially if you are using the maximum towing capacity of your electric vehicle. Remember, electric car motors operate usually on one gear and are constantly engaged. This means there's no low gear, clutch, or torque converter to allow the motor to spin for low speed movement.
Limited Towing Capacity of Many EV's
This number refers to how much weight your car can safely tow. You need to know what range of weight you may tow with your ev can tow. This is known as towing capacity. So, in order to help you choose between different moving trailers or campers, you need to know if you can tow. We list many here, but there's a handy database available.
Payloads (Trucks)
The payload of a vehicle is the maximum weight that it can carry in its bed, which primarily applies to trucks. Since electric trucks are now on the scene, you'll want to bear this in mind as well. The maximum weight a truck may carry in its bed is known as the payload limit. Fortunately, new and upcoming electric trucks are showing impressive payload numbers.
Regenerative Braking Solar Panels on Trailers Not Yet Available
As trailers evolve, more will be available with regenerative braking systems and solar panels. But this is not available at all yet. This method not completely recharge the vehicle while driving but extend range by cutting battery drain by giving some juice back to the battery.
A YouTuber managed to get 800 watts and full charge in 80 hours with a makeshift charging trailer.
Even if the the trailer tech was available now, the tow vehicle must allow for a charging connection from the trailer. In fact, the car had to be parked to charge. Since this is a new technology no vehicle will move while charging unless modified.
Electric Cars and SUV's That Can Tow
The First Available Electric SUV that Could tow 5000 Lbs - The Model X
The Tesla Model X was the first electric SUV with a towing capacity of up to 5,000 lbs on 20″ wheels. Until recently it was the only car in its class (electric midsize SUV) that offered this option. It even has a Trailer Mode that will automatically level the suspension.
Still, 5000 lbs isa a small number when compared to gasoline-powered rivals like gas powered Tahoes and Expeditions, but it did give owners the ability to haul little and medium-sized trailers. In fact, someone took a Tesla Model X and pulled a camper with it across the country.
The Tesla Model X was the first electric SUV with a towing capacity of up to 5,000 lbs on 20″ wheels. The Tesla Model X is an enormous seven-seater AWD SUV that has been on offer since 2015.
Like the Model S, Both models now come with dual motor or tri-motor AWD Plaid. Towing examples here are with the dual motor version.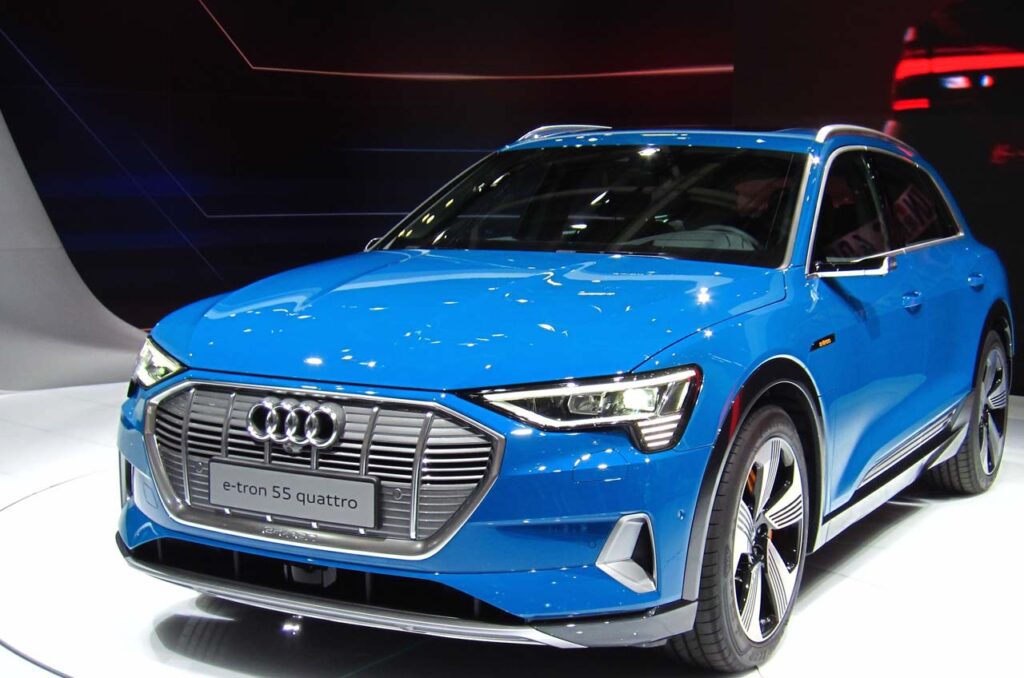 Audi E-Tron and E-Tron Sportback
The Audi E-Tron and E-Tron Sportback are larger SUVs that are full electric vehicles with large 95kW battery packs that can tow up to 4,000 pounds. Unfortunately, the electric drive train's efficiency isn't very good when towing like many EV's. Expect to tow at about half of the normal capacity of regular driving.
You can tow a little trailer and carry the whole family, as well as their gear. Furthermore, the Audi's cabin is filled with premium materials and useful gadgets in its upscale interior.
Tesla Model Y
The Model Y is capable of towing up to 3,500 pounds and is all wheel drive. It is considered one of the first to be also designed as an electric tow vehicle. However, it necessitates the use of a $1,200 tow package that includes a high-strength steel tow bar with 2" hitch receiver, trailer harness with 7-pin standard connector, and a "tow mode" software .
The Model Y shares roughly 75% of its internals with the current Model 3. However, being a cross-over id does have an official tow capacity rating.
Hyundai Ioniq 5
The Ioniq 5 is a witty and futuristic lille SUV. It has a towing capacity of 3,500 pounds. Hyundai claims that the Ioniq 5 will have a driving range of between 250 and 300 miles. At max towing capacity, range should be about 90 miles based on battery specs. However, the IONIQ 5 touts DC quick charging up to 221kW using both 400V and 800V technology.
Volvo XC40 Recharge Pure Electric
The XC40 Recharge is a full electric compact SUV. However, towing on full electric is not going to take you very far. The Volvo XC60 Recharge's new battery has a range of 223 miles, thanks to a larger 70 kWh power pack from Volvo. Following the basic rule that les than half the range is available when towing, the XC60 can tow 3,500 pounds but can travel about 100 miles.
Volkswagen ID.4
The Volkswagen ID.4 has just enough power to do the job for individuals wanting to tow a little trailer or boat. The tow capacity of the ID.4, which is 2,200 pounds, may not be incredible, but its price tag, premium interior, and clever features make it a desirable alternative among the compact electric crossover class.
Polestar 2
Polestar belongs to Volvo. It seems Volvo believes they will capture a new generation of drivers under the Polestar name as some will recognize polestar from racing. They do however resemble their Volvo parent company in many aspects.
The official tow rating of the Polestar 2 is 2,000 lbs. The EPA range is around 249 miles on all wheel drive and gains 20 more miles or range on front wheel drive alone. Estimated tow range is about 50% of that at 125-135 miles.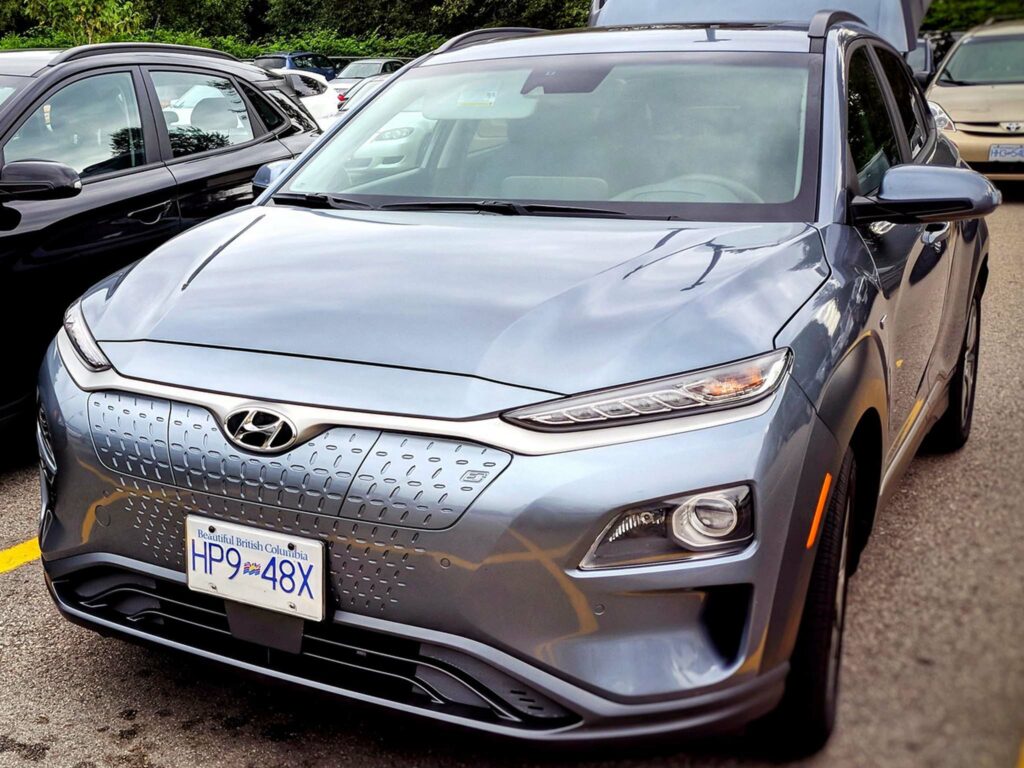 2022 Hyundai Kona Electric
With a 2,800 lbs towing capacity the Kona can pull some weight for its size. Its hefty battery is estimated to last for up to 258 miles. A 201-hp electric motor with a 64.0-kWh battery pack is the heart of this little SUV.
Range for towing a small trailer or boat will be about 50% as with most EV's and that's good for 130 or so miles per charge.
Towing With New Electric Trucks
With the release of several electric trucks like the Rivian, Electric Silverado, and Ford Lightning we are seeing a lot of independent testing as towing is one of the most popular reasons to own a truck to begin with.
2022 The Ford F-150 Lightning
Ford has towed a freight train using a prototype of its electrified F-150, and that can show what's to come. Since then Ford released the new Ford Lightning electric trucks. A suitable nameplate for their flagship electric truck.
Ford released the Lightning. It has a tow capacity of 10,000 lbs. However, the bigger the load, the less the batter life.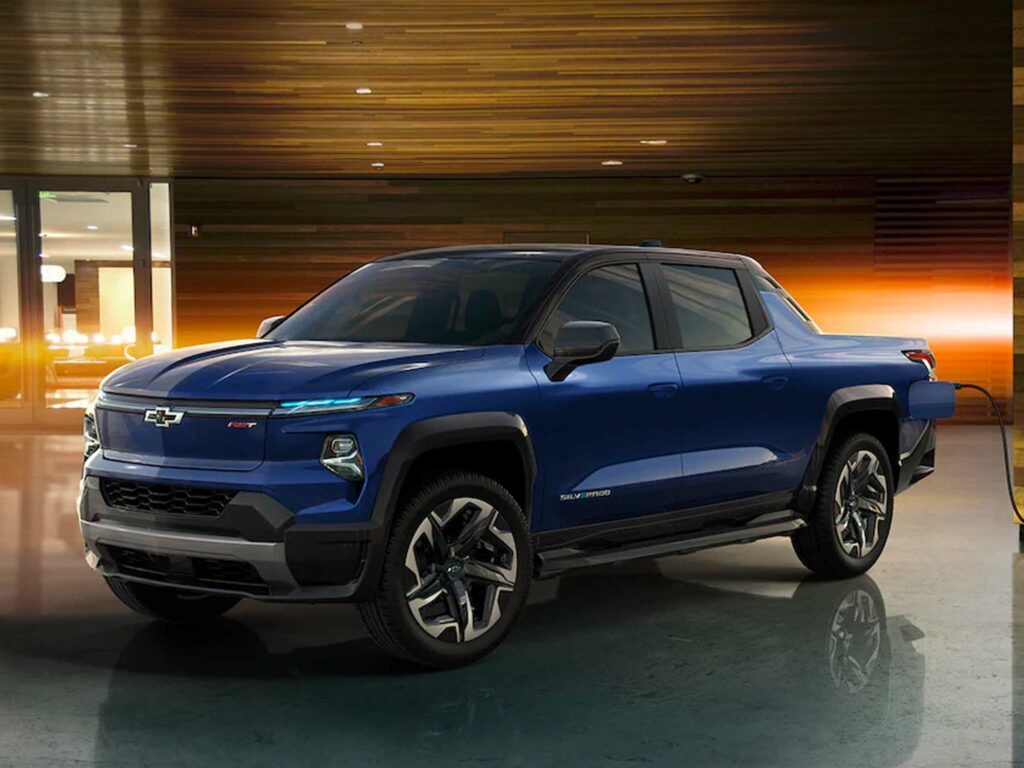 2024 Chevy Silverado EV
The Silverado EV will be driven by two electric motors. It will offer excellent acceleration performance, according to Chevrolet, with a rated horsepower of at least 664 in the top-spec RST and about 510 hp in the standard work truck trim.
The 2024 Chevrolet Silverado EV will be offered in two trims, the RST and WT, each with a 10,000-pound maximum towing capacity. The manufacturer said a model with a 20,000-pound towing capacity would be added to the lineup eventually.
2022 GMC Hummer EV
The Hummer EV has impressive power, but its power outputs as far as towing and payload are concerned are hurt by its weight. At nearly 9,000 lbs, it is one of the heaviest SUV's out there. And along with the bonus of a 3 second 0-60 mph, it has a range of 400 miles.
That heavy weight of the electric Hummer dwindles tow capacity to 7,500 lbs. Payload is at a mere 1,300 lbs. Considering the price tag, if towing capacity is important to you, then you may consider a more affordable option. But range while towing is impressive, at 200 miles.
2022 Rivian R1T and R1S
Despite the fact that Rivian may be a young start-up that has just started to begin delivering vehicles, there is cause to take it seriously with its electric vehicle initiatives. To begin, they have been developing their skateboard platform, the R1T is based on, since 2009.
With a very decent towing capabilities, it makes the list of one to look for if you are looking for towing range and capacity. The Rivan R1T and R!Ss hare a drivetrain. So, they both are capable of towing 11,000 lbs. At maximum towing capacity, the Rivian can travel about 157 miles.
2024 GMC Sierra EV
As with many General Motors models, there will be platforms that encompass more than one brand. GMC and Chevy trucks are a great example of such platforms suiting multiple brands. In this case, the GMC Sierra EV will have some additional luxury as the premium truck brand of GM, but the trucks will have the same powertrain and specs for the most part.
The GMC will also be driven by two electric motors. GMC will likely lead with the 664 horsepower package. Towing capabilities will be the same at 10,000 lbs with a with more powerful tow vehicles such as an HD version likely in line soon after.
Tesla Cybertruck
Who can round up the best new EV towing capable trucks without having the Tesla Cybertuck on the list.
Tesla claims it'll go from zero to 60 mph in 6.5 seconds and top out at 110 mph. Those looking for the ultimate performance will appreciate the three-motor model, which Tesla says will essentially teleport from zero to 60 mph in 2.9 seconds.
Tesla's Cybertruck will have a 7500-pound tow rating and a 10,000-pound payload capacity, with third motor models able to haul 14,000 pounds. That is greater than a gasoline powered V8 truck, and it's comparable to a diesel 2500 or 3500 truck! That is by far the most remarkable we have seen. The Cybertruck can carry 3500 pounds in its 6.5-foot cargo bed, which is more than any gas-powered V8 truck.
Now towing range estimates can be tricky here, as there isn't much data on when and how 3 motor versions of the Cuybertruck will work when towing. But it's safe to say we may see 250 miles when used as a tow vehicle.
2022-2023 ATLIS XT
The large towing capacity of the Atlis XT is one of the primary reasons why it could be the finest electric pickup truck on the market as far as future EV's. Towing capabilities are a key consideration for pickup truck purchasers.
Will the Atlis XT be the finest electric pickup truck on the market ? Only time will tell, but if the specs and capabilities are on the money then it's a game changer. The XT will be able to tote up to 35,000 pounds, according to Atlis. For payload capacity, the XT outperforms the competition hands down with a maximum capacity of 5,000 pounds.
Atlis announced that it will begin production of the Atlis XT in late 2022. This suggests that the launch date for the XT will be somewhere during early 2023. The entry level truck will tow a very respectable 10,000 lbs. While the 500-mile range truck packing it's 35,000-lbs gooseneck/fifth-wheel version will price around $85,000.
202? Canoo Pickup Truck
According to Canoo, the powerhouse little Canoo pickup truck will boast 500 hp. All-wheel drive is standard on the truck, while rear-drive is optional. The battery is smaller, so it can tow 7,700 pounds but range will be limited.
As we get closer to 2023, it appears we may see this in 2024. Official specs aren't totally available yet. But it will be one to look for.