After you have begun the process of buying a vehicle from Auto Trader, you will want to know the costs involved in shipping it as part of your expenses. This way you can get a complete picture of what you will be spending. Not calculating what it will cost to ship can put you over budget.
Auto Trader does not sell vehicles directly. They are a marketplace where sellers can list their vehicles. This will include private sellers as well as dealers listing vehicles. Auto Trader does have a limited resource page for classic buyers, and a seller resource page, however these do not go over the process of shipping a car bought on autotrader.com.
Tip: View our detailed breakdown on how to safely buy a car out of state and have it delivered. The guide will apply to Auto Trader as the focus in the current article is for the shipping portion.
Shipping A Vehicle From Auto Trader with an Auto Transport Company
Auto Trader is a marketplace you will find vehicles for sale both from private sellers and dealerships. You can arrange shipping with us from either type of seller.
If You Have Not Yet Purchased a Vehicle on Auto Trader
If you are on the research phase, you will begin to prospect for vehicles you want to buy on Auto Trader, you can follow up with an instant quote from our calculator. So as you analyze each vehicle listing, you can see what it will cost to get it to you.
Remember, since you are shipping you can get it from almost anywhere. So remember to set the distance to "Any Distance" and then when you find something you like, look at the zip code for the listing so you can calculate the shipping cost (as shown above).
Start with the pickup zip you found there, and for delivery, enter your home / destination zip code. You will get an anonymous quote instantly. Research as many as you want. You will get each one emailed to you so you can keep track.
A Note About Searching on Auto Trader for Vehicles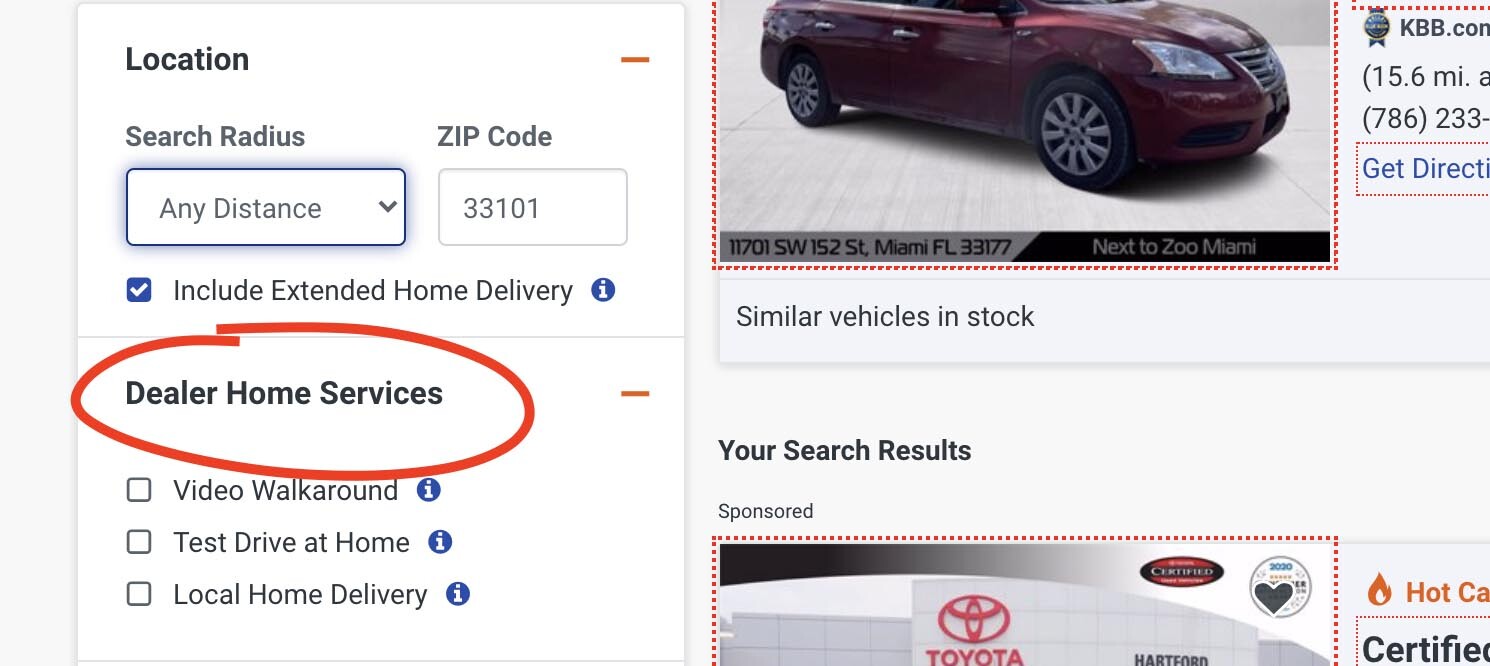 During your search for a vehicle you will notice there's a selection in the search box that says "Dealer Home Services" and "Local Home Delivery". This will remove all private sellers from your results. It will only show those dealers that are selling vehicles that are willing to ship them to you. Therefore, if you check anything in that section, it will eliminate all private sellers.
Shipping a Vehicle Purchased from a Dealer on Auto Trader
Many dealerships already have access to auto transport brokers and carriers alike. They will either have an affiliation with an auto transport broker or even obtain licensing to ship cars through the dispatch boards.
Even if the dealership provides shipping you should always get your own shipping quote as since it is likely the dealership will sell shipping at a premium. We can pick up from nearly any dealership and deliver to your home or business.
Shipping Purchased from Private sellers on Auto Trader
Private sellers on Auto Trader will require some additional research and precautions on your part. However, the right deal could be from a private seller. In negotiations with that seller, you can use shipping costs as a bargaining tool as well.
We will go to that seller's home or business and pick up the vehicle for you. We will then deliver it right to your door.
If You Have Already Purchased a Vehicle on Auto Trader And Need Shipping
Once you have finalized your purchase with the seller on Auto Trader, you will then want to have us coordinate the pick up of the vehicle. Even if the seller has a shipper they know, you should always get a shipping quote. When you contact us to make the order, we will take the seller's information and phone number along with their location so we can go pick up the vehicle for you. At this point you want to inform them of who you hired to ship so that way they are aware that we are coming.
Once we show up, the seller will sign the bill of lading form which certifies the condition of the vehicle. They should immediately send you a copy of that form so you are aware of any existing marks, scratches, dance, etc. on the vehicle already should anything additional show up on the vehicle and delivery.
Buying a Classic Car from Auto Trader and Having it Shipped
Auto Trader is known for giving access to a vast inventory or classic cars, making it possible to find your dream car. Classic car shipping will usually be in the form of enclosed transport. This is especially true if it is in restored or original condition. Although open carrier is the cheapest way to ship a car, you will most likely need extra protection if you do not want any of the elements to touch your new classic. The difference between enclosed an open transport comes down to price and protection.
The process is exactly the same as it would for any other shipping and research as explained above, with the exception being that you will want to have the vehicle protected within enclosed transport. National Express recommends hard side enclosed shipping which will seal the vehicle from the outside world during its journey to its new home.
Normally with classic cars, if the transporter sees there is something wrong that doesn't seem to be readily known to the buyer, they will contact us so we can pass on that information to you. This is handy if you are worried the vehicle is not as promised. This is just another way we go the extra mile for you in these cases.