Hiring more than one auto transport company is also known as "double booking".  At first glance the idea doesn't seem like a bad one. This is specially true if you know you're in a tough area. Most commonly, customers double book when they see nothing is happening. They are tired of waiting for their vehicle to get picked up.
What you may not know is that can cause you extra headaches. You never have to stay with one company if they are not doing the job. You have every right to change auto transport companies if the service is not being provided. However, having two companies or more trying to ship a vehicle will almost always work against you.
Why is Hiring More Than One Auto Transport Company a Bad Idea?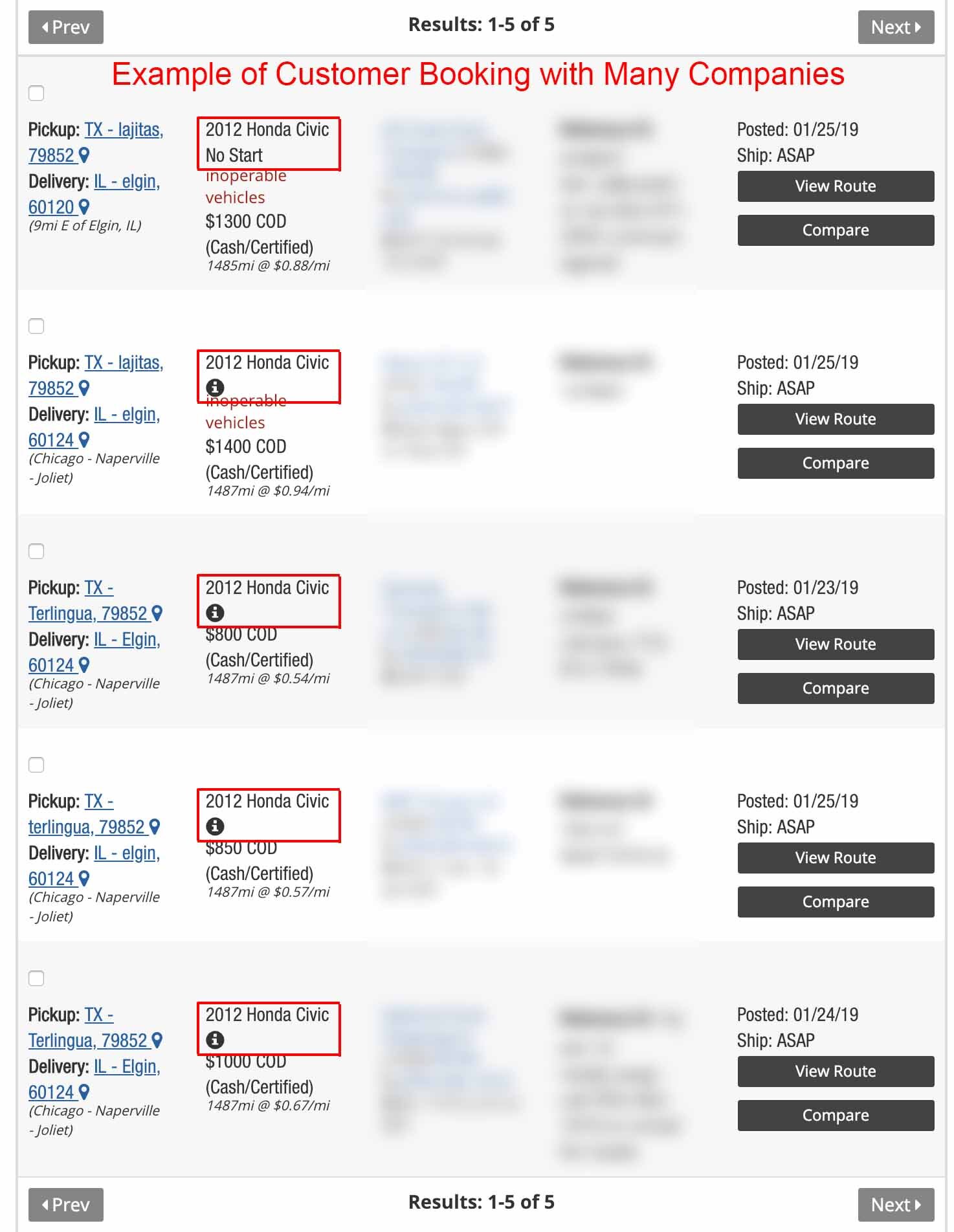 We can only speak for how we do things, as others may approach finding a carrier differently. However, we do ship cars in at least two ways.
One would be our driver network we have built. These are our preferred carriers that have proven themselves most reliable time after time. The second source will use is called Central Dispatch (pictured above). This is the most trusted and largest carrier database in the nation, A membership and licensing is required. If no one is available in our network we will then screen and certify a carrier for that pick up.
Hiring more than one auto transport company at the same time can be a total disaster. It's because now there is a duplicate listing of your vehicle. Whether or not we have a carrier available in our network, we don't put our eggs all in one basket. Upon placing order your vehicle will also be listed nationally. This will assure your best chance of getting picked up at soon as possible.
There will be broker companies that do not have a network and just strictly use national listings. (Most of them may not be around long enough to make a network of established carriers.)
When a truck driver sees the same vehicle listed twice, they will tend to ignore it. Why? Because they are concerned because they don't know who really has the order. If they accept the job, if the vehicle wasn't really available. So the one losing will be the person that placed the order twice. When they were trying to cover all their bases. The cost will be vehicle being ignored.
How to Make Sure You Haven't Hired More than One Company After Moving On To A New One
Sometimes days or even weeks may have passed. Don't assume the first auto transport company you hired forgot about it, or just couldn't do it. Make sure the order is cancelled before moving on.
At this point, you do your research more carefully .Pick someone new. Maybe it's us. In most cases we can detect if a vehicle is active. But, it's good to make it's no longer listed with the previous transporter. This could incur you additional delays.
Remember, nobody should have charged you a deposit if they don't have a carrier coming to you already. So if they could not do the job you have the right to cancel.
Log on or call your credit card company and assure no charges have been made. Ask for proof of the cancellation in an email and refund if there is a charge. Then, when booking the order explain what occurred to your sales advisor. This way they can make sure it's not listed anywhere else.