Sometimes you can find great deals at the Copart Online Car Auction. They have used, salvage, and wholesale cars for sale both new and old. However, not understanding the cost of shipping a car from their locations can put a huge dent in your wallet.
Let's be clear, they do have their own shipping option that uses independent carriers. But the prices are very high. The reason is simple. They are a vehicle auction company, not a transporter. They list vehicles on the national boards just like a broker does, but because they don't want to deal with the hassle of finding a low price, they will list it for hundreds more than it should be so they can get a carrier instantly. They are not looking to mitigate that task with a lot of effort. The result is fast pickup but a loss of hundreds of dollars to you. Every dollar counts as bidding can be competitive. If you are a dealer, extra shipping costs can put you in the red very quickly.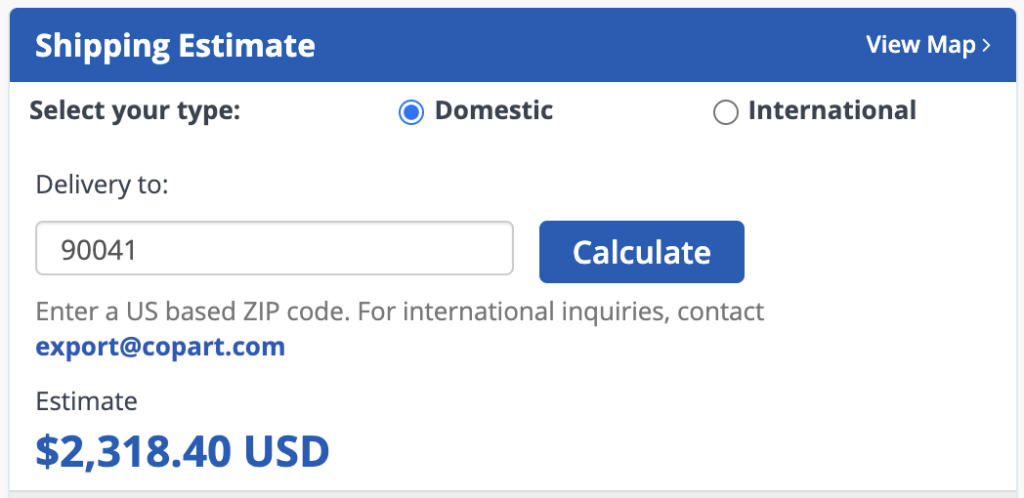 Distance will affect the price no matter what, so make sure you are bidding at the closest location to you. If you use their options or go with us to ship it, you can still save the most money by making sure you bid near you. There are times this can't be done. Sometimes the right car is at the farthest auction and there's nothing you can do about it. You can use our calculator to get the price for the different locations before you start bidding. You'll find this table there:
Distance
Cost Per mile
Sample Rate
500 Miles
$1.00
$500
1000 Miles
$0.75
$750
2000 Miles
$0.55
$1,100
2,500 Miles
$0.50
$1.25
Costs per mile are averages and do not take into account many variables such as city vs. rural, etc.
Ship Your Vehicle From Copart with an Auto Transport Company
So now that you know it's less expensive to go with an auto transport company like us, it's time to plan that. Once you have won the auction and have your cost as mentioned above, you can start the process of getting the car shipped.. Be prepared to ship your vehicle. Make sure you know if the driver is going to take the vehicle title for you or if you want Copart to mail it to you. They give you only 3 days to pick up a vehicle. That's very little time in the auto shipping world, so the moment you win the auction, book your auto shipping immediately. Know how long the process takes so you don't incur any surprises.
We Handle All Kinds of Situations at Copart
Many of the auctions know us by name and we have worked various hundreds of shipments from Copart. Running or inoperable, we do it all and safely an efficiently. However if your vehicle is a non-runner that does not have wheels, keys, or is otherwise immobile. Contact us so we can help .We have moved everything from regular vehicles to stripped down shells with not much more than a frame with some parts.
Should I Use Enclosed Shipping from Copart?
The answer is, it depends.
If you have a vehicle with an exposed cabin like the one pictured above enclosed shipping may be necessary if you want to protect the interior. Keep in mind, anything can happen on the road. An exposed interior could get rained on for example. If the car is a parts car, or it doesn't matter then you don't need to bother using enclosed services. It's clearly up to you. But always know we have that option available.