Alfa Romeo Auto Transport
Transport Your Alfa Romeo
Alfa Romeo owners can count on  personalized auto shipping available just for your vehicle. Browse the models below to view our shipping information for the most common vehicles we currently ship from the Alfa Romeo brand. Don't worry if your is not listed. This is a guide to the most shipped from the brand.  We do have enclosed shipping options for classics in this category as well.
Alfa Romeo Vehicles 
Alfa actually stands for Anonima Lombarda Fabbrica Automobili or Anonymous Lombard Automobile Factory in english. They aren't very anonymous now as this is one of the most popular brands in the planet. Surviving over 12 financial crises' in different parts of the world as well as world wars, they have remained since 1910. Although some say it's the name that has survived, and not much more. In 1986 the brand became part of Fiat. And now Fiat as some know is part of Chrysler. (Fiat Chrysler). As with many mergers and buyouts, parts and engineers are interchanged making changes in the course of design and production. However, Alfa Romeo seems to have been spared. There doesn't seem to be very much that dips into the Chrysler or Fiat parts bins keeping the vehicles unique as they should be. However, they are sharing parts currently with Maserati due to affiliations Fiat Chrysler has with Maserati. Although that is much more acceptable to fans of the brand. Alfa still is very involved in racing. They have as a constructor and an engine supplier for many Formula One teams. Alfa has made a huge presence in the U.S. but it has begun to grow as their vehicles continuously improve.
Designed by Lorenzo Ramaciotti, the idea of the Alfa Romeo 4c Two-seater came up in 2011 and first production unveiled in the Geneva Motor Show, 2013. This vehicle falls under the class of sports car. It was made available in 2013, around December which followed by marketing in America, Europe and Asia. Since then production of about 2500 Alfa Romeo 4C units have been made each year. This sports car was awarded by the  Auto Build design award in 2011.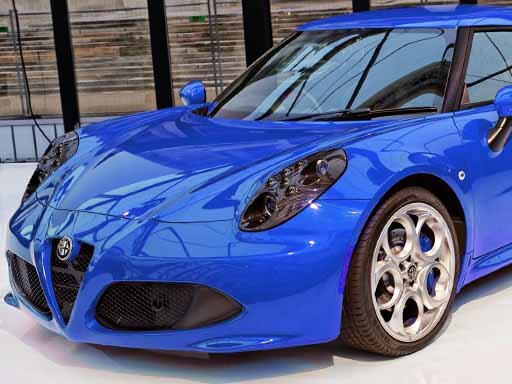 This exquisite sports was created with great features. The engine, an all-aluminum, 1.75 litre 1750 turbo charged 4 cylinder was designed to impressively be light weight resulting to power to weight ratio (8.22 lb/hp). This means the  dynamic of efficiency is maximized. With a top speed of 258 km/h (160 mph), this supercar will get your heart pumping fast. It's been engineered from top to bottom to  ensure efficiency and maximum performance. The dimensions of the Alfa Romeo 4C are 3989 mm long, with a width 2090 mm, and height 1183 mm. It has a total vehicle curb weight of 1,118 kg.
With captivating elegance, the Alfa Romeo 4C will always make your head turn due to its seductive shape. Being fast, swift and extremely responsive, it's a dream car for anyone in this segment.
For a no frills thoroughbred crossover, look no further than the Stelvio. While some vehicles in this class have eloborate digital dashboard, this vehicle boasts a true driver's analog gauge cluster with the essentials displayed in the center display. The Italian-bred crossover is compact but packs a punch, even in the entry level trim levels. It does have a bit of a spotty reliability record, so if you've run up some miles on yours, you may consider shipping it instead of driving it. 
This great sports crossover was created with a balance of tech and performance. Like Standard automated emergency braking, adaptive cruise control, and the 2.0 Inline 4. If you want to tear up the road, try the turbo V6 Quadrafolio. These models have an  all wheel drive drivetrain, 8-speed shiftable automatic, and a 50,000 mile warranty. For more details head to Edmunds for a full spec sheet. For $48,000 it is well priced for how it is equipped and a really fun little SUV.
Need to ship yours? Call today 800-284-4177
Introduced in 2017, the Alfa Romeo Giulia is the echelon of excitement and killer looks. With its swooping headlights and agressive nose, it looks like a fearsum race car coming to overtake you on the road. Powered by a turbocharged 2.0-liter four-cylinder engine pushing 280 horsepower and a massive 306 lb-ft of torque, the power makes it to the ground. All through an eight-speed automatic transmission. All-wheel drive is also available for all 2.0-liter cars. The Quadrifoglio uses a 2.9-literturbocharged V6 engine with a killer 505 hp and a neck breaking 443 lb-ft of torque.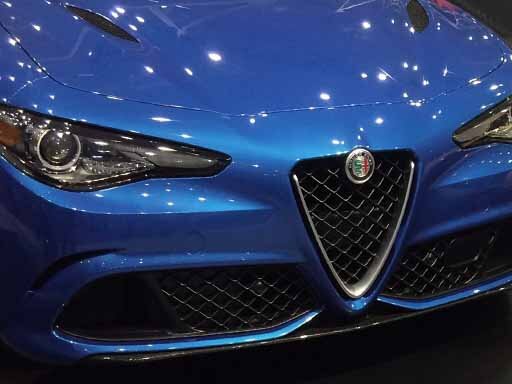 The Giulia has seen a bit of criticism for it's lack of tech on the dashboard, but owners of the little sports car are in love with the car because of it's go-cart feel and agile handling. It's fast and snappy driving experience is all Giulia owners need. After the 2020 model year, a lot of new features were introduced like semi autonomous mode cruise control.  
Need to ship yours? Call today 800-284-4177
Ready to Get Started with National Express?
Our professional team of trained advisors is ready.
Call

to speak to yours now.