Shipping To or From Washington State
We see a lot of car deliveries to and from Washington. Most of the time, it's vehicle going to the state. Most are West Coast residents, like those from California. Still, we can get vehicles in our out of the state to just about anyhere. Even Hawaii, Puerto Rico, and next door neighbor (although over the water) Alaska!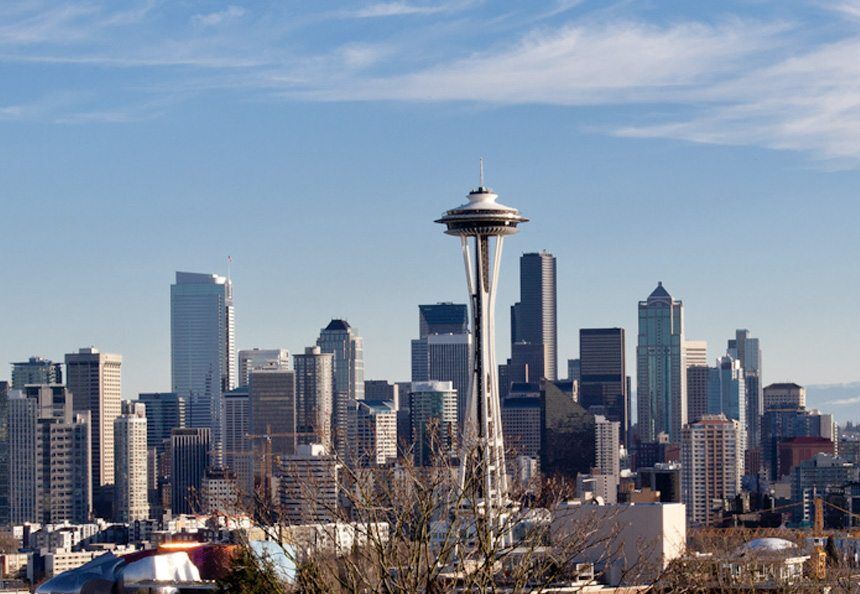 Reasons for Living in Washington State 
The natural beauty due to the mountain scenery and the coastline is an attractive feature, leading to it having three major national parks. Residents of Washington State do not pay any income tax and the economy of some its cities such as Seattle is booming, where unemployment dipped to 3.7 percent. There are also plenty of jobs in eight primary sectors.Making this a job seeker destination that we ship many vehicles to. 
Reasons for Leaving Washington State
It has a regressive tax system, with the wealthy having low tax rates and the poor or middle class being charged a high percentage of income. The house payments are also particularly high in the state. The city of Seattle is also growing quite fast at 2.8 percent which may lead to an overcrowding problem. Those leaving Seattle can transport their cars to any destination in the U.S.
Population and Demographics 
As of 2015 US Census data, Washington State had a population of 7,170,351, the 13th most populous in the United States This is a 6.6 percent increase in the population from the 2010 US Census. The population increase was mainly seen in the five largest counties of Clark, King, Pierce, Snohomish and Spokane, which are the ones we see the most auto transport services performed. Seattle has the highest increase in residents in the state, accounting for a fifth of the population increase in Washington State. This was followed by Vancouver, Marysville and Kent. Foreign born persons account for 13.3 percent if the total population. The Evergreen state's population density is 107.9 per square mile, ranking at 26th nationally.
Weather and Climate
There are two climate zones in the Washington State. West of the Cascade Mountains, the location of Seattle and the state's capital, Olympia, the summers are mild and humid not exceeding above 79ºF and winters reach 46 ºF. The months of December and January experience the most precipitation and the region experiences fog and cloudy mornings on the slopes of the Cascade Mountains. Eastern Washington, encompassing the east of the Rocky Mountains has warm summers and cool winters. The Pacific Ocean and the landscape hare the major influences on the weather and climatic patterns.Jobs and cost of living
Agriculture is a major industry in Washington State, hence its name 'The Evergreen State.' The manufacturing industry is vibrant in the Washington state with the top industries in the sector including lumber, chemicals, machinery, shipbuilding, food processing and aircraft and missile production. It has the highest minimum wage in the nation at $9.47 per hour. Job growth has been steady, at an average of 0.8 percent higher than the national average of 0.5 percent. Poverty levels are below the national average for the 7th year straight. The median household income is $60,294 with about 63.8 percent of the population in the civilian labor force. The overall cost of living is about 17 percentage points above the national average with housing being significantly higher than the national average by 47 percentage points. Seattle is 24 percent above the national average of the cost of living.
Get your quote here or call us at 800-284-7177 for more information.
State Links:
Access Washington (State of Washington)
Washington (state) – Wikipedia, the free encyclopedia
Washington State travel | experiencewa.com
Top Rated, Fast, and Professional Seattle Transport
Do you need any services of auto shipping company out and in of Seattle? Look no further, National Express will help get the best from the auto transport services in Seattle and anywhere you need your car to be shipped to in the 50 states.
Transporting Cars In and Out of Seattle
Population plays a huge roll in auto transport, anywhere you go. Seattle has the highest population in the northwest. Washington as a state also has a population of 3.5 million and hosts over 625,000 homes. This metropolitan city is growing at a high rate becoming a logistics and transportation hub as vehicles leave form to Alaska and Hawaii from their ports. This makes transport to and from fast and widely available all year round.
The economy is also great for jobs and relocations to this city. It is the home of Microsoft, a powerhouse in computer technology, and previously Seattle headquartered Boeing among other companies. This growth comes along with business and job opportunities attracting people's movement to the city with the cars for transport.
These vibrant economic activities and a huge population create a conducive environment for transporting cars in and out of Seattle as there is a ready market attracting reliable auto transport companies, which offer great free shipping quotes.
Highways Interconnect the City – Great for Shipping Cars
Seattle is well connected with freeways that go in and out the city to other towns, cities, counties, and states. For instance, interstate 5, I-90, the 405, SR 67, SR 99 and SR 520 among other roads. These roads help to make transporting cars in and out of Seattle effortlessly and manageable. Moreover, there is an elaborate port with two harbors making cargo handling simple and if you wanted to transport through air, there are various airports, which can be used.
Other Factors
The climate condition of Seattle is great for auto transport services. It experiences some rains throughout the year and that is the worst you will get. Expect mid to upper lows and highs of 50s and 70s during the night and day, respectively, especially in the summer months.In the winter instead of having snow, which hampers transports, you will have more rains with average lows and highs of 30s and 40s. This means that when you hire us, your car will reach within expected timelines as drivers will be able to transport cars in and out of Seattle with ease throughout the year.
Conclusion
Seattle is a great city to live in and spend your time with your family and if you need help with moving your car, trust National Express Auto Transport to ease the burden. Find out what the cost will be from our reliable car shipping calculator and get your car where you want it, whether it is in or out of Seattle or any of the 50 states.
Its vast transport and shipping network makes it easy to transport cars. We are a call and a click away from you. If you need to talk to us, call us from 800-284-7177 and let us handle your transport. You can also use our free car shipping calculator.
Professional, Safe, and Reliable Tacoma Auto Shipping
Many auto carriers prefer shipping to and from major cities as this makes their operating costs low as well as reduce the time they spend on shipments. Shipping cars in ant out of Tacoma in the state of Washington is no exception. This major city is a major auto transport company hub.
Auto transport in Tacoma WA is mostly handled by traveling along Interstate Highway I-5. This highway runs from the South to the North of the state. The line runs through Washington-
Canada
border and stretches to Washington-Mexico border. The I-5 interstate is the main Route in Tacoma, connecting with other interstate Highways running from the East to the West. Following I-5 is less expensive and offers a convenient route to various destinations in one travel route.
Costs for car shipping in Tacoma depends on where your pick up location is as well as your delivery. The make, model, as well as body type of your car, are major factors taken into consideration to determine the cost of your shipping. The type of shipping service you choose is another variable factor when shipping. Shipping in an open carrier vs picking enclosed transport has an effect on how much your shipping will cost. Choosing an auto transport company who also offers coverage for your automotive, is another key aspect to consider. You never know what would happen while shipping is in progress. Insurance is mandatory on all carriers licensed to ship vehicles from state to state, so you there is no extra charge for this. But, the risk of a higher end car getting damaged may influence the price with the carrier.
Tacoma is located in Pierce County, in Washington area of the United States. The city has an overly large population of about 205,000 residents. It is the third largest city with regards to a population in Washington. Tacoma is one among the larger Tacoma-Seattle metropolitan area of Washington. The city grew after suburbanization in the early 1860's. The city offers a wide range of services and activities. Auto shipping business is booming in Tacoma due to the dense population. If you are seeking to ship your car to and from Tacoma Washington, it is an easy task as you will find reliable auto shippers in the area.
Auto shipping in Tacoma is made easy with National Express. Our auto shipping calculator is one method that you can use to determine the price of your transport. Fill in the details and submit, you will find a detailed cost in seconds. You can also call us at 800-284-7177.
Ready to Get Started with National Express?
Our professional team of trained advisors is ready. Call

to speak to yours now.