Toyota Auto Shipping
Toyota Vehicle List – Transport tips and Information
Learn about specific shipping for your Toyota.  Listed we have several popular and current models. National Express ships all Toyota models, including modified or discontinued models not listed here. All services are guaranteed a rate, not just a quote. Services are insured. Door-to-door all the way. There are enclosed and open carrier services available. Running on non running we can ship it.
Since 1984, the Toyota 4Runner has appealed to generations of families. It is the perfect family vehicle and has plenty of interior space. The model does have a seating capacity of 5 for the owner. Make good use out of the spacious interior that will be on display. The current Toyota 4Runner also has a towing capacity of 5000 pounds. Feel free to tow almost anything with the help of this versatile SUV. Initial tests have proven that it is capable of almost being a true off road and urban warrier.
Surprisingly, the vehicle can go from 0 to 60 mph in just 7.5 seconds. Its performance out on the road was praised by many critics over the years. The 2017 Toyota 4Runner has also passed its safety inspections. Come see why the award winning vehicle has made a name for itself. Toyota is proud of the history that the model has made for itself. The 5 speed automatic transmission is also something that will impress drivers.
The Camry is one of best selling cars on the planet and produced by japanese auto manufacturer, Toyota. Toyota started selling Camry's way back in 1982. When the Camry was first introduced, the body style of the car was narrow shaped and boxy. It has evolved into a sleek driving machine. Now the car has more of a wider body style. Ever since they started to sell the car with the wider body Toyota falls in second behind Corolla as the firm's second world car.
From 1979 to 1981 a model called the Celica Camry was being produced, that later was redesigned and released in 1982 as the Camry model we know now. Also in that same year the car became available as a five-door hatchback/liftback alongside the sedan. Then in
the 90
's as demand for a larger midsize and a more options grew, Toyota chose to make Camry be the nameplate for that midsize class vehicle. Coded "XV10", it was bigger and offered the option of a station wagon. The company then released the XV10-bodied coupe in 1989 which later on became it's own independent model line called Camry Solara. Through the years Toyota has updated their Camry to be its best. The Toyota Camry has continued its sales leadership by being the number one selling passenger car in America for over 15 years in a row.
The Avalon is a full sized vehicle which is made by Toyota. Although it is a full size sedan it still is front-wheel-drive, a configuration that is is commonly reserved for midsize and small cars. It is mostly sold in the US,
Canada
,
Puerto Rico
as well as the Middle East. The first production of the Avalon was in September of 1994 in the
Kentucky
plant until operations moved abroad.
It has been developed over the years changing from one version to another making it better each time. In 1999, Toyota transferred all the old Avalon manufacturing to Toyota Australia where a brand new model was launched.
The Avalon has been included with right-hand drive and left-hand drive since it's sold internationally now. The engine and transmission combinations are different depending where it is sold. The Australian model for example, uses a 3.0-liter V6 engine which is included with an automatic transmission. In 2001, the Avalon was updated to the Mark 2 and new alloy wheels were included. The Avalon was made in two trims which includes the basic XL and the upscale XLS.
Features included in the Avalon are electroluminescent Optitron gauges, side airbags, 4-wheel disc ABS and 15" alloy wheels. The latest Avalon model is the Toyota Avalon Hybrid which is back to being produced in the US since 2017. The model uses both gasoline and electric motors to run efficiently for it's size.
The Toyota Corolla is a line of subcompact and compact cars which are made by Toyota. They have their roots in Japan but manufacture many models in the U.S. Due to the high demand of its cars such as this model, Toyota has extended its branches in countries such as China, India, Pakistan, Brazil, South Africa Turkey among much more. This makes the manufacturer one of the largest in the world. This is also Toyota's best selling car worldwide, followed by the Camry. However, in the U.S. the Camry beats the Corolla in sales.
Toyota Corolla is a line of subcompact and compact cars which are manufactured by Toyota. The company has its roots in Japan though due to the high demand of its cars, Toyota has extended its branches in countries such as China, India, Pakistan, Brazil, South Africa Turkey among much more.
Introduced in 1966, Corolla was the best-selling car worldwide by 1974 and has been able to compete in the automobile industry since then by producing different models which include;
· E10 (1966-1970)
· E20 (1970-1974)
· E30,E40,E50,E60 (1974-1979)
· E70 (1979-1983)
· E80 (1983-1987)
· E90( 1987-1991)
· E100 (1991-1995)
· E110 (1995-2000)
· E120,E130 (200-2007)
· E140,E150 (2006-2013)
· E160 (2012)
· E170( 2013-Present day)
The reason behind Toyota manufacturing Corolla ranging from the first generation all through to the eleventh generation was to have a vehicle that is more convenient thus offering comfort and luxury to the user. Equally, this change has been brought about as a result of other manufacturing companies producing quality cars and therefore for Toyota to remain relevant in the market new models had to be introduced in the market.
The present-day Corolla has many features which include:
· Slightly smaller exterior dimensions.
· 1.3 Liter 1NR-FE or 1.5-liter NZ-four cylinder engines.
· 5-speed manual and CVT transmissions offered.
· Fuel efficiency of 3.03L/100Km
CONCLUSION.
Toyota has manufactured and will continue to manufacture different models of Corolla in order to meet the needs of its customers. The current model E170 is luxurious and with a higher engine capacity.
The Highlander, which is also known internationally as the Toyota Kluger is a midsize crossover SUV manufactured by Toyota. It provides a smooth and fun driving experience, but it is more focused on interior niceties and storage than power and performance. Making it an all-round pick for most looking for a comfortable and reliable small SUV
Toyota's Highlander was announced in April 2000 at the Autoshow in
New York
. It arrived in Japan in late 2000 and North America in January 2001. It became the best selling Toyota SUV before being outdone by RAV4 in 2006.
There's lost of safety and features available for the Highlander. Like Lane Departure Alert(LDA) Steering Assist. LDA helps in detecting lane departure on roads with clear markings. When activated and senses that you have moved away from the lane, the system automatically make corrective steering inputs to help your vehicle move to its lane. The Star Safety System has a suite of six safety features that are always active. These include; Enhanced Vehicle Stability( VSC), Anti-Lock Brake System(ABS), Brake Assist(BA), Traction Control(TRAC), Smart Stop Technology(SST), and Electronic Brake-Force Distribution(EBD). The most interesting for the driver will be the Bird's Eye View Camera. This helps you see the nearby objects and also get in and out of narrow spaces without any difficulty as it creates an image on the screen thanks to several cameras that looks like it's an overhead view. Finally, it has available direct-injected 3.5-liter V6 engine and direct shift-8AT for better performance over the smaller motor.
The Toyota Land Cruiser is a four-wheel sports utility vehicle produced by the Toyota Motor Corporation. It was first produced in 1951 as a cheaper alternative to the American Jeep.Initially, the landcruiser was a rugged vehicle capable of traversing hostile terrain with remarkable ease.
It quickly earned a reputation of being hardy, reliable and easy to maintain. These attributes endeared it to consumers worldwide, making it the best selling S.U.V of all time.
The most recent landcruiser vehicle (known as the 200 series) began production in 2007. It consists of the V8, the VX models among others. It has a more streamlined body shape but retains the amazing off-road capabilities that the Land Cruiser model is renown for. The vehicle is powered by a powerful 4.5 litre V8 engine that is very fuel efficient. It also comes with a host of luxury options that include Bluetooth audio systems, leather seats and a 12 airbag system for safety. The landcruiser is a beautiful vehicle that combines power and luxury and anyone who buys it is sure to love this vehicle
Toyota's RAV4 is a crossover SUV that has been manufactured by the Japanese car Toyota since being introduced back in 1994. To date, the RAV4 still plays a major role in the industry with their fourth generation SUV produced since 2012.
Just like it's predecessors, the current RAV4 can comfortably accommodate up to five passengers. There's no 3rd row offered in this new generation.
The latest RAV4 is equipped with a four cylinder 2.5 liter, six speed automatic gear transmission that can produce 176 horsepower. The car model comes in either front wheel drive or all wheel drive. The car can accelerate from 0 to 60 mph in less than 8.3 seconds.
The car is equipped with an entertainment system and an eight inch touch screen that is attached to a rear camera. The seats are made of leather and they are all equipped with firm seat belts. There is an ample space for luggage. The difference between this model and the previous models is the lack of the third row of seats which is a feature many fans of the little SUV would like to see return.
The 5 door wagon body has made the Toyota Sequoia a popular model vehicle. The model debuted in 2001 and continued to impress the industry with its performance. Now the 2017 Toyota Sequoia is set to captivate a new generation of drivers. It has a towing capacity of 7000 to 7400 pounds when fully loaded. U.S. News & World Report ranks the Toyota Sequoia as the #3 Large SUV on the market. People want to drive the vehicle and enjoy its spectacular handling too.
Cargo volume is listed at 18.9 cubic feet, but can be expanded. Fold down the rear seating area to produce 120.1 cubic feet of cargo volume. Expect to get 13 MPG in the city and 17 MPG on the highway. It has passed several safety tests and won awards along the way. It is powered by a 5.7 liter, V8 engine that people want to drive.
The Tacoma has been designed and THEN produced by Toyota since 1995 here in the USA. .The Toyota Tacoma was made to replace the "Toyota Pickup". It had a more interesting name abroad. Everywhere else it was known as the Hilux.
After undergoing a series of improvements since the first model,the bewst version of the Toyota Tacoma has a lot to offer.
The new projector beam headlamps and enormous grill give it a masculine look.It is made of high strength steel to make it rigid,strong and light in weight. The vehicle can tow up to 6800 lb (equivalent of 3100 kg).It is presented in either a 3.5 Liter V6 engine with a 5-speed manual transmission capable of delivering 278 hp and 265 lb-ft of torque or a 2.7 Liter I4 engine with a 6-speed automatic transmission and capable of delivering 159 hp and 181 lb-ft of torque.
This truck comes in 6 different trims.They include mid-level SR5,base SR,TRD Sport,TRD Off Road,Limited TRD Pro and Range TRD Pro.The truck also comes in Double Cab and Access Cab configurations.
The Toyota Tundra is a full- size truck manufactured in the United States by Japanese Auto maker Toyota. Its production began on May 1999. The Tundra became the first full-size pickup truck to be built by a Japanese manufacturer. The model years have ran from the year 2000 onwards. The Tundra was since 1999 manufactured in a Toyota plant in Princeton,
Indiana
but as from 2008, the production was moved to Toyota's factory in San Antonio,
Texas
.
Body and chassis
The Tundra is offered in either a 2-door Regular cab or a 4-door Double cab as well as Crewmax.
Layout
It's offered in a Front-engine, rear- wheel-drive layout or a front- engine, four- wheel – drive layout.
Engines
The engines that are offered with the various Toyota Tundra trims are:
· A 4.0ltr V6 ( 1GR-FE) VVT-I ( Variable Valve Timing With Injection)
The 2007-2013 models featured one that developed 236HP.
· A 4.0ltr V6 (1GR-FE) VVT-i
For 2014, the engine developed 270 HP.
· A 4.7 ltr V8 (2UZ-FE) VVT-i
For the model years 2007-2009, the engine developed 276 HP.
· A 4.6 ltr V8 (1UR-FE) VVT-i
This engine has been used from 2010 till now. It develops 310 HP.
· A 5.7 ltr V8 (3UR-FE) Dual VVT-i
This develops 381 HP
Transmission
The transmissions that the Tundra is offered in are:
· A 5- speed automatic transmission
· A 6-speed automatic transmission ( AB60E/F)
· A 6-speed automatic transmission ( A760E/F )
Infotainment
The current models feature a 3.5 inch information screen and Bluetooth connectivity.
The Toyota Venza remains an all-wheel-drive or a front-engine mid-size 5 passenger crossover SUV. The production of this brand of car emanated at 2008 to 2015 in the United States of America. The non-USA production of the Toyota Venza also was in production from 2009-2017. The car is similar to Mark X Zio in concept and features a Camry chassis.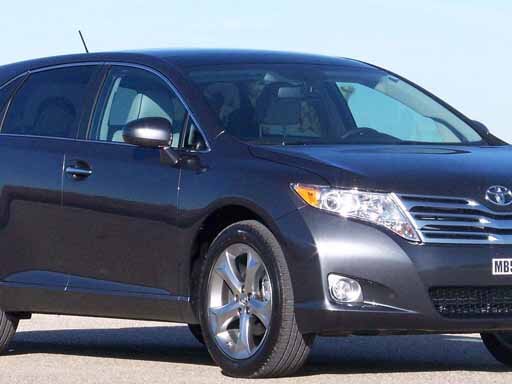 The car is powered by either Toyota's all-new 2.7-liter 1AR-FE 14 or 3.5-liter 2GR-FE V6 engine. Both powering modes share the same six-speed automatic transmission. All-wheel drive and front-wheel drive are available as options in the Venza brand. The fuel economy on the highway for this car is around 29 mpg and 21 mpg in the city.
The Venza operates conveniently with the four-cylinder engine option. It features an electric power steering system that saves engine power and fuel. A slight exterior styling update and the Entune smartphone integration system was made in the Venza for the 2013 model. Parking sensors and power-folding mirrors are included the equipment roster for the '14 model.
Ready to Get Started with National Express?
Our professional team of trained advisors is ready. Call

to speak to yours now.