Reliable Indiana Shipping – To and From the State
Indiana State is considered as part of the Midwestern and the Great Lakes regions of the U.S and currently has a population of more than 6.6 million people. Making Indiana auto transport services easier to come by than other neighboring areas in the region.
| From | To | Rate |
| --- | --- | --- |
| Poseyville, IN | Martinsville, IN | $525 |
| Pilot Point, TX | Merrillville, IN | $645 |
| Elkhart, IN | Bringhurst, IN | $345 |
| Fort Wayne, IN | Irvine, CA | $2190 |
| Bloomington, IN | Henderson, NV | $2370 |
| Bloomington, IN | Henderson, NV | $1295 |
| Evansville, IN | Cadiz, KY | $320 |
| New Albany, IN | Ashburn, VA | $795 |
| North Miami Beach, FL | Indianapolis, IN | $650 |
| Chagrin Falls, OH | Westfield, IN | $465 |
The state covers about 36,400 square miles, and thus, among the 40 largest cities based on the total area. The vast physical environment and the high population are good indicators for growth of the Indiana auto transport services that are easy to find within the State. Indianapolis is the largest city Indiana and has been nicknamed as the "Crossroads of America" since it acts as a shipping hub for cars which attracts several carriers from various parts of the country. Shipping in this state is door to door, with all fees included. There's a multitude of great carriers, each with great credentials and reliable service.
The largest city in Indiana is a huge transportation and logistics center, a characteristic that has persisted since its founding. The city has linkages to the largest cities in the country as evident through the interstate highways that link Indianapolis with Chicago, Detroit, Columbus, Cincinnati, Louisville, and Saint Louis. The highways connections make Indiana state a great commercial and industrial center especially for the auto transport services. The characteristics make Indiana State attractive to customers dealing with car shipment services from various parts of the country. The transport infrastructure developments make it easier, faster, and cheaper for the carriers,
thereby resulting to cheap and efficient services near investors in the car shipment business.
Indiana State has several entertainment options that are easy to locate, which encourages visitors to have their cars transported whenever they choose to visit or relocate or even plan to hover around.
Among the reliable companies that offer car shipping services in Indiana are A-1 Auto transporters and the Direct Express Auto Transport. They provide high quality vehicle shipping services to individuals desiring to use their cars and take care of both the individual and their vehicles with respect.
An important consideration is the time of the year that an individual wants to book for the car shipping services. Those wishing to have
their car shipping order completed during high peak times require to plan ahead to ensure that the order goes through on time. The other aspect is affordability since every person wants to be sure that they get a deal that aligns with their budget. Indiana car shipping companies quote a range of prices based on the type of shipment. Also important is conducting a comprehensive background check of the chosen Indiana car shipping company to ascertain on excellent customer service. It's always good to know some basics
about the company before booking for a car which can be learned from the BBB accredited reviews available online. The previous customers using the car shipping company services can always give a neutral review to another prospective customer based on their experience with it.
There are various tourist attraction sites in Indiana State such as watching NASCAR's finest race on Indy 500 track or even exploring some aspects of Indiana cultural heritage. As such, it becomes necessary to ship a car of choice to Indiana in advance for easy exploration of the area using own car.
Need to ship your car in or out of Indiana? Call us! We'd want to help. Call 800-284-7177 or get an instant rate using our car shipping calculator.
Fast, Reliable, and Experienced in Indianapolis
Indianapolis is ideal as a auto transport city since many other populated areas are close by and connected to it. This city is also linked to other parts of the America through four interstates that pass through it. One of the most important interstates, Interstate 70, passes through the city. This interstate is commonly used by by carriers as I-70 connects Indianapolis, Terre Haute, and Richmond.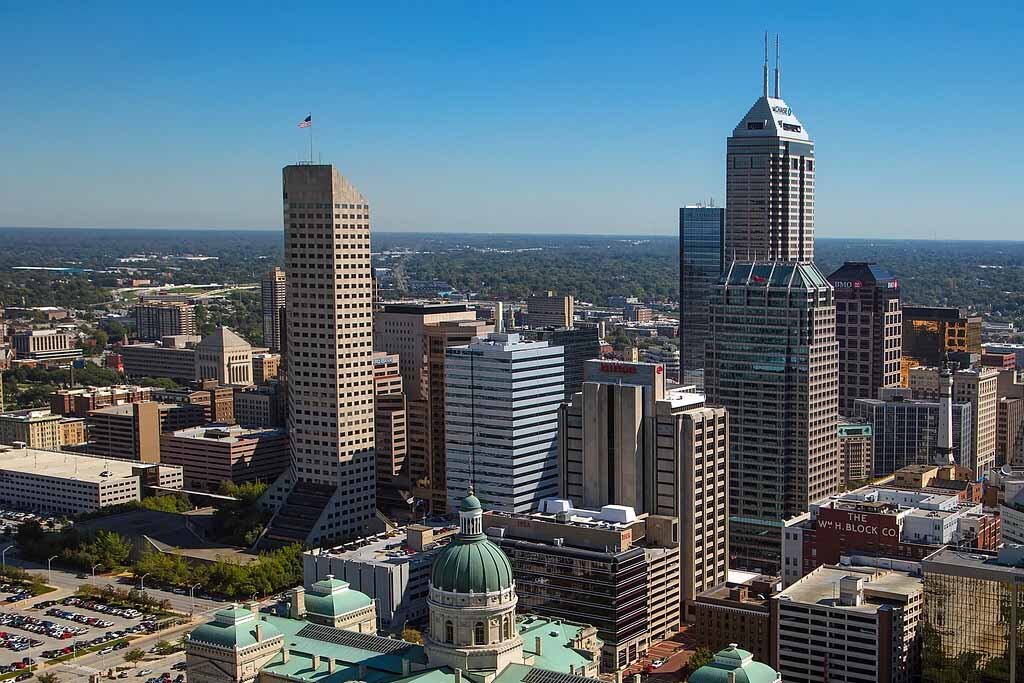 Indiana, as a state, is better placed to connect auto shippers since there are different routes and areas from which customers can get their vehicles. The impact of this connectivity is an increase in the areas from which customers can get vehicles from as well as a high speed of delivery. There are adequate numbers of carriers to pick up the vehicles and deliver them.
The available interstates in addition to I-70 include I-69, I-74 and I-65. The interstates connect the state to other parts of the country. When moving a vehicle to the northern part of the state, one can use I-69 or I-65. The former passes through Fort Wayne and head into Lansing, Michigan. The I-65 head northwest into Chicago in Illinois and heads south through Louisville and Nashville. I-74 heads into Illinois and Iowa.
The above connections make Indianapolis an ideal city to ship a car to or from. For instance, any person as far as Lansing can order a vehicle from the a dealership or relocate to Indianapolis and receive it without having to wait for too long. Customers in the southern cities such as Louisville and Nashville can also order their automobiles from the city dealers or move up to the city and receive them in time. Any person in the larger Davenport metro are can also procure an automobile from the city.
Indianapolis is the seat of power for the state of Indiana. The city was established as the seat of the U.S. state government for Indiana in 1821. The economy of the city is based on finance, manufacturing, insurance, business, wholesale trade, government business, commerce and education. The city is famous for the hosting of Indianapolis 500.
Given the centrality and connectivity of the city to other parts of the country, dealers in the city are more or less likely to be the ideal ones when sourcing for vehicles. Individual customers do not have to incur higher costs of shipping due to distance and need to switch from the interstates to smaller highways.
Ready to get started with shipping your vehicle to or from Indiana? We can help. Call 800-284-7177 or use our free car shipping calculator to get a price today.
Ready to Get Started with National Express?
Our professional team of trained advisors is ready. Call

to speak to yours now.