Auto transport in general is pretty regulated as far as safety. But there are certain vehicles that can't risk a single thing happening. Even a small chip in the paint thanks to rocks and road debris.
The best classic car shipping services can accommodate for:
Original paint.
Valuable paint job.
Be in sensitive condition.
Being Restored without glass or a roof.
Low Clearance
All are door to door. You are paying for a premium service. So it will get door to door delivery unless it's not allowed or physically possible. Be sure to also check out our classic car shipping page for more classics. Also our enclosed transport post is a great resource for you.
So without further delay, let's get in to the safest door to door classic car shipping services.
The Three Safest Door to Door Classic Car Shipping Services Available to You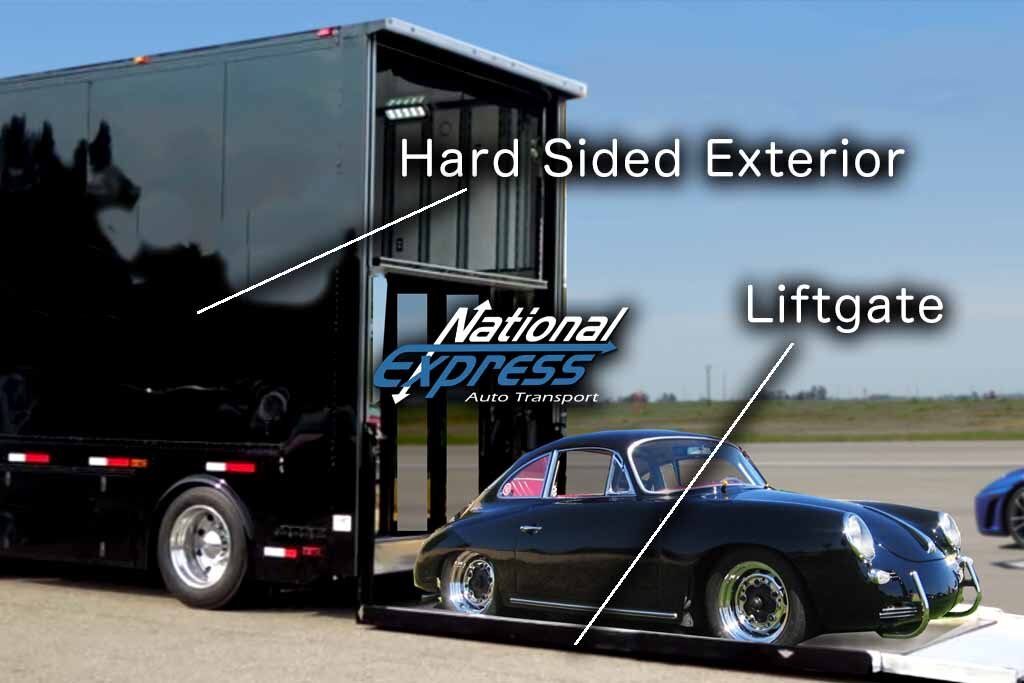 Option 1: Hard Side Enclosed Carriers
This is the creme de la creme of auto transport carriers. A rolling fortress, these trailers are pulled with a semi like most. However, this trailer is completely sealed off from the world. It looks like a tractor trailer you would see anywhere. As a result, you may have seen one without knowing. A sign that it holds cars inside will be the smaller wheels or a low ground clearance. This is done to allow for two levels of vehicles to be inside.
These trucks will feature a liftgate as seen in the photo. This will allow nearly flat loading of low clearance vehicles and sensitive vehicles. Classic modified cars for example have have traction bars, deep sump oil pans, subframes and more. All can lower clearance and get caught on a conventional trailer. If you have a special show car, you need a lift gate. These are the safest and best for this purpose. Most classics however won't necessarily require this as cars used to be higher of the ground.
It may take a couple of extra days to secure hard-sided enclosed. They hold six cars at a time. Travel time depends on how long they take to pick up and deliver each car if carrying a full load. This is the slowest for pickup and dropoff but the most protected.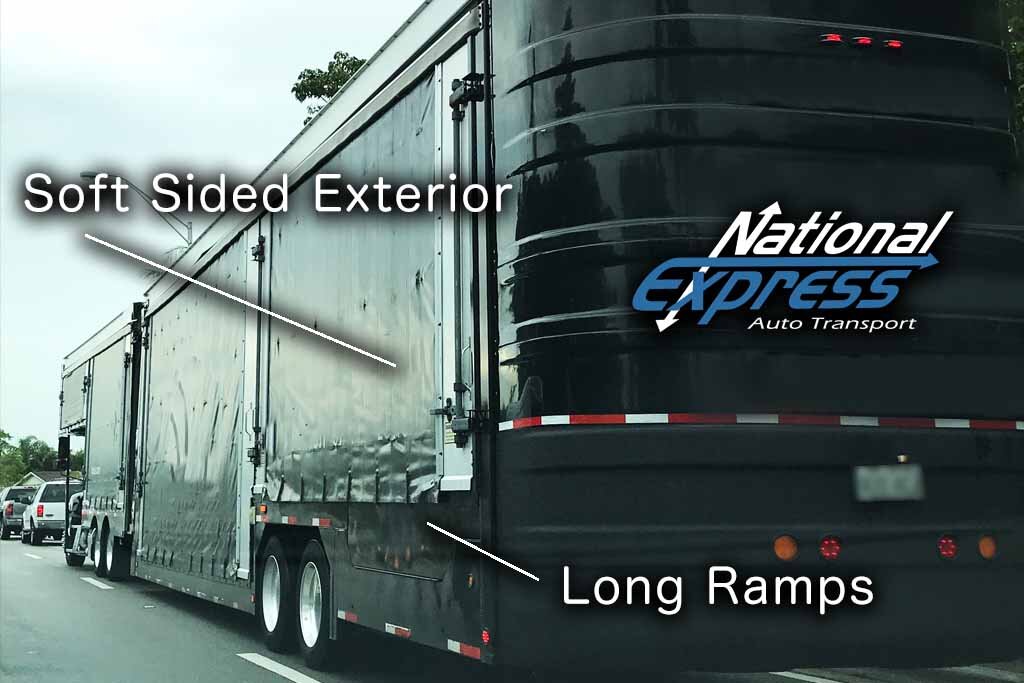 Option 2: Soft Side Enclosed Carriers
This soft side carrier is another type of a great and safe truck for your pride and joy. These are usually larger than hard side carriers. You can see they are sealed with tarps with rubber linings. They securely snaps to hold them in place and keep harmful debris out. Many will not have a lift gate but long ramps. This provides the least amount distance from the ramp and the ground.
Most classics are higher off the ground than even today's muscle cars. In most cases cases you won't have any issues whatsoever with a ramp. The issues with ramps will usually be with exotic cars. This is because they can be even as little as an inch from the ground. Not counting option #3 below, they are are the most available of the enclosed trucks.
A good majority are available in many areas. They hold six cars. Delivery times will also depend on how many s tops they have if they are full. Soft-sided enclosed trailers feature faster pickup but not delivery.
Option 3: Enclosed 2-4 Car Trailer (Not Pulled with a Semi)
This is another form of hard sided carrier, but it will be pulled by a truck similar (see above). They offer similar protection to the options above but hold 2-4 cars. Some feel safer with a massive truck because it's less likely a fender-bender would cause a problem. It takes a huge accident to get in the way of all those thousands pounds on the road. These licensed and insured carriers suffer little to no incident.
This is because there are only 2-4 vehicles. They also fit in crowded cities and narrow roads. Unlike a large carrier that needs to have plenty of space to enter certain neighborhoods or downtown areas. These are the most common enclosed carriers on the road. They have the benefits of a hard sided carrier for protection, but will pickup and deliver the fastest.
These are all Enclosed. How About Open?
Open carrier can of course be used if you don't mind your vehicle getting wind, rain, dust and sun along the way. That is actually the fastest way to ship cars. However when it comes to the best in protection, it lacks with the options listed above. However, if your vehicle is a classic that is in road condition where it has its share of blemishes and history, then open is of course just fine for you.
So then what is the best choice?
Really it's up to you. Do you want fast pickup (soft), fast pickup and delivery, or ultimate protection of a hard sided truck? It will depend on your urgency and the condition of the vehicle.
Maybe you are just moving a vehicle under restoration that leaves sensitive parts exposed. These differences will determine what's best of these three.
Summing Up
Pricing with these 3 can vary. Where the smaller carrier needs to charge less for less protection, they will pickup and deliver faster. So that justifies the price being the same. Where the soft side carrier will be small step down, it will make up the price with faster availability. You are free to include or exclude these as you wish (at least when booking with this auto transport company.)
Regardless of the case, call us today at 800-284-7177 and we'll be glad to help. You can also use our car shipping calculator!